by Marcela De Vivo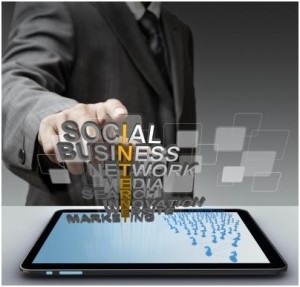 Social media presents a range of possibilities for growth for small businesses — for some, it's a necessity. A recent study found that small businesses benefit the most from social media marketing, in that 72 percent of small business that implemented social media strategies found a boost in website traffic. Increase in traffic can lead to new customers and greater sales.
What are the benefits of social media marketing? On social media sites, you are able to create a "personality" for your business that allows you to connect to your customers on a more intimate level. Developing a voice for your brand is as easy as being yourself (or creating a persona that suits the business). You should post frequently and respond to inquiries, comments, likes, tweets, etc.
Additionally, social media is not very expensive; you can generate buzz over a product launch or new service without spending a lot of money. You can even capitalize on social media connections you make with other businesses.
Below are the top social networking sites for small businesses and why they would be helpful to your business:
1. Facebook.
Facebook currently dominates the social networking scene for individuals and for businesses. With hundreds of millions of users, it provides great brand exposure to target customers, clients and new consumers.
Easy to use and quick to update, you are able to reach and respond to your customers immediately. Facebook is also a great platform to organize public events or gatherings; and if you allow invitees to invite their friends then you can easily grow your invite list, potentially adding new customers.
2. Twitter.
A micro blogging site that allows you to engage with customers and potential clients in real time, Twitter not only enables you to track what people are saying about your business, but also it allows you to track competitors and what people are saying about them.
Twitter is a great way to reach your target audience with pithy, fun, short messages; writing the message in the correct brand voice is key, as it is an extension of your brand. Following other businesses or prominent people in the field can help you build a network with a targeted audience.
3. LinkedIn.
Particularly helpful in B2B communications, LinkedIn is helpful in promoting your business professionally. With nearly 50 million users in over 200 countries, LinkedIn can help you find employees, track competitors, and get professional advice from experts in the field or industry. Also, LinkedIn can help you find businesses that would be interested in your services or products.
4. Pinterest.
The fastest growing social networking site, Pinterest allows you to pin photos, videos, and other visual content from your organization, or reflects your brand identity. The source of the pin remains as a hyperlink on the image itself, which can help drive traffic to your website. Pinterest is a great site to increase visibility, expand your brand reach, and hone the brand voice through visuals.
5. YouTube.
YouTube is the second largest search engine, and can be used to showcase products, provide training and instruction, post presentations and interviews, and capture the attention of some of the 800 million unique users that visit every month. If your video goes viral, YouTube can help you get huge brand recognition. Additionally, any video you post here can also be shared on your other social media sites and help boost likes and followers for each site.
+Bonus site! WordPress.
While not strictly a social media platform, WordPress is a blogging platform — and a blog is key to a small business social media marketing strategies. A blog, whether it is attached to your business' website or stands alone, allows you to put all your social media content in one place, and in much greater detail, than on any other social media site.
All your social media posts can link back to the blog, of course, which will draw people toward your business. News, products, services, industry updates — anything pertaining to your business can go up on a blog, and attract hundreds if not thousands of followers interested in the same topics. Blog software is often easy and inexpensive to use; publishing and updating is fast and easy which allows you to quickly address your customers' interests.
The ultimate goal of a business in marketing themselves online should be to draw potential customers to their website, and using social media to direct traffic is an invaluable asset that no company should overlook.
[Image courtesy of nokhoog_buchachon / FreeDigitalPhotos.net]
Marcela De Vivo writes for Gryffin Media and is an accomplished online marketing professional with expertise in social networking, search marketing, and web analytics.