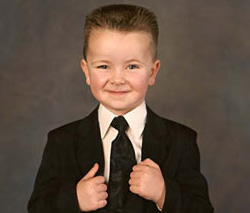 When I was growing up, my childhood dream was to be a general. Yes, in the military, commanding soldiers in the fight against the enemy. My childhood hero was General George S. Patton, who once famously said, "No bastard ever won a war by dying for his country. He won it by making the other poor dumb bastard die for his country." Little did I know that would involve plenty of marching and crawling in the mud, and a health problem put paid to that dream.
Everyone else had their childhood dreams too. Online professional network LinkedIn earlier today released data from its "Dream Jobs" survey about the most popular childhood dream jobs, surveyed from 393 professionals in Singapore, and more than 8,000 globally to find out the most common childhood career aspirations and how many professionals actually are in that dream job. The top ranked dream jobs for male professionals in Singapore are: Engineer (11.4%), Scientist (9.2%), Airplane/Helicopter pilot (8.5%), Doctor/Nurse/Paramedic (6.3%) and Police Officer (5.5%). For female professionals in Singapore, they were: Teacher (14.8%), Doctor/Nurse/Paramedic (13%), Lawyer (8.7%), Journalist/Novelist (4.3%), and Fashion Designer/Stylist (4.3%).
Of course, some in Singapore had aspired to be Astronaut (2.5%), Artist (1.8%), Superhero (1.3%), Race Car Driver (1%), Prince/Princess (0.5%), Zoologist (0.3%) and even Ninja (0.3%), but we can imagine job openings for those are generally harder to come by.
The most heartening news? Nearly one out of every three LinkedIn members surveyed around the world (30.3%) stated that they either currently have their childhood dream job or work in a career related to their childhood dream job. Professionals who said they don't have their childhood dream job were most likely to cite, "As I got older, I became interested in a different career path," as the primary reason they work in an unrelated field (43.5%).
"We may not be working in our dream jobs, but that doesn't mean they should be discounted as childhood fantasies," says Chan Ngee Key, Career Coach & Strategist at YourOwn360. "Think about what motivated those childhood aspirations, and instead, use those passions and talents to do better in your current job."
Here's an infographic created from data in that "Dream Jobs" survey: