[Infographic] You Are Not Safe Online
Posted by Daniel Goh on 3/13/12 • Categorized as Others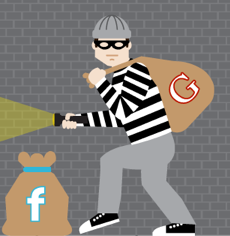 The information you post online is not safe. That's right – according to a study by Stanford University, even anonymous data posted online are collected via personal web browsers and then sold.
Some shocking statistics: 8.1 million people in the United States fall victim to identity theft every year, and a further 1.6 million households have had their bank accounts compromised.
Here's an infographic that shows you these and other statistics on data security and online privacy:
This infographic was first posted on OnlineMarketingDegree.com.

Daniel Goh is the founder and chief editor of Young | Upstarts, as well as an F&B entrepreneur. Daniel has a background in public relations, and is interested in issues in entrepreneurship, small business, marketing, public relations and the online space. He can be reached at daniel [at] youngupstarts [dot] com.
Tagged as: data privacy, data security, identity theft, infographic, online data, social media