Online commerce is thriving – it's growing about five times faster than traditional retail – not only because consumers are finding it convenient but also because it's so much easier for merchants to set up shops online. With the plethora of online software-as-a-service e-commerce platforms like Singapore's Jipaban or Ottawa, Canada-based Shopify, it's downright simple for entrepreneurs to get onto the e-commerce bandwagon and peddle their wares on the web.
Dangling a US$100,000 Carrot In Front of E-Commerce Entrepreneurs
And in the case of Shopify, in the past four months alone, over 2,100 entrepreneurs have started online stores on its platform, no doubt boosted by its second "Build-A-Business Competition". The contest, which will run till the end of December (so you should apply if you intend to start an online retail business and meet the contest requirements), has a US$100,000 cash prize but more importantly allows the winner to receive a VIP trip for two to New York City to have a lunch with marketing guru Seth Godin (he's cooking it himself), meet with social media master Gary Vaynerchuk of Wine Library TV fame for a one-hour power session, then a trip to Mountain View, California, to visit Google's headquarters and receive expert AdWords advice, followed by dinner with angel investor and startup consultant Timothy Ferriss (and author of The 4-Hour Workweek").
New competitors will not only receive a free 30-day Shopify trial, but also a start-up kit that includes a hardcover copy of Godin's "Poke the Box", Vaynerchuk's "The Thank You Economy", 50 printed business cards by Moo, US$100 in Google AdWords, and US$100 in MailChimp credits. That's one awesome package, and that's not even the grand prize.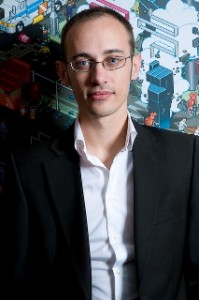 Last year's winner was San Francisco-based DODOcase, which retails beautiful hand-crafted iPad cases, which was founded by Patrick Buckley and Craig Dalton and has projected annual earnings of US$5 million a year.
"Our online store looks so good, and works so well that our cases are flying off the shelf," Craig says. "Without Shopify, there's no way we would be where we are today."
Although the first competition can be considered a success – it saw some 1,378 new stores created and US$3,543,191 in total revenue – Shopify founder and CEO Tobi Lütke realized that it was also important to assist startup entrepreneurs in other areas. "My biggest regret of last year's competition was that we failed on the education side of things," says Lütke. "This year, we have a killer team of mentors that help the contestants through advice, videos, and even one-on-one sessions."
"The competition is intended as a benevolent and encouraging kick in the ass," adds Timothy Ferriss, one of the mentors. "This stuff isn't rocket science, but it does require stepping outside your comfort zone for a bit to realize: this isn't that hard. It's just unfamiliar. If you do it now, a lot of people will be in the same boat and you'll take the trip together."
Here's an idea of some of this year's entrants:
Tattly: An online store that sells properly designed temporary tattoos.
JackBacks: Genuine wood backs or the iPhone 4.
FlockStocks: Feather hair extensions.
Pix & Stix: Electro-conductive rubberized drum sticks and guitar picks created to use with the iPad2.
Opena: An iPhone 4 case with a slide-out bottle opener.
"The prize money is significant, but don't forget the spirit of the contest: to give a kick in the pants to all those people who have wanted to start businesses but haven't," Tobi Lütke concludes. "The real prize is having a business of your own at the end of the contest."
Looks like we'll be seeing a lot more online retail entrepreneurs by the end of this year.