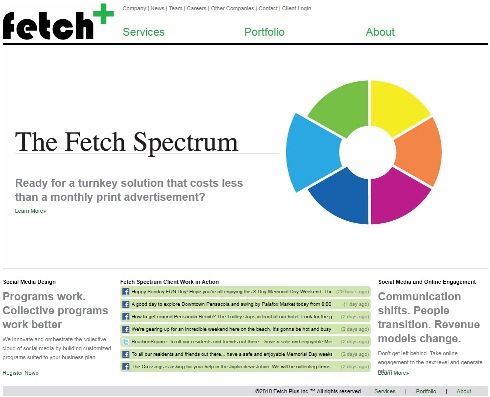 One of the companies that will feature at the upcoming web and mobile technology startup conference Echelon 2011 is Fetch Plus, a social media and mobile application development company. As we know, this space is a very competitive one; Fetch Plus differentiates itself from the rest by targeting companies with holdings, focusing on developing tools necessary for these companies' holdings to efficiently and effectively build and scale their social media footprint through different networks for engaging fans.
Fetch Plus is founded by 32-year old Carmen Benitez, who acts as its president and managing director. Its product Fetch Fans is a social media design application that builds highly interactive and custom branded Facebook business page tabs, Twitter and blog backgrounds, which was launched at DEMO earlier this year.
"The most important features is that it finally allows companies with holdings the opportunity to engage with fans at each holdings level without compromising the integrity of the brand," says Benitez. "Their website is essentially replicated hundreds of times over, yet still unique to the holding's offerings, which is critical. Imagine all the thousands of real estate agents who can share their service offerings as realtors while still doing it from a highly interactive facebook page that correlates to their corporate brand." This then enables companies to rapidly roll out a widespread and pervasive social media footprint through its product.
"We have a broad range of functionalities that enables each of the holdings to create the right user experience, everything from custom branded photo galleries, video galleries, real time lead generation, feeds, live chat built in plus countless other features are built into our product," she explains.
What Could Have Been
Benitez has been involved in social media since 2004, and interestingly enough has met the famous Winklevoss twins, Tyler and Cameron, who are most famous for alleging that Facebook's Mark Zuckerberg stole their social networking idea from them. That was in May 2004, when she approached the Athens New Media Synergy Center out of UGA to build a mobile student messaging platform she called Vusion. The service would use early-stage smart phones and a push system developed by Rhino. "The center requested that I find a college-based digital network as a case-study and introduced me to Cameron and Tyler Winklevoss," she explains. She approached the twins, and, invited up to Boston, met with Cameron at the Fairmont Hotel on a few occasions to discuss how they could leverage the app with this new platform they had named ConnectU.com.
"This initial meeting was immediately after Facebook had launched, which at the time I met with them had not yet arrived into the UGA student scene. I remember first hand how steadfast Cameron was on their current dilemma, which was trying to regain Facebook as their property and not the property of Mark Zuckerberg," says Benitez, who sides with the twins' version of the affair.
In any case, Vusion didn't quit work out. "In the end, like any very young person with limited income, I simply ran out of money and elected not to pursue the student mobile app any longer," Benitez explains. "We did though try to bring ConnectU.com to the south to help drive its growth instead of Facebook. In the end, it was too late."
"It is funny to think what could have happened."
Growing The Business
Fast forward six years later – Fetch Plus is a growing company, and is poised for further global expansion. Benitez says the company is currently looking at low-hanging fruit in the North American markets, which for them is the multi-family housing industry – they've already secured one of the top players in property management as a subscriber. They are also looking to enter the hotel and hospitality industries. For Asia Pacific, Fetch Plus is currently in the process of establishing partnerships with major retail and real estate companies. "The challenges are always to better improve and refine our product to keep pushing for the best in innovation for the markets we service," she adds.
One of the biggest challenges Benitez has found, is that when you're surrounded by many people with their own ideas and who are quick to share them, there can be a tendency of them clouding your judgement on strategy and development. Another realization is that getting funding from VCs may not be the best thing for a startup. "Sometimes boot-strapping and showing customer traction will lead to better end results for the business," she advises. "Probably the most important trait to have as an entrepreneur is what I like to consider healthy cynicism of your product. This for me is my driver as it forces me to challenge all areas of launching a product, which is daunting and overwhelming."
Aspiring entrepreneurs, according to Benitez,  should know that the startup path isn't an easy one. Far from it. She says that you should be prepared to sleep little, and eat little, as your start-up consumes virtually everything out of you. "This is not for the weak at heart, she cautions. Those that succeed, good on you. And for those that don't, well, you just weren't cut out for it."
You can catch Carmen Benitez and Fetch Plus at the upcoming Echelon 2011.
Young Upstarts is a media partner of e27 and Echelon 2011.