Charting A New Real-Time, Collaborative Experience With LucidChart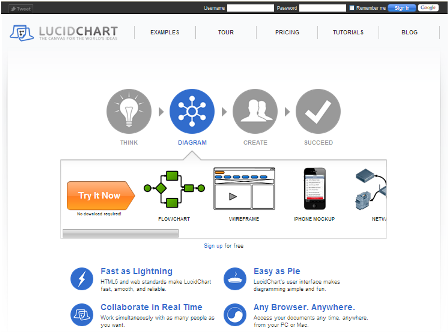 LucidChart (www.lucidchart.com) is a collaborative web-based diagramming and flowchart application that allows users to communicate more effectively visually with the use of flowcharts, wireframes, website prototypes, process diagrams, Unified Modeling Language (UML) artifacts and models, and more. LucidChart's key unique feature is that it allows real time collaboration between multiple users, who can work on a document at the same time, somewhat like a combination of Microsoft Visio and Google Docs. It's also similar in many ways to Creately's (http://creately.com/) online collaborative project management tool (you can find an interview with Creately here). And because the application is built on HTML5 and Javascript, LucidChart claims to be faster, smoother and more reliable that other products in its field – which is critical for a seamless collaborative experience – and can be used from any device with a browser, such as most iOS and Android devices. 
The inspiration behind LucidChart was frustration with existing diagramming products on the market. "None offered true real-time collaboration which resulted in email overload and lost changes as team members passed documents back and forth serially," explains LucidChart's CEO, Karl Sun. "Most web-apps, like Google Docs, are text-focused, whereas LucidChart is about collaborating on graphical objects."
The application is targeted at software and web developers who need to use visuals to communicate with one another and with their clients, especially during pre-development so as to cut down the time spent on iterations. "We're the canvas for the world's ideas and, as such, our aim is to help others communicate more effectively by using visuals in addition to text," Karl adds. "Communication is crucial on so many levels and we're excited that we're helping others resolve conflicts and eliminate wasted time and effort."  According to LucidChart, many of its users are small to medium sized businesses who use the application for internal communications. However, they also admit that one of the key challenges is in the education of users, who are currently still more used to traditional desktop products as opposed to a web-based, real-time collaborative ones.
Earlier this week, LucidChart announced that Google chose its application as one of the featured applications in the new Google Chrome Web Store, to coincide with the launch of Google's Chrome OS. "We are excited to be one of the first web apps included in the Chrome Web Store," says Sun. "At LucidChart, our goal is to make diagramming as easy as possible. By integrating with the Chrome Web Store, we believe we're taking this one step further," adds Ben Dilts, LucidChart's founder and CTO. Before joining LucidChart, CEO Sun started Google Docs's China office and led its business development efforts in China, Taiwan and Hong Kong from 2005 to 2007, while Dilts was previously CTO for online health benefits administration provider Zane Benefits.
The company declined comment on funding details.
Startups are Laboratories for New Business Models
"Entrepreneurs have a tremendous capacity to effect change not only in the business world, but also society at large," Karl says. "Startups are the laboratories for new business models that challenge the status quo and cause people to look at the world and our relationships with each other in a different light."

Daniel Goh is the founder and chief editor of Young | Upstarts, as well as an F&B entrepreneur. Daniel has a background in public relations, and is interested in issues in entrepreneurship, small business, marketing, public relations and the online space. He can be reached at daniel [at] youngupstarts [dot] com.