It was clear to whoever who attended Echelon 2010 that the star startup of the web and technology event organized by e27 was undoubtedly foound. The mobile location-based social networking service simply wowed audience and panelists alike during a startup launchpad pitching session. They had been, pun fully intended, simply pitch-perfect.
Lost and foound
First, however, let's talk about its product.
foound is basically a mobile application, to be first launched on the iPhone, that lets people organize hangouts with friends. Think of it as a combination of location-based check-in service Foursquare mashed up with the 'events' function of Facebook – users can update their location and invite friends to join them in real-time, conveying information like address, people and time in a single message, as well as send and receive updates to and from multiple users.
Users first start by pre-populating locations with information such as address and maps. With that as the starting point, users can then send invitations to friends, or simply share their hangouts over foound, Facebook and/or Twitter. Icing on the cake – a simple messaging feature that allows users to update everyone with changes or comments.
"We created foound to solve the frustrating problem of having to send multiple text messages whenever we want to meet our friends," Danny says. "Not only do we find it a pain to decide where to go and convey information such as location, directions, people invited and time in a single message, it is also difficult to update everyone whenever changes occur!" Danny and fellow co-founder Aen spoke to friends and realized this was a common problem, and the idea for foound was formed.
foound, says co-founder Danny Tan, was created to help busy city dwellers meet up with their friends. "We see this as a critical problem because of the way our societies have developed," he explains. "In 2007, the world's urban population overtook its rural population for the first time in human history." He says due to increasing urbanization, people ironically suffer from 'being lost' and feeling increasingly lonely in a phenomenon known as 'urban isolation'.
"It used to be that people could just go to the 'village center' to socialize, but in modern cities, people need help from technology to navigate their social and physical environments," adds Danny. "We did not like the way web 2.0 social networks have created a quasi-life for users online, that is why we designed foound to bring users back to real life interactions."
Sweeping the floor at Echelon 2010
That foound had an interesting, if not totally ground-breaking, product, was certain. That Danny – who presented during the startup launchpad session – was articulate, with a well thought-out pitch, was also undeniable. What most people may not realize, however, was that the two co-founders have a slight edge – they are very familiar with how the startup and venture capital circles work, and learnt to work their pitch accordingly.
Prior to foound, Danny worked on the launch of Nova Global, a Stockholm, Sweden-based professional Web 2.0 social network. Before that, the alumnus of University of Pennsylvania's engineering entrepreneurship program also spent a year working in the US venture capital industry focusing on early-stage technology start-ups. Oh, he's even been a winner of the Intel+UC Berkeley Technology Entrepreneurship Challenge in 2008. Aen, on the other hand, has seven years of experience in interactive design, which includes developing interactive product demos for Yahoo! and Sony. A member of New York-based professional design association AIGA, the creative lead of design and communications consultancy COMA has also consulted on design for many Web 2.0 startups, as well as advertising and media agencies, film production companies and non-profit organizations.
Simply put, they know how the startup system works. And boy did they work it.
But despite the enthusiastic reception surrounding foound at Echelon 2010, Danny concedes that the startup still has a long way to go and that their 'most important challenges' are ahead of them. One of their key challenges is likely to be money: they've used much of their funds – from their own pockets as well as seed money from SPRING Singapore's YES! Start-ups intiative in creating their 'minimum viable product within 5 months'.
But in that respect, it sounds like some good news is on its way. "We will have more news on investors in a few days," hints Danny.
Entrepreneurship And The Singapore Startup Scene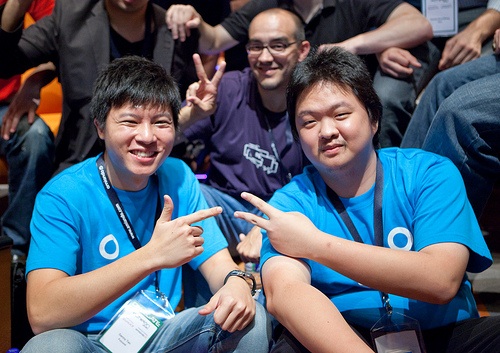 Danny believes events like Echelon 2010 are important to the local startup scene. "Platforms like these gives emerging start-ups and entrepreneurs an opportunity to network and trade ideas with the best in the world, and helps bring attention to some of the great activities happening here in Singapore," Danny says.
"The Singapore start-up scene is looking really exciting with companies like SocialWok and iTwin, and a couple of others making waves in Silicon Valley." Incidentally, both the Singapore-based startups Danny named were first featured in startup pitch sessions at Unconference 2009, the predecessor of Echelon 2010.
Entrepreneurship, to Danny, is about doing something different. "If nobody in a crowded bus is willing to give up (their) seat to an elderly person, and you do so, you are an entrepreneur in my eyes," he says. "If you translate that into what we are doing, starting an entrepreneurial company is really about understanding a pain that people are facing, and the willingness to stand up and find a solution."
"Risk-taking is an essential part of entrepreneurship. Obviously, (Singapore) still has a long way to go and I believe a lot of the work has to be done on the cultural side (to encourage) young people to take risk, fail, and learn from others who were before us," Danny surmises. "That said, there is a lot of misconception about risk-taking in Singapore. I truly believe entrepreneurs are the most risk-adverse people on Earth because we simply refuse to put their lives in the hands of others, but more importantly we put a lot of effort into mitigating the risk we take by doing lots of research and learning from others better than ourselves."
"If we can get this right, then we will definitely have more successes."
If foound is the sign of things to come from the Singapore startup scene, there're going to be interesting times ahead.