Crowdsourcing must be big. We've seen crowdsourcing for everything ranging from article writing to T-shirt design, and even designs for greeting cards and sales leads.
David Gash, the CEO of San Diego-based advertising design agency Prova Advertising, is also a big fan of crowdsourcing. In fact, he's such a fan he's built Prova's business model around community-sourced advertising design contributions.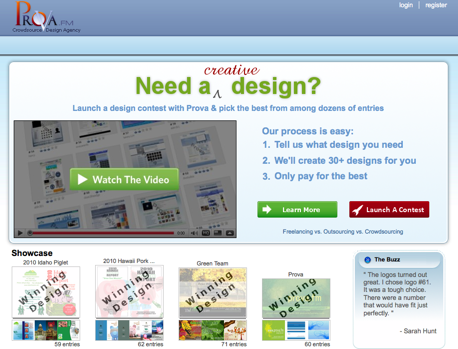 The idea is simple – a business owner submits a brief for a 'contest', set a price they're willing to pay, and track over 30 designs crowdsourced from freelance designers as they are created, and only pay for the design they want. Once a winning entry is chosen, the business owner downloads the new design. The ability for site visitors to look through current contests and designs, and rate the entries on Twitter and Facebook, adds a social element. It's like crowdSPRING, with a twist.
Crowdsourcing Advertising Design

Gash started a web development firm straight out of high school, which he said was great because it taught him his entrepreneurial strengths and weaknesses. One of the things he realized early – he hated doing his own advertising. "It took me forever to create an ad, and once I was done, it wouldn't attract the right client. It wasn't until college that I learned the science behind advertising."
After speaking with other small business owners, Gash found they had the same concerns with advertising. Most of the time, entrepreneurs on a tight budget has to create the advertisement themselves or hire a freelancer – since hiring an agency is likely too expensive –  so many of them simply avoided advertising altogether.
"I thought I could create a better solution for small businesses everywhere," says Gash. "Since every startup has a different budget, why can't design work be created for different budgets?" So Gash proceeded to envision a service where it would be an arena where designers would compete based on skill. This was the start of Prova. "Prova was based on an idea to solve small businesses problem of poor quality advertising. It's my goal to help businesses obtain agency quality advertisements at the price they pick."
"Plus I get to help other people start doing what they love (ie. starting a business)," Gash adds.
For those who decry crowdsourcing as a way to get cheap or free labour, Gash says Prova 'isn't going to help you find cheap labor, it's going to help you find better quality labor at the price you can afford'. He explains that unlike some other crowdsourcing services, his site is 'based around increasing rates for designers' instead of settling for bids. As a result, designers' rates are based around what small businesses can afford.
"If you can afford to pay $300 for a postcard you will attract designers that are interested in receiving $300 for a postcard. If you can afford to pay $600, you'll attract a lot more designers. This makes agency quality design work scalable to your unique budget."
"We're turning the tables on designers, so it's get paid for your skill instead of get paid for your lowest bid. We want to tap a community of quality designers and pay them appropriate rates for their work."
Helping Entrepreneurs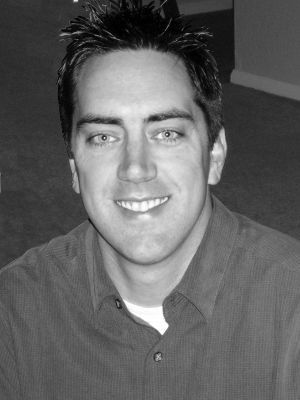 29-year old Gash proudly proclaims that he's an entrepreneur by trade. "I love entrepreneurship. It's what drives this country."
The biggest lesson Gash has learned is to 'launch before you're ready'. "I heard a term called ready, fire, aim. It means, release before you think it's ready. Then get feedback from your users and re-aim."
"So launch early and launch often. I made the mistake of launching too late and lost out on several months of exposure." Another lesson Gash has learned is to identify strengths and weaknesses. "If your weaknesses are important, find someone to work on that for you, or start working on it yourself now."
As an entrepreneur, Gash experienced the feeling of being all alone. "It can be extremely hard and it's quite common to be completely on your own. If you feel like no one understands you, you're not alone." To that end, Gash is creating a weekly blog dedicated to encouraging entrepreneurs called entrepreneurcouragement. "It's a place where I'll be transparent about how difficult it can be to start to follow your dream. We'll offer advice and encouragement for anyone who needs it."
"I'll be honest about the fact no one in my life supports what I do. I have a great wife, but I can see in her eye that she would prefer if I had a stable job, so we could buy a house, settle down & *gulp* have kids. My parents are "looking out for my best interests" by warning me about the struggles of starting a business."
"Often I want to throw in the towel, and I know other entrepreneurs feel the same way. The only thing that keeps me going is the idea that I've created a service that truly helps small business owners."