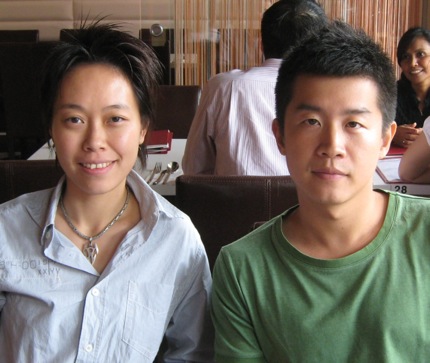 I first came across online photo-hosting service Phlook.com at Unconference 2008. Founders Ng Wee Kiat and Justine Ho was pitching their idea to the audience but, at that time, I wasn't sure if the World Wide Web needed another Flickr clone.
Wee Kiat assures me that a lot has happened since then. "During the Unconference 2008, our products were still very basic. In the subsequent few months, we continued to develop and fine-tune our products. Currently, any photos uploaded to Phlook will automatically be integrated with features that probably no other websites are offering," he says.
Phlooking Around

Wee Kiat explains that the key benefit of Phlook is the interactivity that are available to photos uploaded on their site, which users can be easily be published on their websites or blogs.
"We were toying with the idea of online photo printing in the beginning, but then as we explored further, we realized working on the digital photos themselves would be so much more fun and useful," Wee Kiat explains. "We saw photos and images on sites with doodling and captions written on them by the authors but viewers can only add simple text comments on another space. We felt that this limit the potential of interaction so we created photo interfaces where users just need to upload their photos and then simply by copying and pasting an auto-generated embed code, Phlook's interactive features will automatically appear with their photos right on their own websites."
It's easier to show than to explain in words. Below is the photo I took of some, ahem, very pretty babes at the Samsung booth during the recent CommunicAsia 2009. As you can see, Phlook adds a layer of interactivity you don't get from photos embedded via Flickr. You can zoom in, zoom out, and even vote for the photo. Nifty.
GreyReview describes it as such: "Phlook Turns Photos Into Portable Social Objects". That's about as apt as any.
Humble Beginnings
30-year old Wee Kiat, a graduate of National University of Singapore (NUS) with a Bachelor and Masters degree in Mechanical Engineering, at first knew nothing about computing. "I was clueless about even basic HTML then, but I decided to pick up the knowledge during my free time." His partner Justine, now 32, graduated with a Bachelor in University of New South Wales and a Master of System Analysis from NUS. The co-founders met when they were previously colleagues at a German multinational company.
"In a way, I was inspired after I started reading all the tech and web startup blogs such as Techcrunch." These days, however, Phlook finds itself the attention of tech blogs and has been featured on Mashable, Microsoft StartupZone, and Widget Labs.
He describes the World Wide Web as a place where 'nothing seems to be impossible to be created'. "Our imagination is probably the only limitation", he muses. He's glad, he says, to see the growth of web startup community in Singapore, and looks forward to seeing more successful local websites making a mark on the world map in the near future.
According to their site statistics, Phlook currently has more than 3,500 users. "It is always very fulfilling to hear directly from some of the users how innovative and useful they think our photo features are, especially after they discovered how easy it is to enjoy the same features right on their own websites," Wee Kiat says. "The key challenge, I would say, is how to constantly keep innovating and understanding the needs of users."
To grow the service, Phlook is reaching out to companies to offer its platform where these companies can host their ad-hoc photo sharing activities for photo competitions. "In fact, the current low in the economy has created an opportunity for us because while companies are cutting back on their spendings and we are providing a platform that they can organize photo contests as highly interactive marketing campaign at a fraction of the cost if they were to build their own," says Wee Kiat. Just a few months into starting this service, they have hosted photo contests for companies such as HP.
Wee Kiat reveals that one of his regrets is that Phlook should have paid more attention to PR, marketing and promotions at the beginning. "Both Justine and me are very much developers. So when it comes to the aspect of marketing, it was another tough journey of changing mindset and learning from scratch," he explains. "We are starting to better grasp this aspect, but if we have started learning and equipping ourselves with marketing knowledge and mindset right from the start, we may have saved ourselves some more precious time!"
Phlook is currently funded by Media Development Authority of Singapore (MDA) through startup incubator Thymos Capital, but Wee Kiat declines to reveal the exact amount of funding.
On Entrepreneurship
Wee Kiat says there's a special thrill and challenge in starting and running your own business. "This can never be experienced while working for others. My dad has built a successful career with his own company and that inspires me further."
"One most important lesson I have learnt is humility. When thrown into a new startup where everything has to start from zero, it didn't take me long to realized that I need to be humble enough to admit mistakes, accept failures and learn from them."