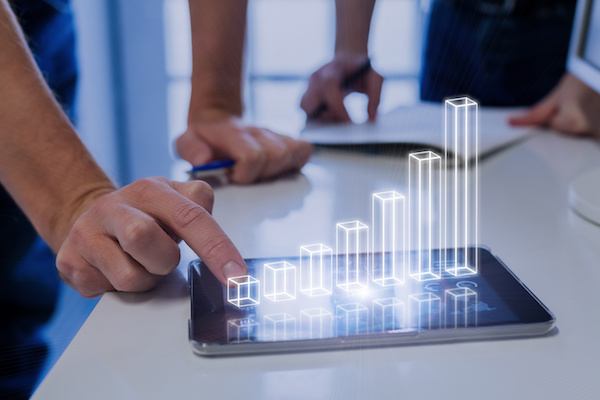 by Tristan Wright, CEO and Founder of Evolve to Grow
As your small business grows and becomes stable in the market, there comes a point where a small business owner might ask, "Is it time to scale my business?" 
It can be difficult to determine when the best time to start scaling is, especially if you're still unsure about your company's status, but there are some signs that tell small business owners when to start thinking about expanding their business. Take a look at your business and see if you meet any of these three positive growth indicators:

The demand for your products or services is high.
When you start to notice sales increasing exponentially–to the point that they're exceeding your supply or requiring your staff to work extra hours to meet demand–then it's time to consider scaling your business to be able to meet that demand sustainably. 
You have regular, loyal customers.
Having return customers purchase from your business is a sign that people are satisfied with your products or services. As well as providing stable income, regular customers are more likely to advertise your business via word of mouth. By expanding your business you have the opportunity to increase their engagement with additional stores or offices closer in proximity, offering more deals or discounts, or even diversifying your product offerings. 
You have consistent profit.
When your business receives a steady or increasing net income, you can invest a portion of the profit for the business' growth and expansion. This will also be very important if your industry is growing in popularity. If the market is demanding more of your products or services, scaling will help keep your brand relevant in the customers' minds and help you keep up with the competition.  
If you find yourself meeting one or more of these factors, then it might be time to consider scaling. While it can be daunting, think about what you risk if you stay as you are. Expanding your business when you are ready is rewarding and beneficial for your customers, your team, and you.
To help get over the fear and overwhelming feeling, it can really help to think about the positive outcomes. There are many benefits to scaling your business that business owners don't always consider.
Some of these are: 
Having more freedom to do what you like

– If you expand your business, you'll have more employees to delegate tasks to. This frees up a lot of time and allows you to do other things like spend time with your family, travel, or follow your passion and take up a hobby or sport. 

Allotting more time to take care of your health

– Having a team to carry out your work means less stress and more opportunities to look after your health through exercise and regular medical and allied health appointments.

Helping others by offering new job opportunities

– You'll be helping a lot of people find work as you'll need to hire staff members to occupy the new roles, as well as give existing staff an opportunity to step up and increase their skills and abilities through increased responsibilities and work promotions.  

Earning enough money for retirement

– Scaling your business will allow you to potentially earn higher revenue, which consequently leads to more savings for the near or distant future (or when you decide to retire). 
Listing the rewards you'll get through scaling a small business can motivate you to begin the planning process. Start by asking the right questions about what direction you want your small business to take, so you can be sure that the growth steps you implement will lead to the outcomes you ultimately want.
Tristan Wright is CEO and Founder of Evolve to Grow, a business consultancy that was created to provide significant opportunities for small and medium businesses around the world to grow their businesses remotely. Tristan is also founder of Seight Custom Cycling Wear, a cycling clothing company.