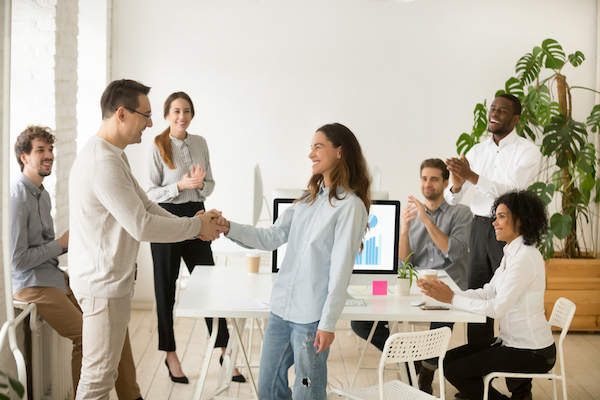 You could not run the successful business you manage, without your team members working alongside you. Their talent and passion for what your business provides, can be the driving force that keeps it moving from strength to strength – with their help, your vision for your company is brought to life in many ways. This is why it is important to make sure that you are taking care of your employees, and this goes beyond paying them a fair wage for their work. The happier your staff members are, the more productive they will be and the more positive the overall working environment.
If you have recently been worried about morale in your workplace, or want to ensure it remains high, here are 4 tips to help your employees feel happier.
1. Ask Them How They are Doing.
Holding regular appraisals every six months or at least once a year, is a good way to touch base with your team members to discuss their performance and see how they are feeling about working at your business, more generally. It's a chance for them to give you feedback just as much as you offer this to them, and an opportunity for you to find the right support to help them thrive in their role, alleviating any pressure, if this has been an issue.
2. It Shouldn't Be All Work and No Play!
It wouldn't hurt to inject a little bit of fun into the working environment occasionally to help give your teams a boost and to allow them to let their hair down a little. You could play your part by bringing in some prosecco or beers into the office on a Friday afternoon once a month for a happy hour during lunch, or the hour before they clock off, or take your teams out for drinks after work instead. You could host silly quizzes where teams can win prizes in the office, or other fun competitions. Even arranging a staff retreat one weekend, if your budget allows, could be a wonderful way to encourage team bonding and show your appreciation as their employer.
3. Make Their Work Easier.
Another great way to make your employees happier, is by looking into ways you can make their daily tasks easier to manage. This could mean reassessing operations and getting rid of tasks or steps that are no longer necessary or productive. It could also be investing in better software to help them manage their workloads more effectively, such as this life balance software from CoAmplifi.
4. Creating a Comfortable and Safe Working Environment.
This is incredibly important when it comes to your employees' well-being: you should ensure you are providing them with a safe and comfortable working environment. If your offices could do with a refurb, this is worth investing in. Also make sure to put together a clear employee handbook with your business's code of conduct and harassment policies included, so that everyone understands what is expected and what action to take should there be a problem.
If you want to make your employees feel happier when they are working for you, these suggestions are all tactics to try and could certainly help to boost morale.