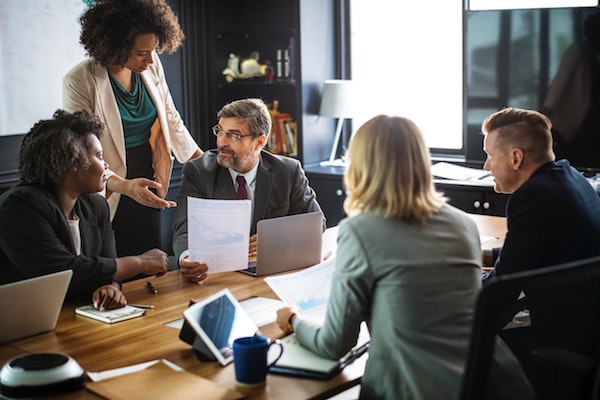 by Maxwell Hills, founder of Hills Law Group
Consumers are savvier than ever. According to HubSpot, over half of consumers no longer trust in their chosen brands, and nearly 70 percent of consumers don't trust advertising.
The lack of consumer trust takes a toll on marketing efforts and client acquisition. Businesses are trying all they can, but the cost of client acquisition keeps getting higher with few results.
Fortunately, there is a solution. Putting your business in front of clients and letting them find it themselves is an effective way to handle this lack of trust and get clients behind your brand.
Client Acquisition
Client acquisition is the strategy for bringing new clients into your business. Without a steady flow of clients, your business can't succeed. It's not enough to bring a few clients into the fold, however. Businesses looking to thrive and grow need sustainable acquisition strategies that keep the clients coming.
Whether large or small, and no matter the industry, having consistent client acquisition is essential for profitability. New clients also prove that your business has value and offers something people are looking for, which builds confidence in investors.  
Understanding the Client Acquisition Funnel
Client acquisition is different than general marketing and lead generation. Marketing may have different goals in mind, such as brand awareness, but client acquisition is solely focused on bringing on new clients.
Lead generation is similar, but it happens at the top of the sales funnel and it's viewed as a stage. Client acquisition is an end-to-end strategy and encompasses its own funnel, which begins when the client is aware of your business and ends when they're signed on.
Developing Your Client Acquisition Strategy
Successful client acquisition needs a plan. Here's how to go about it.
Define Your Audience
All marketing efforts, client acquisition or otherwise, require an in-depth understanding of the audience. Your product or service is intended for a specific audience, and you need to know who they are to speak to them more effectively.
You may think you know what your audience wants and needs, but it may not be accurate. Many business owners make assumptions about their clients and it can lead to poor messaging and wasted resources. Do the legwork, conduct market research, and define your audience to form your strategy.
You may find that you need multiple audiences for different aspects of your business. For example, law firms often have multiple practice areas, such as a family law firm that handles divorce, custody, and spousal support cases. Each of these clients are looking for something different, and that's important to know and understand when it comes time to craft your messaging.
Pick the Best Client Acquisition Channels
Even if your product or service has broad appeal, it's wasteful and ineffective to spread yourself too thin trying to market on all the available channels. Your audience can guide you to the right channels based on where they spend most of their time online, the content they consume, and the feedback they provide.
Though it takes time, finding the right channels gives you a wealth of opportunity in the long run. You can set goals for the target channels and measure your efforts, tweaking your campaigns and analyzing your progress. Over time, you'll learn the best channels and can branch out when you're ready.
Create Consistent Content
Content marketing is still going strong, especially as a way of boosting traffic and awareness organically. It can also help with client acquisition, since prospects can come across your content in a search and find the answers they need, spurring them to learn more about your business.
Consumers are also well-informed and seek out information on their own to make purchasing decisions. If they come across your content and learn about your business, it can be more effective than if you showed them a salesy promotional video.
Where do you start? Content should always provide value to your audience, so conduct keyword research to see what your prospects are searching for. Longtail keywords, which are typically phrases, can give you a lot of ideas for content that your audience wants to read. For example, you may find that your prospects are searching for information about hiring a lawyer to handle their child custody case or details about the child support laws in the state.
Leverage Video Content
Video content is popular on virtually every available channel, from short-form videos on TikTok to video series on YouTube to short spots in emails or landing pages.
One of video's greatest advantages is its ability to hold the viewer's attention. You can explain complex information more effectively in a video and the audience retains it better than if it was read. You can use whatever content for video that you would for a blog or article, including explainer videos and testimonials. Video also works well for live sessions with Q&A.
Give Them Free Stuff
Everyone loves free stuff. Hosting a giveaway is a great option for increasing engagement and boosting awareness on social media. You don't have to give away high-value prizes – all it takes is some exclusive gear or discounts.
Giveaways entice people to get involved and engaged, which benefits your business. If they get a taste of the experience they'll have with you, it may be the motivation they need to sign on as a client.
Build a Referral Program
Referral programs are incredibly effective for client acquisition and continue to grow with your business. The idea is that your current clients get incentives for recommending your business to their friends, family, or coworkers. These incentives can be cash back, a discount, free products, or similar offerings.
Dropbox has one of the most famous referral programs that stands as an example of effective growth marketing. When the company hit a wall with acquiring new customers, it created a referral program that benefitted both the referrer and the referred with free storage space. Dropbox had to cover the cost of the extra space, but it paid off in the number of new customers they brought on.
Use Client Acquisition Strategy to Grow Your Business
The process of attracting, signing, and retaining clients never rests, but with a solid client acquisition strategy, you can drive business your way and build your client base in the long term. 
Maxwell Hills is the founder of Hills Law Group, a premier Orange County family law firm with a concentration on high net worth divorces. Max's entrepreneurial career stretches back to his teenage days when he had his music used in Grey's Anatomy and ESPN. Today, Max has used that experience to build Hills Law Group from 0 customers and $0 in revenue to a respected firm in the industry.