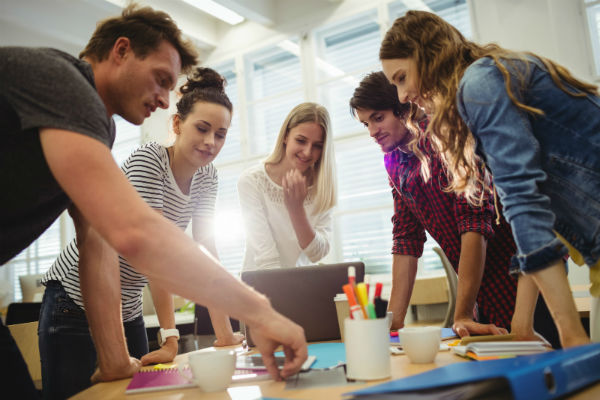 by Lauren Winans, Chief Executive Officer and Principal HR Consultant for Next Level Benefits
Google "company culture" and you'll find yourself buried in infographics attempting to explain what it is, why it is important, and how you can make it work for your company. While your search won't provide you with a consensus on any of those topics, it will make one thing very clear: company culture has become a business buzzword that can't be ignored by organizations that want to thrive.
What healthy culture looks like
The best way to understand company culture is as a collection of conversations that occur every day within an organization. Whereas company mission or vision statements define boundaries and goals, company culture is based upon how employees feel about what they are working on, what they are working toward, and who their leaders and coworkers are. It is more than a statement or a goal; it is the spirit or personality of an organization.
When culture is healthy, the conversations are positive. Employees feel valued and empowered. The mission is clear. Everyone knows and believes in the vision. Goals are pursued and achieved as a team.
When culture is unhealthy, the conversations are negative. Employees feel confused or abandoned. The mission is muddy. Turnover is rampant. Talent is hard to attract. 
How to define your culture
For startup companies, the road to a healthy culture begins with defining an "aspirational culture." Decide what you want your company to be, which may be very different from what it is today. What do you want your employees to feel? What do you want the company to stand for? What do you want your company to be known for? The answers to those questions will form the foundation of your company culture.
Sometimes the best way to identify your aspirations is to look at what your direct competitors are doing. They are the ones with whom you'll be competing for talent and for customers. Looking at an established company's culture can help you to sift through who you want to be and who you don't want to be.
Once you define your aspirations, understand that achieving your ideal culture will be a journey. Culture isn't established at the flick of a switch. Leaders must cast vision, seek feedback from employees, have plenty of conversations, and move the company toward the desired culture one step at a time.
How to know if culture is working
It's easy for leaders to get cloudy when it comes to what metrics or data elements reveal the state of their culture. Profit margins and other financials aren't going to be the best measure for evaluating the health of company culture. Those that show employee satisfaction, like turnover rates and absenteeism, are better indicators. In general, leaders won't know the state of their culture if they don't know what their employees are thinking and feeling.
An employee survey is a great tool for understanding the factors that are affecting your company's culture.  Surveys allow you to obtain actionable feedback. They reveal whether or not your company's practices are allowing you to achieve the aspirations that you have set for your company's culture.
Discerning culture is not an easy task. Corporate structures often create situations in which senior leadership is out of touch with what frontline employees are experiencing. Consider involving a Human Resources or business management consultant if you're struggling with evaluating or cultivating culture. They bring expertise and objectivity that can be invaluable in understanding shifts and slips in culture.
How to tweak what isn't working
When employee feedback reveals problems within the culture, leaders need to listen and respond. It's not unusual for issues to arise as companies grow and evolve. Sometimes the culture that worked for a startup won't sustain a company as it matures. Regardless of the reasons, an unhealthy culture can recover with a realistic and workable strategy.
Sometimes employee complaints can't be fixed. Some jobs are difficult and always will be taxing. In those situations, companies can consider responding to negative feedback by improving things like compensation, benefits, and flexibility. There may be things about a company or job that can't be changed, but there are always things that can be done to improve the employee experience.
Once a roadmap to recovery is established, communication becomes key. Leaders need to explain where the company is going, reveal what comes next, be honest about the timeline, and clearly communicate the level of commitment that is required.
Why culture can't be ignored
Defining, communicating, and cultivating culture takes work, but it's worth it. Today's workforce is looking for more than a paycheck. Employees want a positive, empowering, and enriching work experience. By prioritizing a healthy company culture, you enable your company to attract and keep talented employees.
Lauren Winans is the Chief Executive Officer and Principal HR Consultant for Next Level Benefits, an HR consulting practice offering clients access to HR professionals for short-term and long-term projects. With 20 years of human resources and employee benefits experience, Winans possesses a deep expertise of HR best practices and what resonates with employees.