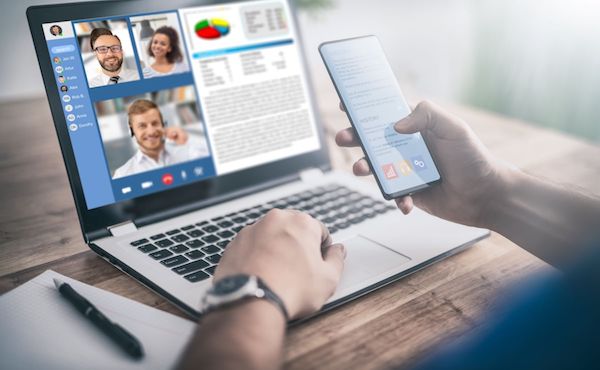 by Beth VanStory, Partner and CMO with Chief Outsiders, and Christine Corte, Senior Recruiter with Veteran Staffing Network
It would be an understatement to say that COVID has forever changed the world of work. The impact of work from home and the rapid adoption of technologies like Zoom and MS Teams that made it possible have led to significant hiring challenges. No longer can companies succeed in demanding that workers report into an office. Those who do will find that they are unable to attract the best and brightest candidates.
According to XpertHR's Survey of HR Challenges for 2021, recruiting and hiring topped the chart with 66% of those surveyed saying it was "very challenging." Certainly, COVID and the rapid move to work-from-home have had a profound impact. A study by Global Workplace Analytics showed that employees working from home were already increasing pre-pandemic. In fact, that number of remote workers increased 3.9 million from 2015 to 4.7 million in 2019. Fast forward to the height of the pandemic where 58.6% of Americans were working remotely.
Remote Work is Here to Stay.
Many, having now experienced remote working, have no plans or desire to go back to full-time in-office work. In Buffer's 2021 State of Remote Work study, 97.6% of respondents said they would prefer to work remotely at least part-time for the remainder of their careers. Various studies reveal the reasons: more flexibility; fewer distractions/more productivity; and time and money savings as well as less carbon emissions from commuting.
Remote Work Saves You $.
But all is not lost for companies. There are savings to be had with allowing employees to work remotely. The Global Workplace study estimates that companies can save up to $11,000 annually per part-time remote worker. These potential savings result from increased productivity, lower real estate costs, reduced absenteeism and turnover, and better disaster preparedness. And companies in high-cost labor markets are now hiring new team members from less expensive markets. Likewise, employees living in high-cost-of-living cities are opting to move to more affordable locales and are taking their jobs with them.
Remote Work Has Changed Recruiting Forever.
As more companies have embraced remote work, the face of recruiting has changed significantly. Competition for talent has never been stronger. To win the war for talent, companies need to leverage technology, have an efficient recruiting process, and stand out from the crowd as a great organization in which to work.
How to Source and Retain Talent
1. Leverage Technology.
Applicant Tracking Systems (ATS) can help drive efficiencies in the recruiting process and they are even more important when teams and candidates are physically distant. But, like any computer system, they are only as good as their inputs. Critical to getting the most out of these platforms are strong, clear job descriptions and a user-friendly way for candidates to apply but, more importantly, a good process for consistent, frequent communication with candidates. Companies that let candidates fall into black holes with no communication are likely to lose out on competitive candidates.
2. Remember the Human Element.
At the end of the day, an ATS is merely a platform for managing the process. Hiring teams must commit to excellence in interviewing as well as following up with, communicating with, and making offers on candidate's timelines. Sue Keith, Managing Partner of marketing recruiting firm, Ceres Talent shares that the biggest cause of client's missing out on their top candidates is their failure to move quickly.
"In this market, it's pretty much guaranteed that the candidate you're interviewing is also talking with several other companies, and is likely further along in the interview process. One of our clients recently missed out on their top candidate by 24 hours after adding an unexpected additional interview to what had already been a thorough process. It's also important to be respectful of the candidate's time. They may be working from home, but they still have a day job that they are responsible for."
Too often, interview teams  focus on the wrong things. For example, they demand a certain number of years of experience and miss out on superstars who have risen through the ranks quickly. Others insist on interviewing a set number of candidates. Andy Nussbaum, Co-Founder and Managing Partner of AAJ Interactive Technologies, a firm that places hundreds of in-demand technical resources each year shares, "There's nothing wrong with falling in love with the first candidate, and being done.  It saves you a ton of time and money.  Interview until you find a really great candidate.  Don't interview for the sake of interviewing. In this market, if you see someone who is a good fit, make an offer. If you don't, someone else will."
When interviewing, screening for cultural fit is just as important as validating technical and other skills. Understand the type(s) of personalities that succeed in your company and incorporate questions into the interview guide to get at whether the person is a fit. Not everyone will be. And that's okay. It's better to determine that upfront.
With stiff competition for in-demand roles such as technical resources, companies need to find a way to stand out. It's easy for candidates to find out what it's like to work in your company – Glassdoor is just a click away. Be sure to monitor your employee reviews and address any concerns quickly. Speaking of reviews, technology analyst firms like G2 and Capterra post reviews online. And, for non-tech companies, there's Google, Yelp, and many, many more. Proactively managing reviews and reputation is imperative when competing for candidates. Consider adding employee testimonials to your website and social media sites. And make sure all interviewers know that part of their role is to "sell" candidates on the organization.
3. Devise a Passive Candidate Strategy.
Despite the proliferation of job postings online, many of the strongest candidates remain hidden. They may not be actively searching for a new position when you are looking for them. So how can you get and stay on their radar? Start with your current team members. Institute an employee referral bonus program. Who better than your current employees to help choose their co-workers?
Identify competitors and reach out to their employees. Host and attend meetup groups.  Build your online presence and participation. By actively engaging in Linkedin Groups and other online communities, you can identify potential future team members. Encourage your hiring managers to participate in these groups and seek to connect with people who actively, intelligently, and professionally engage in the community. Seek to add them to company newsletters and invite them to follow you on social media. Reach out to them when you have openings and ask them for referrals of candidates. If they are interested in the position themselves, they will bring that up, but in the meantime, you will not seem overly aggressive.
The best way to stay top of mind among an audience is to maintain a consistent presence in active, relevant, online and offline communities.
Keeping Top Talent
Retention has become a hot topic as companies try to hang on to valuable employees who are constantly getting inquiries from recruiters and talent managers. Flexibility and recognition are the top two ways to keep team members. According to Owl Labs, 74% of workers say that having a remote work option would make them less likely to leave a company.  A study by CBRE shows that 69% of millennials would give up on certain work benefits for a more flexible working space.
To find, attract and retain top talent in today's environment, hiring teams must understand and accept the changes in candidate requirements, such as flexibility. They must also have a professional, efficient process for recruiting, communicate frequently, and be prepared to make strong offers quickly. In summary, keep these principles in mind:
Leverage Technology
Remember the Human Element
Devise a Passive Candidate Strategy
Those who don't will find themselves spending more time, energy, and money to find talent or end up settling for second-rate employees.
Beth VanStory is a Partner and CMO with Chief Outsiders, the nation's fastest growing fractional CMO firm. Christine Corte is a Senior Recruiter with Veteran Staffing Network.