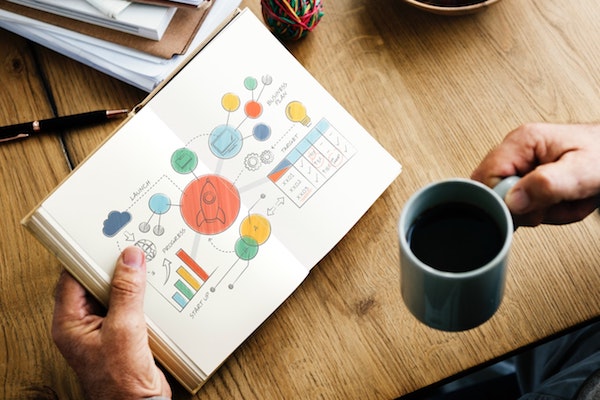 by Uday Tank
As a startup, we understand you're probably cash-strapped and in need of helpful tips to help get the word out about your business.
That is why we've done a detailed research to figure out those marketing strategies that are not only known for their instant success but which also don't put in a hole in your already tight purse.
Ride with us as we take a deep dive into the world of startup marketing.
Oh, and did we forget to mention, we're talking about digital marketing strategies here. Advocates of flyers and posters can look elsewhere (LOL).
Here are 7 budget-friendly marketing strategies for startups:
1. Paid traffic.
Having a website is so cheap and easy these days. So, I don't think your startup should have any problem getting one.
Once you have a live site, you can buy web traffic from And Web Traffic to send visitors to the site. And before you ask, yes, these visitors are real humans from various authority sites on the internet. Normally, most site owners prefer to watch their site traffic grow organically (by itself). But history has shown us that this often takes forever.
To hasten the process, it's better to buy site traffic from a reliable provider. That way, you can focus on other important aspects of your business while the traffic provider does all the marketing for you.
1. SEO.
You can buy web traffic for your site in the beginning. But you'll need a constant stream of site visitors later. People that come to your site of their own accord.
To get this sort of visitors, you have to invest in SEO. Since you're a startup and probably don't have too much to spend on SEO, you'll need to do a bunch of the work yourself.
Don't worry; it's not really that complicated. There are millions of guides on the internet that will help you get started, especially if you've built your site with SEO-friendly builders like Wix and WordPress.
By and large, invest as much as you can on SEO and DIY the areas you feel you can handle yourself. The more money and effort you invest in SEO, the greater the digital exposure your brand gets. So, invest generously.
2. Social media marketing.
I'm pretty sure you have a social media account somewhere. In a similar vein, you can open some for your startup, too. For starters, you can set up professional-looking LinkedIn, Facebook, Twitter, Instagram, and YouTube pages.
Of course, you can get off with social media marketing without necessarily spending a dime. But it's always best to invest a few bucks in boosting results.
For starters, you can invest in paid advertising on major channels like Facebook and Instagram. This will show your brand to people who might be interested in them. Additionally, it's also a wise idea to invest in social media influencers. Most influencers with between 10k-30k followers shouldn't cost you more than $100 to hire. But the exposure they will give to your brand will be worth more than the money.
3. Email marketing.
I intentionally made this awesomely effective strategy come fourth on the list because of what its success depends on. EMAIL LIST!
Before you can get the best out of any email marketing campaign, you first need a well-curated email list – a contact list of prospective customers.
So, how do you get that? From your site visitors and social media followers.
If you implement an effective social media campaign and invest decently in SEO and paid traffic, you should be able to gather plenty of contact information of prospects. From this list, you can then section your prospects into various categories based on gender, location, interests, behaviors, etc.
Once your email list is properly compiled, it means you can now begin to dish out amazing, non-spammy email content.
If done right, email marketing has the ability to return a possible ROI of around 122%.
4. Video marketing.
Tell me one brand you know that has never invested in video marketing.
I'm waiting.
Not sure you can think of one. Even Hubspot revealed that 86% of brands (startups and the big guns) use video as a marketing tool.
The power of video marketing can never be overstated. Recently when Apple launched the iPhone 13, they still made sure to make series of video marketing content and push them out because they knew the hold videos have over users.
Luckily, video creation doesn't cost a fortune. There are so many free tools out there with which you can create, edit, and perfect your video content. And as far as marketing them goes, you can always publish your content on YouTube and other channels you think your prospective customers frequent.
5. Referral Marketing.
You must have heard the popular quote, "People are 4 times more likely to buy when referred by a friend."
Well, that holds true in all cases. As a startup, your existing customers are your greatest asset. Therefore, you need to ensure they stay happy with your service at all times so that they'll be happy to refer you to their friends and family.
To encourage referrals from customers, you may organize referral or loyalty programs. These sorts of programs reward customers every time they refer or bring someone to the business. Of course, referral programs don't have to cost a fortune. The reward could be coupons, discounts, points, etc.
6. Press releases.
Finally, you can market your startup by landing spots on some of the most popular news and media outlets in your industry niche.
Most media and news outlets are often happy to post noteworthy and newsworthy content on their platforms. If your startup is, indeed, providing unique solutions, many of these outlets will be more than happy to grant you a spot on their pages.
How does this help you? You wonder. Well, getting your brand mentioned in major publications is definitely up there with the best ways to generate brand awareness. Plus, a spot on major publications will also send numerous inbound links your way, which is great for SEO.
Uday Tank has been working with writing-challenged clients for over five years. His educational background in family science and journalism has given him a broad base from which to approach many topics. He especially enjoys writing content after researching and analyzing different resources whether they are books, articles or online stuff.