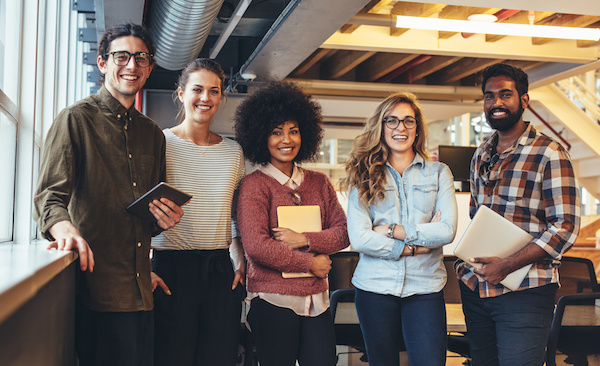 In a perfect world, recruitment is as easy as posting a job vacancy then picking the most qualified person who walks in for an interview. The reality is, hiring the right candidate can be exacting, exhausting, and expensive. In a highly competitive job market, companies fight tooth and nail over high-quality talents.  Then, there are regulations that every recruitment agency must follow. And you have to put in mind that clients depend on your expertise. With all these, recruiting becomes a process that is not only complex but also delicate. 
The government has put in place several laws that protect the rights of job seekers. Failure to abide by these rules can result in lawsuits, fines, and permanent damage to your company brand. And when you are just starting your business, it is best to steer away from issues of any kind.
How does your startup ensure it meets all the recruiting requirements? We have listed four fundamental and relevant methods that your business can practice to comply with the regulations.
1. GDPR Training
.
The General Data Protection Regulation (GDPR) is a set of guidelines on privacy and data protection imposed by the European Union in May 2018, covering residents from the EU and the European Economic Area (EEA). The GDPR, however, also applies to the transfer of data outside these areas. Its main aim is to increase people's control over who can access and keep their personal information.   
What does GDPR mean for a recruitment agency, and why is training crucial? As a recruiting service, you manage and store thousands of applicants' personal data, including names, contact details, addresses, disability or criminal records, and other personal identifiable information. It is your ethical and legal responsibility to protect this data. Any software that you use to manage records must not only be secure but also up-to-date and encrypted. You should not collect, store, or share the personal data of candidates without first obtaining their explicit consent. Furthermore, the applicants can withdraw their consent at any time and request that you take out their records from the system. 
When you collect data, ensure that you do so for "specified, explicit or legitimate purposes." For instance, you can gather information on applicants for the sole purpose of contacting them about a job opportunity. You have 30 days to utilize the data to get in touch with potential candidates. After which, you must permanently delete their information from your database. In connection to this, you should have data transparency by creating a privacy policy that states where you store the personal information (i.e., cloud-based Applicant Tracking System) and for what purpose you will use it (i.e., recruitment). 
Failure to comply with GDPR can subject your company to a fine of up to $20 million or four percent of your yearly revenue, whichever is higher. It's therefore worth investing in compliance training, which can be found here, to make sure all staff are up to date with the latest legislation and guidance.  
Following GDPR protocols secures your applicants' information and reduces the risk of cyberattacks. It also makes data management more efficient, improves candidate experience, and establishes your reputation as an honest and reliable recruitment company.
2. Recruit Qualified Staff.
Be sure to pool candidates who have the right qualifications to perform a task, especially if you are working for a client that offers specialized services that require technical skills.  It may sound a no-brainer, but many companies suffer from the consequences of choosing unqualified candidates to do niche jobs.  For example, if you are hiring for a veterinary clinic that offers orthopedic x-ray examinations for animals, be sure to recruit a vet nurse who has radiography qualifications to use x-rays.
Recruiting qualified candidates helps a company stay ahead of its competitors. These are people who are willing to accept more challenging roles and responsibilities as the business matures. On the other hand, hiring the wrong applicants can lessen productivity and lower morale in the workplace. Worse, a bad hire can take a toll on a company's reputation and be contrary to an association code of ethics, for instance the British Veterinary Association and thus veterinary practices might seek the services of vet recruiters, to 'vet' qualified veterinary candidates interviewing for vet jobs, found online on recruiter sites such as Vet Finders. Think of the poor negative customer reviews you would be getting due to subpar services.  Unqualified hires are prone to committing improper or negligent acts that could lead to a lawsuit, injury, or irreparable damage to you.
3. Equality, Diversity and Inclusion.
Diversity means having a workplace where individuals differ from each other with regard to age, cultural background, education, ethnicity, disability, sexuality, race, and religion. Having a team with varied skills, ideas, and expertise often leads to more innovative pursuits and better solutions to problems. Furthermore, diversifying the workforce helps an organization reach a broader market and new customers. According to research, companies with more diverse workers are 35% more likely to perform better financially.   
However, diversity alone does sustain business growth – there should also be inclusion. Inclusion occurs when employees, regardless of their background, feel a genuine sense of acceptance and belongingness. An organization can only achieve this if it promotes equality in the workplace. If there is no respect for each other's differences and uniqueness, the benefits of diversity are lost.  
Under the law, companies must provide equal employment opportunities, and this includes recruiting fairly and objectively. Broaden your network and scout for talents in multiple sources to reach more diverse candidates. Implement unbiased hiring strategies such as structured interviews and select candidates based on meritocracy. Consider providing a diversity information campaign. Training will help the hiring front liners avoid unlawful behaviors and biases during the recruitment process, including asking insensitive questions that may involve legal risks.
4. Safeguarding.
Organizations that deal with children, young people, and vulnerable adults are accountable for safeguarding and protecting their welfare by providing an environment free from abuse, exploitation, and neglect. Institutions such as schools, nurseries, hospitals, sports clubs, law firms, veterinary surgeries, care homes, and supported living facilities are especially susceptible to abusers.
Safer recruitment involves creating a strategy that is part of the company's safeguarding procedures. As the recruiting experts, you should ensure that you hire only those who are fit to work with vulnerable groups. You should also discourage unsuitable individuals from applying, identify them, and reject them if they show interest in the job.
Apart from carrying out an extensive pre-employment vetting process, recruiters must be very clear with the candidates about their commitment to protecting those in their organization's care. The applicants have the right to know what background checks they will undergo. In the UK, job seekers applying to work with vulnerable groups are subject to Disclosure and Barring Service (DBS). The process checks if an applicant has a criminal record or was previously judged unfit to work by other organizations.