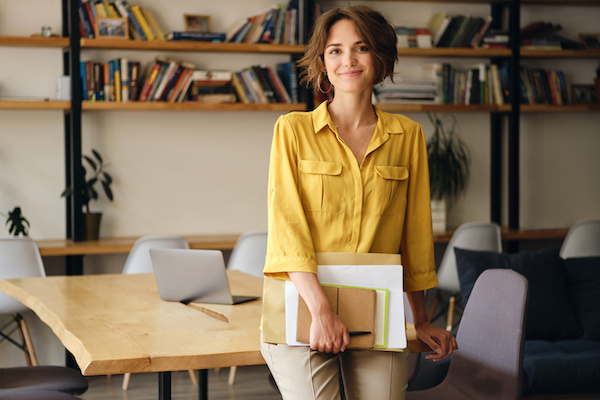 So, you finally accomplished the goal of obtaining a bachelor's degree in business. Congratulations! Now, the journey to a new and promising career can finally be realized. After some time in your career field, however, you may feel the need to expand your knowledge base or just learn more about something unique within your field. Making a lateral move or seeking promotion is a great idea for any aspiring young professional and obtaining a master's degree is one step toward accomplishing your goals and setting yourself on the path to career success. Master's degrees are useful and practical for many fields, and acquiring one is simpler these days due to the better availability of online degree programs.
You've already worked hard to get your bachelor's degree; why not go a step further and specialize in a particular discipline at the master's level? A Master of Business Administration can be a safe choice for many, but consider exploring other options. Two fields in particular really stand out as worthwhile: organizational leadership and human resources management.
Get A Degree Without Interrupting Your Life
The prospect of earning a degree online can be both challenging and daunting. Not only do you need to figure out how to find the time required to obtain a degree, but there's also the high probability that you work, need to pay rent, have to eat regularly, and may have a family to take care of on top of your busy day. Going to a physical college can interfere with that. Wouldn't it be great to have some sort of alternative that would allow you to continue living your life without a significant interruption or alteration to your routine? Good news; online college can help with that, thanks to the flexibility of self-paced learning and online learning management systems.
If you're already working or have a family, you can still work or live your life while attaining higher education. Or if you're like one of the increasing percentages of students who prefer learning online, getting your master's degree through an accredited, reputable online school is worth considering.
Learn The Skills You Need To Thrive In A Changing World
Sometimes, understanding why you want to pursue a degree in the first place is the first step to succeeding in such an endeavor. Many online colleges offer an array of online master's programs that can run the gamut from Criminal Justice, Technology, and Education to a great deal of business-related disciplines. Two of those are incredibly useful in our modern, changing world: organizational leadership and human resources.
Here's a quick look at both:
Organizational Leadership
Specializing in organizational leadership is great for driven individuals who want to make a significant impact on an organization. In the simplest terms, these leaders set goals and help motivate employees within an organization to succeed.
Human Resources
Specializing in HR can lead to fulfilling careers managing the human resources for a large firm. It can also branch out into recruiting, payroll management, and many other interesting fields.
There are plenty of other fields worth pursuing, depending on your interests, but these two are both exciting and can lead to satisfying long-term careers.
Increased Salary Potential
Having a fulfilling career is about more than how much you earn or the amount of money you bring home, but sometimes it's nice to increase your salary and earning potential. After all, you put in the time and hard work to obtain a master's degree in your field. You've put in the hours and energy actually working in your career. Why shouldn't you enjoy an increased salary? Whether or not a master's degree increases earning potentially just a little bit or significantly can really just depend on what field you're working in. If you're working in journalism, arts, or media, you can earn an average of 19 – 25% more than if you only possess a bachelor's degree.
On the other hand, many business-related, technology, engineering, and healthcare field benefit significantly in this area from possessing a master's degree. In some cases, a salary or pay increase can be up to 70% over what you'd normally earn with just the bachelor's degree. Other fields can vary wildly from one end of the spectrum to another, but some of the most lucrative careers
Better Upward Or Lateral Organizational Mobility
Along with increases in potential salary, a master's degree also unlocks promotions and mobility within an organization. It's never a substitute for experience, but it can supplement your experience to create more opportunities for you to excel in your current career or even a new one. If you want that promotion, having the knowledge and experience from your master's degree is a good way to get it. Similarly, if you want to make a lateral move – something highly complex but in a different department/area within the organization – then going for a mattress three in a different feel might be the way to go.
Finally, going for additional education and training within the context of a master's degree can supply both the means and the motivation to enhance your about you to any given company. Master's degrees open the door to promotions and higher-level careers at many companies these days, so it's definitely worth considering one if you're planning to climb the corporate ladder anytime soon.
Real-World Career Examples
Real world examples of human resources are easy to spot, but examples of organizational leadership may be tough to recognize, but they do exist. A recruiter or HR manager in a large office or corporate position are just a few roles someone with a master's degree in human resources can get into. Recruiters, Labor managers, Payroll Manager is, benefits managers, and more all benefit from additional education in human resources. Jobs in organizational leadership are just as varied, and can include consulting, management, analytics, sales, project management, and much, much more.
Carving out your own path is up to you, but getting a master's degree can ultimately serve as a stepping stone for future success.