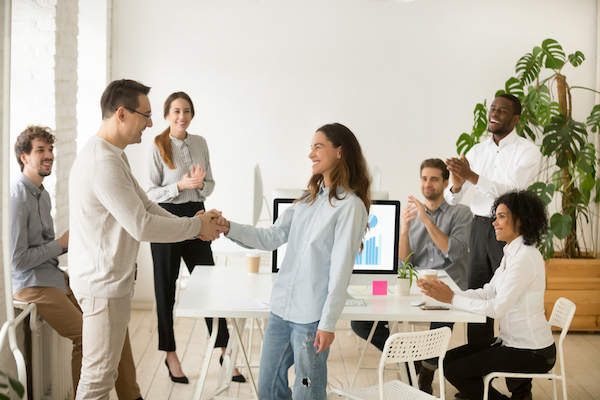 Benefits such as health insurance, retirement planning, vacation time, flexible scheduling, and bonus structures are attractive benefits of employee recruitment and retention. However, companies often overlook how enticing employee rewards contribute to the overall success of an organization and its bottom line. Well-designed employee reward systems are an excellent investment for your business that can yield significant returns on investment.
What are Employee Reward Systems?  
Employee reward systems are programs set up by a company to reward employee performance consistently. These systems motivate employees to achieve various goals, work hard, and be engaged. Employee reward systems are independent of salaries but often involve monetary rewards and costs to the company. Rewarding employees for a job well done conditions them to continue exceeding expectations, thus, helping the company's bottom line. Employee reward systems engage employees through wellness, recruitment, retention, and engagement initiatives.
Employee Rewards Boost Health & Wellness
On-site clinics, affordable dental plans, gym memberships, occupational wellness activities, and regular health programs are examples of rewards that will positively affect your company's health care budget. Additionally, your organization can use digital employee rewards to help promote a healthy, active lifestyle among employees that supports physical and mental health.
To achieve the highest ROI, consider including occupational wellness programs that concentrate on chronic illness prevention and mental wellbeing in addition to lifestyle changes. A well-designed benefits plan will enhance overall wellbeing—mainly financial, mental, and social by reducing stress, improving financial wellness, and delivering professional and educational growth opportunities.
Digital employee rewards programs, such as Tango Card, offer affordable wellness-focused incentive programs, including e-gift card vouchers for fitness trackers and more with Reward Link Wellness. This platform provides dozens of gift cards promoting a healthy, active lifestyle that can be delivered directly to employees quickly and easily. Encourage your team to live a healthy lifestyle together by introducing the concept company-wide using e-gift cards!
By emphasizing employee health and wellness within your company, your organization creates a culture that helps employees feel valued and cared for. Additionally, by promoting healthy lifestyle changes, organizations can reduce employee illness and absenteeism while increasing overall physical and mental health.
Wellness programs create new ways for employees to connect and become involved. These programs also provide an opportunity for employee rewards and incentives.
Employee Rewards Enhance Employee Engagement
Employee disengagement is a growing problem for many employers. Nearly one-third of all workers become disengaged at work, negatively impacting company culture and the bottom line. However, through an easy-to-use digital employee rewards program, companies can reinvigorate engagement.
Digital rewards, like e-gift cards, are a simple way to enhance engagement. From sending personalized "thank you" messages to sending a company-wide holiday card, e-gift cards are a low-cost and low-involvement reward with a high ROI.
With improved employee engagement, employees are more satisfied at work, helping improve retention and recruitment.
Employee Rewards Aid in Recruitment and Retention
As the job market becomes more competitive, recruiting qualified and talented employees is increasingly challenging. Over 60% of workers claim they consider rewards and benefits before accepting a position. Furthermore, almost half say they would apply to a new employer if they received better benefits. With statistics, this profound, companies must implement successful employee reward systems.
Employees are the heart of any organization's success, and without a talented workforce, the business and its bottom line severely suffer. Consider matching outstanding benefits such as comprehensive health care, retirement benefits, wellness initiatives, flexible schedules, and career growth opportunities with culture-driven, fun rewards programs.
Employee Rewards Attract the Right Employees
Culture is critical for most companies, and many invest significant amounts of time and money into recruiting and retaining the best talent. With such high monetary investments, sustaining a culture that drives positivity and productivity is vital for supporting a company's bottom line.
Beyond benefits, employees desire recognition for achievements, simple acts of kindness, and personal celebrations (i.e., birthdays and anniversaries). Using an employee reward system to recognize employees for such scenarios demonstrate the employer's core values and appreciation. By streamlining a rewards approach, employers can reach and attract a workforce that wants to be part of the team. When prospective employees are eager to be involved, they will be more engaged and productive when hired.
Simple rewards help employees feel valued and recognized within the workplace, encouraging them to be more engaged. Engaged employees will feel inspired to develop creative solutions, increase productivity, and lead; thus, helping improve a company's bottom line.
Implementing employee rewards systems is a great way to attract talented employees, help engage and retain current employees, and improve your organization's overall health and wellness. Organizations can use a well-designed employee rewards system to simplify their reward experience while making employees feel valued. The more organizations reward employees, the more they are excited to work and use employee rewards. With an employee rewards system, your organization will see a positive impact on its bottom line by reducing hiring costs and retaining employees, increasing productivity, and reducing employee illness and absenteeism.