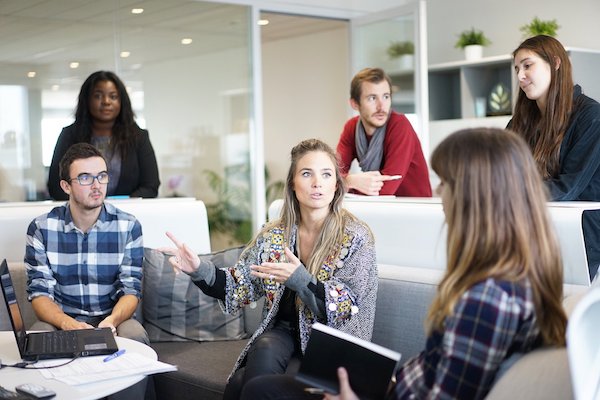 Businesses are just now going through the process of opening their offices and workplaces and bringing employees back. This is one transition that won't be entirely smooth, and it's unlikely that managers feel fully equipped to deal with the situation.
Fortunately, team leadership and management expert Eyal Gutentag provided some tips for communicating with your employees in a recent Medium post, "Post-COVID: 5 Ways Managers Can Communicate Better".
1. A Relaxing Environment.
Eyal Gutentag emphasizes the importance of a calm workplace, where employees can fully relax and focus on the task at hand. It's tough to avoid hustle and bustle when a big transition is taking place, but there are steps that you can take to make things less chaotic. First, you have to have a clear plan in place and should be prepared to make changes if necessary. Second, project confidence at all times that the situation is under control. Your confidence will help your team feel less confused and stressed about what's happening.
2. Open Communication.
You'll probably be busy yourself during this time, but it's important that you're making an effort to be available when employees need you. Be proactive about meeting regularly and touching base to ensure that new information has reached your employees and that they understand it fully. If anyone has questions you don't know the answer to, be honest while reassuring them that the answers will be known shortly. Above all, avoid being vague and never withhold information.
Eyal Gutentag also recommends prioritizing two-way communication. It should always be possible for employees to express concerns or ask questions. Whatever channel of communication you're using, consider opening a channel specifically for questions. And always make space for anonymous questions or comments, since many employees will never feel comfortable expressing themselves personally.
3. Clear Roles.
One of the fastest ways to cause confusion and chaos during a transitional period is by leaving leadership roles vague or unfulfilled. Instead, Eyal Gutentag recommends having someone clearly in charge of directing and assisting employees as they return to the office. This one individual can then answer questions and be the go-between for management and employees.
It's still important for management to be personally available to employees, but it's unlikely they'll always be around when something important comes up. Make sure whoever you choose for the leadership role is being given all the support and information they need to do their job correctly and watch as employees become less stressed and more focused.
4. Human Connection.
Above all, Eyal Gutentag Millennial Manager wants people in leadership roles to understand the importance of empathy, kindness, and flexibility during this time. It may be counterintuitive not to prioritize efficiency and speed when returning to business as usual, but putting your employees' wellbeing first will ultimately yield the best results for the business as a whole.
Many companies will do a lot of talking about caring for employees, but acting on those promises is the most important part. Showing you care will make the next few steps much easier for everyone with the added benefit of increased employee satisfaction.