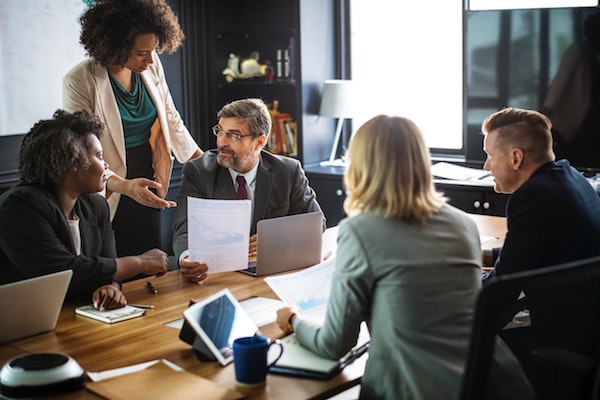 When we think of business professionalism, it's very easy to consider an outward-facing approach. It might be that you decide to focus on providing your clients with a beverage and a comfortable seat in a polished meeting room when they come to visit your practice. Professionalism might mean having a perfectly laid out Covid strategy on your website, helping your clients know how this has changed your process and what they can expect from you.
But there are also internal means of improving your business professionalism. Often, these are worthwhile, because they really do speak to and improve upon your values. This is because you cannot misconstrue an internal improvement as a marketing tactic, aside from perhaps improving staff satisfaction and the calibre of the applicant that decides to work for your business.
But what does professionalism mean? We'd like to define it as a formal approach to improving on or maintaining workplace principles that are important to us, and speak to our values going forward. That can be tremendously helpful for anyone.
Cultural & Interpersonal Standards.
Your workplace culture is a reflection of your business priorities and how those manifest in the social scene of your firm. It can be healthy to ensure certain practices or policies are known – such as an absolute zero-tolerance policy for bullying or harassment of any kind. You may wish to invest in certain social consciousness programs, or perhaps you feel that it's more important for your staff to learn the history of what you make (such as investing in beer history courses for all of your brewers or staff – to use a fun example). Keep an eye on your brand culture – it speaks to what your firm considers important.
Staff Onboarding.
Staff onboarding means something quite important, too. It denotes how quickly your new successful candidates can begin to understand your firm and its processes, as well as being set up with a workplace account, email, and education. This might mean going over the privacy policy with your staff, teaching them your security standards, or simply introducing them to the team. Making this process more seamless requires your investment and time, and also, avoiding one-size-fits-all solution. Professional services can often help you in that regard, in the best possible sense.
Calibre Of Equipment.
The calibre of equipment you provide your staff is very important to routinely check from time to time. This might involve ensuring each staff has two or three monitors and a high-speed computer with excellent processing ability and cloud functionality to make sure their work is never impeded by a slow machine. It might mean providing them devices, or the best one-login VPN security suites, or using informal app channels like Slack to socialize during their remote work efforts. This way, you're much more likely to establish the worth of your employee's efforts, publicly and noticeably, by thoroughly investing in them. It can make quite the difference going forward.
With this advice, we hope you can find the best internal means of enhancing your business professionalism going forward.