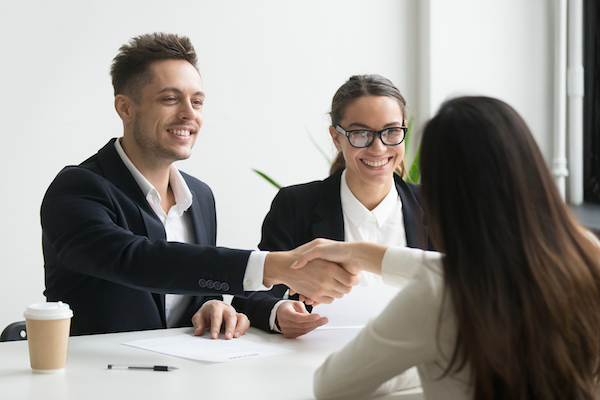 Because of the COVID-19 pandemic, 2020 changed the business world. The result? Employers and employees have different expectations for how the relationship should look. One of the biggest changes is that many people got used to working from home. While that was something already normal for certain industries (at BairesDev they've been using remote teams since their foundation) the vast majority of sectors had to adapt to remote working. Whether they liked it or not is another matter, but you should definitely consider this component as you begin seeking new hires in the post-pandemic era.
Other issues will come into play as well, and some of them might not be so obvious. For example, if your company provides essential services such as electric power or internet connection. You might have learned that a little empathy goes a long way and may now want that skill to be part of your culture and something you look for in new employees. Technology will also impact how you hire. If you must conduct video interviews, you'll need to develop a process that gives applicants a good impression.
There are plenty of things to consider from now on when recruiting new talent. The following tips are a great place to start when developing a fresh approach to hiring in the post-pandemic world.
1. Look at How Your Culture Has Changed.
If you've never given much thought to your company culture, now is the time to start. Begin by developing mission and vision statements that describe what your values and goals are as a company. If you already have these assets, sit down with representatives from all areas of the company and think about what has changed in the past year.
Now you can use these materials in the hiring process. Tell candidates who you are, what you're all about, and how that has changed in the last year. Employees who understand what they're signing up for are much more likely to fit in with your existing team.
2. Examine Your Job Descriptions. 
The job descriptions you wrote before the pandemic might be just fine. Or they may need some tweaking or a complete overhaul. Remember the mission statement you wrote in step #1? Take a look at it and make sure the descriptions you have match up with your company's values and goals. For instance, flexibility might be something you've come to appreciate as your employees have had to adapt quickly to unexpected working conditions.
One of the biggest changes the pandemic has brought is the ability of so many people to work remotely. Do you want to give employees this option? Or, even more extreme, have you gone completely remote? Work these requirements into all your job descriptions, making sure you identify which jobs are on location, which are remote-possible, and which are fully offsite. 
3. Find New Ways to Attract Top Talent. 
While vaccinations are still underway and social distancing and masking remain necessary, you may need to adjust your interviewing and hiring processes to take place partially or entirely online. You can use AI tools to sort through applications, and video calls to conduct interviews. Social recruiting tools enable you to find qualified candidates via LinkedIn, Twitter, and other platforms.
Aside from the technology angle, think about finding new hires in novel ways, such as rewarding current employees for sending qualified applicants your way, or staying in touch with people who may not be available now but could be the perfect fit for your organization at some point in the future. 
4. Revisit Your Benefits Package.
As times have changed, so have priorities for many. For example, mental health has been a big issue as pandemic restrictions have forced people into stressful living and working situations. What kind of mental health benefits does your company offer? It may be time to improve them. Another big one is childcare, which came into focus as parents have tried to juggle working while taking care of kids participating in online schooling.
In reviewing your benefits package, try to have at least one offering that many other companies don't. Wellness programs, relocation assistance, and tuition reimbursement are just a few that might strike applicants as uncommon and desirable.
5. Consider Contractors.
You might want to hire contractors or make other temporary arrangements during this transition before you discover what you really need. For example, depending on what types of products or services you provide, there might be an initial rush as restrictions lift and then a downturn as they return to a more baseline level.
Through this time, you can not only determine how big a staff you'll need – you can also see which temporary employees you might want to hire permanently. You can find them through an employment service, a temp service, LinkedIn, or your standard hiring process. Be sure to add "temp-to-hire" to your job descriptions.
In Summary.
Just as the pandemic forced companies to do things differently, its end will as well. The key to hiring great talent in 2021 is combining the best of "normal" with the best of the "new normal." For example, you'll still be looking for certain qualifications, but some of them may have changed. Both employers and employees have shifted their expectations and communicating about them upfront will always bring good results.