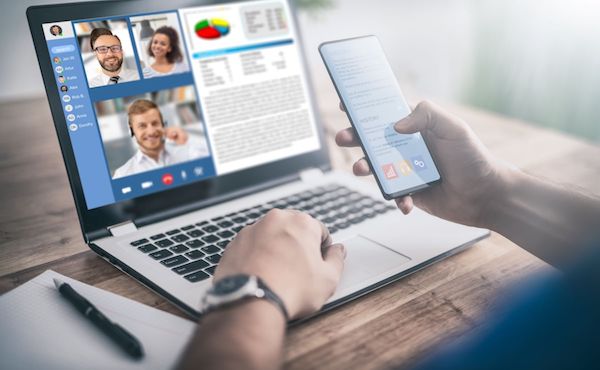 Data breaches have become more common than in the past years. Even multinational companies like Yahoo!, Equifax, Adobe, Dubsmash, Marriott International, and many others have suffered cybercriminals' wrath at some point.
As the frequency and severity of data breaches continue to increase, it's no longer a matter of 'if' an organization will get hit but 'when.' Luckily, there are several things any employer or organization can do to protect their data, whether or not they have a virtual team.
Let's see the top 5 ways to protect your remote team's data.
1. Use secure web-based applications.
The first step in protecting company data is using web-based applications to manage and monitor data usage. Utilizing applications that you control with ease will help take a portion of the risk off your shoulders. 
Most web-based application providers will be willing to offer comprehensive training. On top of that, they will implement all security measures to ensure that your services and users are free from potential security threats.
When choosing a web-based application provider, you must understand the kind of services and protection they offer. For example, seeking identity theft protection services from a company such as Identity Guard can help you keep your employees personal information safe.
2. Develop a remote work policy.
Companies that embrace working from home have carefully drafted remote work policies to avoid unnecessary disputes and security issues. Your work policy should clearly state what you expect from your virtual team. These include guidelines on required back-ups, approved messaging applications, and a security update schedule. Having a comprehensive policy with your virtual team will ensure that they take owner ownership in protecting company data.
3. Create a secure connection.
Whether your team works from home or not, maintaining a secure network is imperative. Your virtual workforce should use a virtual private network (VPN). Put simply, this network encrypts your data, allowing your team to use an unsecured, unencrypted network privately. That means you never have to worry about hackers accessing company data.
To complement a VPN, you should use a remote desktop security layer to limit company files from being saved or copied to your remote employee's devices. You could also set up multi-factor identification to prevent data breaches.
4. Protect your devices.
If you are like most employers, you allow your remote team to utilize their own devices for work-related calls and emails. To ensure your company's data guard, you must have a security strategy.
One of the most effective ways to do this is using trusted security software to protect your remote team's devices from unauthorized access, malware, and viruses. It would also help if you encourage your employees to regularly learn best security practices, like regularly updating the OS and other work-related applications.
5. Secure essential IT tools and resources.
Having the right essential IT tools and resources is another critical thing when offering work-from-home opportunities or privileges for your employees. Whether laptops, smartphones, or tablets, it's vital that you look into factors like firewall configurations, password management, account lockouts, and browser privacy. It is also essential that these devices are protected from getting stolen or lost.
Final thoughts.
While having a virtual team is much more beneficial, it can pose a serious risk to your firm, especially if there's a data breach. As an organization, you must ensure that you have all the important security measures to ensure your remote team's data is protected. 
If you are not certain how to go about it, the five suggestions above are a good place to start. Consulting with a reputable IT firm like Identity Guard can also give you an insight into protecting company data.