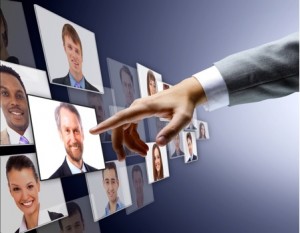 Traditional ways of recruiting candidates and storing their data are now considered old-fashioned and ineffective by most companies which understand the benefits of using cloud-based solutions in their daily work.
Today's dynamic job market is forcing recruiters to look for the most advanced tools and techniques that will make the hiring process faster and more efficient.
Access to recruitment software anywhere and anytime.
The recruiter's work is not only about running job interviews – they visit career fairs and conferences, co-operate with marketing experts on creating employer branding strategy, write and post job offers and often organize many other processes in the company. It is fair to claim that recruitment is a 24/7 job.
Attracting and retaining the most talented candidates is not an easy task, so recruiters need access to recruitment software, candidate data or other files no matter where they are. This is not possible if your company uses an on-premises software system. Cloud computing enables it though. This allows you to react fast, accessing any needed documents or information from your laptop or even smartphone during conferences, business trips or while working remotely.
What are the advantages of cloud-based recruitment software?
Using cloud-based software allows you to:
Post offers on many applications at once – imagine you can create content for an advertisement only one time and post it on many websites with one click. Don't waste time – automatize the process.
Make the process more effective – modern recruitment cloud-based tools will help you define the steps of the recruitment process (from applying to hiring or rejection).
Collaborate on the recruitment process – some companies hire a single recruiter, but others need a big HR department to run their recruitment processes. High-quality cloud-based software makes it possible to comment on and score candidates, while maintaining communication among HR team members in order to choose the right candidate.
Reporting – cloud-based recruitment software can provide you with advanced analysis and reports that will help you to evaluate the process, as well as modifying and creating a new plan for your next project.
Multi-channel operation – cloud-based recruitment software makes it possible to offer a job and get the candidates' attention through many communication channels (like social media, company or recruitment websites).
Storing and sorting applications – the best software can sort applications based on candidates' experience, skills, personal data, application history and any other factors of interest.
Cloud-based recruitment software has many interesting features that can make your recruiters' work faster and easier.
Paperless environment.
Storing data on paper takes time and space, and furthermore, it is impractical. On the other hand, using the cloud for data storage not only helps save money (on printing and maintaining documents) but also makes the recruitment process faster. This process usually requires a lot of printing – resumes, application forms, cover letters, assessments, but wait… What if it could all be done on a device instead of paper? Cloud computing enables this. The whole process can be digitized! That makes the whole recruitment process faster and easier.
Improved communication makes the recruitment process more efficient.
Recruiting the right people for the job is often a team job. Recruiters working hand by hand with other company employees to provide the best specialist for the team. Sometimes there is great need for fast communication between coworkers, managers and recruiters. Keeping everybody up to date using on-premises tools may be difficult. Cloud-based recruitment software makes this possible and easy – you can share documents or grant access to important data to your colleagues, so they can check it out any time, as well as writing you notes or updating content.
On-premises software is an unnecessary cost.
On-premises software is becoming less and less popular and is quite expensive. Often it has a lot of unnecessary features, while it lacks those you really need to work efficiently. Such systems are rarely suitable for smaller and medium businesses with tight budgets. Wouldn't it be better if you could pay only for these services you need and if that sounds interesting for you, you should certainly think about adopting infrastructure as a service.
Want to improve the recruitment processes in your company? Ask us what the most popular technologies are nowadays.