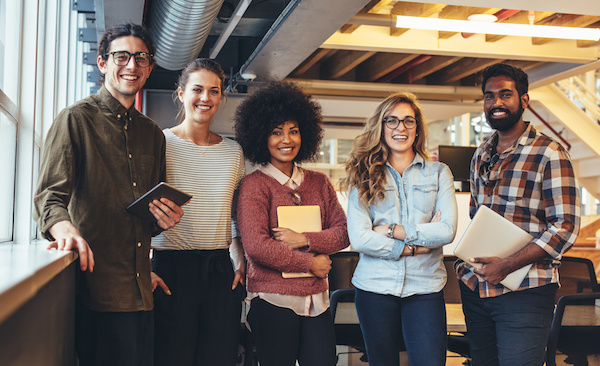 A college syllabus is enough work for the typical student, but some enterprising students still desire to create a startup company in college. This smaller group of students are voluntarily increasing their work quota, with the additional responsibility of running a startup company.
This addition often amounts to such students becoming disadvantaged, because they consider leaving one for the other eventually. Such negative results of venturing into business don't have to affect you.
Put into practice the following steps on how to successfully create a startup while attending college:
Choose Your Area Of Study.
Physical college campuses are still relevant, but more students are taking advantage of the flexibility online courses afford. This allows them to venture into other profitable endeavors, such as creating a startup company.
However, there are concerns about whether online degree costs can be justified. You can search the web for a list of cheapest colleges online, read reviews about each institution, and confirm their registration.
Your online degree should be related to your startup company, such as a business management course, to be properly equipped to manage your startup.
Conduct A Personal Evaluation.
Ideas come very cheap and very often; you'll have a lot of them on your list, but a personal evaluation can help determine the most suitable one for you. It also helps to know if it's reasonable to kickstart your business while at university.
During the personal evaluation, you should consider your interests, and academic strengths and weaknesses. Some of the questions to raise while conducting a personal evaluation include:
How related is your business idea to your studies?
Can you properly balance schoolwork and business?
What are your personal business interests?
Which of the many business ideas you have is best to start in college?
Answering these questions will help you determine the most advisable business idea to choose from.
Develop Your Idea.
You have selected your business idea, and you need to develop it. Mark Zuckerberg said, "Ideas don't come fully formed. They only become clear as you work on them. You have to get started."
This quote gives the basis that you need to take the time out to work on the business idea. You should answer the following questions while developing your business idea:
What is your business mission?
What is your business vision?
What are the service gaps you have identified on-campus, locally, and globally?
Can your business be conducted remotely, or do you need a physical location?
Select Business-Related Courses.
Student entrepreneurs can take advantage of their academic curriculum to learn more about business. A course in introduction to entrepreneurship can help enlighten you on the basics of running a successful business, the pitfalls to avoid, and practical case-studies. These courses can also help you bridge the gap between maintaining good academic grades and running a business.
Take advantage of mentorship opportunities with academic professors in such courses which can help you refine your business idea. It also saves you time on studying general courses that won't contribute to your business.
You'll also have the opportunity to experiment with several of the lessons learned in class via your business. Take your time to see what works and what doesn't, and retain only the useful information.
Conduct Preliminary Research.
Student entrepreneurs often consider college an easy market to exploit, only to discover it isn't so. To avoid such late discoveries, you need to conduct a thorough market research. Your market research on a college campus should focus on the following areas:
Available College Resources: There are free resources such as free wifi, repositories, extra-curricular groups, and student discounts that enterprising students can take advantage of on campus. You'll want to determine your eligibility and the fees required to ensure the legitimate use of these resources.
Buyer Persona: All students on campus cannot fit into your ideal customer identity, otherwise known as a buyer persona. An example of an ideal customer for a gym business is students in years three and four who can afford a membership fee, are interested in sports and love keeping fit. This information will guide your marketing efforts when the business starts.
Create A Business Schedule.
Entrepreneurs can't succeed without a proper schedule in place. It'll help you to stick with a timeline, and to always know which step comes next. It's a great strategy to put milestones in your business schedule to ensure that you're working towards a goal as time progresses.
Make sure you're realistic while creating your business schedule. When you have an unrealistic schedule, either your academic performance worsens, or you won't achieve your business goal.
Also, factor in occasional gaps between when a business project phase is completed and when you begin another phase. This will help you avoid work fatigue as you develop and grow your business.
Create A Business Website.
A business website is a very important component of college business. Websites are considered virtual business locations or offices where both student customers and clients from external sources can conduct business with your startup.
The quality of your business website is equally as important as its existence. You should employ a professional website designer or learn the necessary skills to make your business website the best it can be. The website should have the following features:
Contact Information: Your contact information, including email, phone number and addresses, are important business details to communicate clearly on your business website. The position of contact information on most websites is either at the top or bottom of the home page.
Clear Navigation: Your business website navigation must be easy enough for every new visitor. You can achieve better website navigation by visualizing whether or not your website page meets a visitor's needs at a glance and if they can easily get more information from it.
Social Media Integration: Social media is one of the most viable business marketing channels. Clickable buttons for the big four – Facebook, Twitter, Instagram, and LinkedIn – social media channels should be integrated into your website. This allows visitors to engage with your social media accounts and share valuable information with their audiences.
Frequently Asked Questions: For a new startup, there are always many questions potential customers will need answered. This is a matter for your FAQ section. You can take a preemptive approach, or conduct a survey and answer the questions that come up. This section will need constant updating as new questions appear and others become irrelevant.
Calls To Action: CTAs are actionable prompts on your business website that ensure visitors convert and take the desired action for which a website page was created. These should be strategically placed above the fold, mid-page, or at the bottom.
Create Content Before Your Business Starts.
You know that people need the service or product you're willing to provide with your new startup. Therefore, it's important to start creating the necessary awareness before your product launches by generating blog content, video, and book guides.
HubSpot shares their experience creating a blog post on a new feature coming to their Customer Relationship Management tool months before it shipped. This way, they are able to kickstart the marketing process much earlier than when the product is shipped.
The traffic, impressions, and engagement generated by your content creation can become leads you can easily convert for improved business sales.
Develop A Product Or Service Demo.
Students and other prospective customers are making buying decisions based on what they can see. Demos can make virtual interactions possible for intending buyers. This makes it important to develop an interactive product or service demo before your startup launch.
Basic product and service demos include brochures and High Definition (HD) pictures, which can come at no cost or at a minimal fee. Advanced demos such as HD Videos, animations, and product designs bring the product which customers will be buying and using to life with impressive 3D features.
Connect With Other Students.
Creating a business venture while in college offers you the huge advantage of networking with other like-minded students. Even as social media, email, and phone calls make it easier to network from any location globally, physical interactions are great for choosing the best teams and volunteers.
You can also collaborate much better because of the guaranteed availability of each student throughout the study. If you need to test out prototypes and product samples, you can always get the best volunteer team.
The wealth of disciplines in a college offers the highest diversity level, which can be an asset because there is no insight you require that you won't find from someone with another major. Also, the insight comes completely free, making it ideal.
Figure Out The Financial Aspect.
Finance can be a major issue when building a business startup. Most student entrepreneurs claim to have started their business with their funds, but many don't have that kind of money lying around. Hence, it's important to consider other funding options.
Consult with your parents, professors, and fellow students on possible ways in which you can start raising more capital to fund your business. Your school's finance and scholarship office should be a point of call to find out about loans, federal grants, and fellowships that can support your business.
Prioritize using your student email for any financial investment application. It will increase the likelihood of getting these investments. Ensure using up to 90% of any funding you receive in your business activities, because there is enough there to take the bulk of the sum you have received.
Put In The Extra Work.
Not all students are mind-ready to put in the work needed to get a business running, and keep their academic grades up. Either of the two usually suffer.
You'll need extra discipline, a personal schedule, and daily motivation to keep going with so much on your plate. Use some of these tips to ensure you work as hard as you should:
Cut down on lengthy sleeping times, social activities, and unnecessary chatting.
Take a look at your daily, weekly, and monthly schedule frequently.
Find A Business Mentor
Mentorship is a proven way to ensure that your business model is properly developed, and to avoid pitfalls mentors have experienced or witnessed in the past. They can provide the necessary guidance and wealth of information to position your business for steady and initial growth.
A business mentor must be a familiar individual with whom you have cultivated a good relationship. This will allow them to share every bit of advice with you without restraint, and make them more personally committed to the progress of your startup.
You can have multiple business mentors, but ensure that you manage them properly so that their advice doesn't result in a clash of ideologies. Your business mentors should possess these characteristics:
Have more entrepreneurial business experience than you do.
Proven over time that they're committed to your academic and business success.
Always excited to share their wealth of wisdom with you.
Aren't afraid to give honest feedback even when it's negative.
Committed to a lifelong learning culture.
Conclusion.
Initiating your business journey in college is a great decision. Starting with either opting for online learning or being on a physical campus, be sure to make choices based on your preferred learning model.
Conduct a personal evaluation to determine the best business idea for you. Proceed to select business-related courses and do preliminary research within your campus. Create a business timeline that will allow you to balance academics and finances effectively.
A functional business website should be prioritized because it works like a virtual office for your business. Start with the initial content creation before your business starts, and create a basic demo to showcase prospective customers.
Put in the necessary extra work, and have a committed mentor who can guide you on your business journey. Leverage the student network that's always readily available on campus. Look into your financing options, and take the necessary steps towards getting your business running.