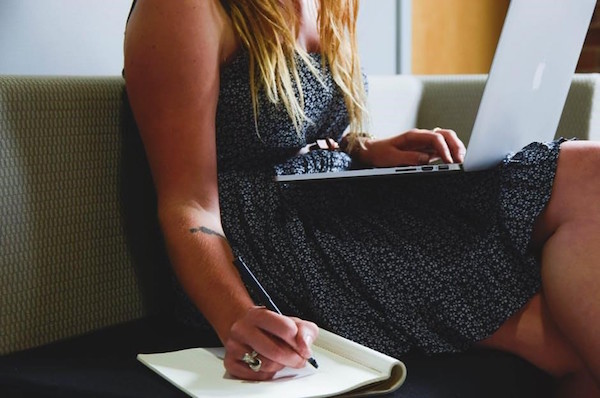 Once upon a time, blogging was a way for people to share their thoughts with the world, and not expect much in return. While people still share their thoughts for free, smart established bloggers have found ways to make money for their trouble. It all started with the OG of blog monetization: Google Adwords. This was, and still is, an easy way to make a little money for your blog.
However, most people won't get rich just using Adwords. Generally, it'll cover basic costs and not much more. Smart bloggers, therefore, monetize more than just their internet real estate. Instead, they become influencers and make money that way as well. Let's take a look at how this all plays out.
1. Bloggers are influencers, too.
These days, most of us think of "Influencers" as people who sell stuff on social media. In particular, Instagram has become a favorite place for visual sponsored content. However, there are influencers all over the internet. Any time that people consume content, there's the potential for its creator to have some influence. Just look at the news media: it's well known that the way in which news is presented tends to influence how people think about world events. There are also ways to spread influence through blogging.
Shared expertise.
One of the ways in which blogging as influence differs from some of the other content types is shared expertise. Many high-quality blogs exist primarily to share the blogger's knowledge with the world. For instance, look at my website. On NealSchaffer.com, I talk about many different aspects of marketing. In particular, I focus on influencer marketing since I wrote a book about it. People visit my site primarily because they want to learn about this subject. As a rule, people check out blogs to learn about the author's subject matter.
Sources of inspiration.
Any kind of creative blog can also be influential. It could mean recipes, various types of crafting, or home improvement. Each blog type provides a public service that can inspire readers to do something great. Maybe it's those awesome wedding reception centerpieces you made-and everyone decided was insta-worthy. Or you found the perfect way to store winter boots. Whatever it is, you can influence people to buy materials when they're inspired by projects.
Thought leadership.
Finally, bloggers naturally become an influencer by becoming thought leaders. It could be that they talk about marketing concepts, such as the importance of measuring returns on investment. Or, they might become advocates for corporate responsibility. In other words, it isn't always an issue of sharing how to do something, but why something is important. People tend to listen when a blogger has earned their trust.
2. You can't make an impact as a blogger without becoming influential in Google's eyes.
Have you ever thought you're talking to the wall? That people won't listen to what you're saying, no matter how long you say it? While most of us have experienced this in meetings, it's a common problem for bloggers. In particular, bloggers who aren't discovered when people run Google searches for their subject matter.
SEO matters.
Just like traditional websites, your blog needs to be easily discoverable on Google. Otherwise, your traffic will be limited. Not only is it less likely that you'll recoup your blog expenses through basic advertising revenue, but you probably won't make an impact. How can you, if nobody is reading your stuff? In order to avoid being stuck in an internet black hole, you need to optimize your blog for SEO.
So does "authority."
In addition to basic SEO techniques, there's the extent to which you appear authoritative about a subject. This has a lot to do with keywords, but it's also related to basic expertise. For instance, Bill Gates has a lot of authority in the software field, and professional athletes are authoritative in their respective sports. As part of your SEO, it's important to demonstrate that you know what you are talking about. That way, a search engine is more likely to rank you well. This, in turn, drives traffic.
Don't stuff.
Finally, let's talk about going overboard. If there's one thing Google absolutely hates, it's keyword stuffing. Make sure that your keywords have the right concentration. Also, distribute them artfully throughout your blog posts so that the insertions appear natural. This makes your blog both readable and well-ranked. There is a wide variety of advice out there, as well as plenty of tools to help you succeed.
3. You can't make impact as a blogger without building influence in social media.
Besides sound SEO practices, there are other ways to drive traffic to your blog. This involves making your blog a desirable destination for people in your target audience. One of the easier ways to do this is through your social media presence and becoming a social media influencer.
Posting links on personal social profiles.
If you want to get traffic for your blog, start with your online friends. For example, a mother blogging about her child's illness will often post a link to the blog posts as they're released. This way, those who are interested can go check it out. This technique works for other kinds of blogs, too. Even bloggers who don't seek to become influential will use blogging as a way to tell people they know about their adventures. Over time, traffic builds when the friends of friends check out the blog. Social sharing is a powerful tool, even for blogs.
Have blog-specific or author-based accounts.
An alternative to posting about your blog on personal social media is having a separate social media page. While this isn't necessarily practical when first starting out, as the blog grows you might find it advantageous to separate your social media traffic. This allows you to have a space for primarily family and friends, and a different space for blog readers. That's not to say that you shouldn't still announce blog posts on your personal page, however.
This approach has another advantage: it can help bypass the contact limits of various social networks. By sending your blog fans elsewhere, you are reducing your contact counts on a personal page, letting you use the allowance for something else. In turn, you can tailor social postings to either fans or friends. These pages can be called author pages, business pages, or something else depending on the network.
Hang out in the right circles.
Finally, it's important that you post in places where your core subject is discussed. For instance, if you run an SaaS company, hang out in software communities. In addition, be sure to engage with people who are part of your target industry. This way, people will get to see what you are all about. Over time, they'll check out your blog, and hopefully, share your content. Do this right, and watch your readership expand rapidly.
4. You can't make impact as a blogger unless you are collaborating with other influencers or influential sites – which organically leads to more backlinks.
While you might not think about it this way very often, blogging is a sort of team sport. Sure, the main author is always the star of the show, but cross promotion is really important for growing your audience. That's because, as with influencer marketing for brands, you need to borrow their audience. Depending on the opportunity, you can connect with different people who might become regular readers of your blog. This collaboration can be done several ways.
Guest posts.
With guest posts, a blog author has the opportunity to post on someone else's blog. If you're just starting out as a blogger, this may seem like a huge challenge. Fortunately, there are ways to find these opportunities. For instance, you might meet someone at a trade show or convention and strike up a conversation. Then, you can agree on guest posting for each other's blog. Another way is by participating in online forums, which you should be doing anyway. Finally, there's the old fashioned practice of finding blogs that accept guests. Either way, the first couple gigs are likely to be the hardest.
Interviews.
A lot of bloggers like to do interviews from time to time. Once you get to know the bloggers in your niche, someone might give you the opportunity to be interviewed. Here, you'll get the chance to talk about yourself and why your blog is relevant to their audience. Or, this can work in reverse: interview them, and let them self-promote to your audience. Either way, your respective audiences get exposure to the other person's content and thought, which helps increase the number of visitors on both sides.
Cross linking.
Besides interviews or guest blogs, you can collaborate with other content creators through cross linking. In this case, you link to each other's material as it's relevant to your audience. However, unlike organic cross linking, with a collaboration you're both doing it on purpose. Over time, the idea is to share each other's audience. Hopefully, you'll get a lot more shares on social media or links from third parties. Then, the audience will really grow.
The bottom line.
Being influential as a blogger is essential to your success. Fortunately, it isn't that hard to build influence. Through a combination of quality SEO work, links, collaborations, and more, you can capture the attention of a broader audience. From there, you can increase sales for your brand or monetize your influence to an increasing degree. With a little bit of work, you can become a thought leader in your field and get a truly brag-worthy audience.