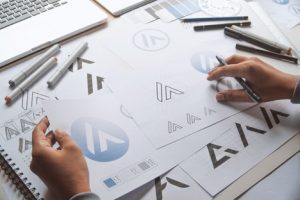 In 2020, we are witnessing the beginning of a new era in advertising design, and big changes in trends. Advertising design is more than poised to reach new heights as design professionals begin to redefine a new way of creating display advertising. There is a feeling that anything is possible, that we are about to witness the next evolution of advertising design as we know it today. Although it may take a while for what is really to come, the main trends in advertising design or display ads can be glimpsed.
Whether you are a design professional, or if you are thinking about training and dedicating yourself to it, these are the trends in advertising design you have to know.
1. Cyberpunk color schemes.
Punk and cyber aesthetics have their place in advertising design trends this 2020. This year we will see bright colors and very bold and saturated combinations. The reason? Brands want to stand out from their competition, and they do so by applying a very bold color palette. In graphic design, futuristic themes are often expressed in color, especially bright, oversaturated hues that we don't normally see in nature. These colors are associated with cyberpunk, a science fiction genre that generally depicts dark, futuristic cities full of neon lights, as in the movie Blade Runner.
2. Advertising with street art style.
This is another of the advertising design trends for this year. The graffiti and street art techniques have a retro appeal for advertising, as it evokes, images of the punk scene of the 70s, neon 80s and the 90s plus grunge. But in 2020, this style is back stronger than ever. The return of street art to graphic design is a fact. With its inherent nonconformity (given its association with vandalism), graffiti is also used in advertising to break the rules and show disruption.
3. Ultra fine line geometry.
As a fundamental element of graphic design, lines express the shape and nature of an object. Geometric lines illustrate human-made objects, while curved lines represent more natural and organic shapes. In 2020, we see designers merge these line styles to achieve impossible shapes. The designs are based on a stable geometry, but still manage to express an ethereal feel: they appear metallic and robust, but they fade like smoke. Ultra-fine line geometry is elegant, abstract, and difficult to achieve without the aid of a computer. This style seems to be the future of technology, and makes us see the possibilities that await us in the coming years.
4. Paper cutout collages.
Designers always try to create authentic experiences for users. What better way to do it than with this type of piece? Collage makes it easy to open advertising to new landscapes, and to create unexpected relationships between graphic elements. This is another of the trends in advertising design for this year. In 2020, designers mix images that clearly do not belong to the same universe, such as illustrations and photographs. By being able to manipulate photos without problem, they leave images with the angular edges and the white outlines, which come from the fast and unrefined cut and paste. Thus, it is possible to divide the line between contrast and harmony, uniting these disparate elements in a kind of asynchronous beauty.
5. Fonts "by hand" with a lot of personality.
Typography has always been a basic element of graphic design, also in advertising. In the digital age, when everything must make immediate sense to new users, typography has become very functional out of necessity. But, in recent years, it's gotten bigger, bolder, and more experimental in ways we haven't seen since the print ads and magazines of yesteryear. The designers prove that even a composition that is limited to white space and text can be incredibly suggestive using the right typeface. In 2020, the trend for a larger typeface will continue, but in a more humane direction. Custom hand lettering is already extremely popular, and branded typeface will continue to be more colorful, imprecise, and eccentric.
6. Dystopian aesthetics.
Dystopia refers to fictional, futuristic worlds that have taken a wrong turn somewhere in their history. In design, dystopia finds expression through cool color schemes, mechanized typography, glitch art techniques, and imagery that melds technology with organic matter, or excludes humans from the scene entirely.
7. Vintage is still here.
No trend list would be complete to mention vintage. What makes 2020 unique is hyperpastiche – designers won't relive one specific era, but almost all of them. Whether Victorian or Medieval, past art styles are fused with modern designs in a massive chronological collage.
Are you attracted to the world of advertising design and digital communication?