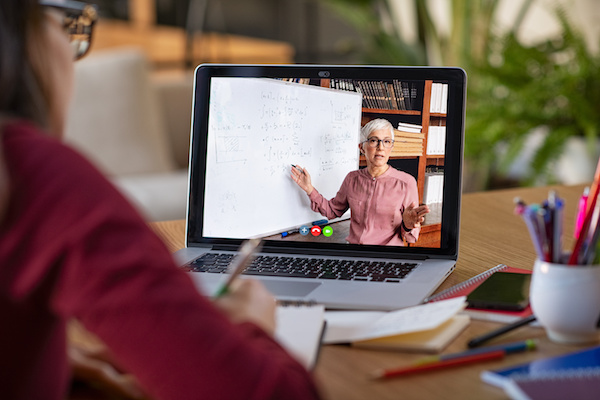 This  coronavirus outbreak has confined more than a billion students, all over the world, to their houses. Schools and universities moved the teaching apparatus onto online platforms, to public learning software, video conferencing tools, and edtech apps. Faculty and administration, along with the younger generation, immerse themselves in this process. 
It is the path of least resistance in this dangerous period. 
What is Necessary to Know?
Students, as a collective, need to know the various online learning methods at their disposal. The smorgasbord of web-based learning platforms is vast, their functions varying. 

Perhaps the student prefers a solitary methodology of learning, as opposed to a vigilant, classroom-based style, where he imbibes subject matter quietly.

Perhaps the student prefers a competitive methodology of learning, where he gets assessed in relation to other students from his class.

Perhaps students don't know what they want, and need a baseline to refer to. 
For now, it is better that they know that there are two kinds of online learning apps and web-based software programs: 
Apps & Programs That Enable Education Indirectly.
These are the types of platforms that enable school students and other types of learners to connect and converse with school teachers, university faculty, and other educators. They are capable of allowing all the ancillary functions that deal with developing students, such as communication, planning, collaboration, assessment, supervision, and counselling.

Apps & Platforms That Enable Education Directly.

These are the types of platforms that directly impart students and other learners with subject matter through media: documents, whitepapers, e-books, presentations, webinars, and pre-recorded videos.  The function of these apps have to do with providing paid or free educational services, and can even involve frameworks for course-work.  
We will describe 5 popular apps in each category. Understand that many of these apps will be useful even after the pandemic subsides. They are 
Apps & Platforms That Enable Education Indirectly
1. Zoom.
This is one of the hottest cloud platforms for web and audio conferencing, chats, and webinars. 
Already applied to distance education before the pandemic, it has the infrastructure to hold classes for 40 minutes, allowing screen-sharing between participants, preventing unwanted lurkers, and has password-protection. While free Basic accounts have a 40-minute meeting limit otherwise, in light of the pandemic, the Zoom company has permitted certain educational institutes to run longer meetings, in several nations. Even free accounts have the advantage of storing meetings on the cloud, so that they get accessed by absent students later. 
2. Google Meet (formerly Hangouts Meet).
This Google app allows you to hold video meetings for upto 250 people, which makes it one of the most remarkable assets of remote learning. 
If teachers own a paid G Suite Enterprise account, meetings will get stored automatically onto Google Drive, which allows absent students the option of accessing it later.  Captioning and screen-sharing are present functions, in case of deaf and blind students. Since this is a part of the G Suite, it is easily compatible with Google Calendar (for scheduling) and has access to all the useful Google web-based softwares. Using the 'Present' function, students can present their assignments from Google Docs, Sheets, and Slides. 
3. Google Classroom.
Probably the best web-based application resource for classroom management, use Google Classroom in tandem with your Google Meet videos. 
Through its nifty interface, teachers can manage a virtual classroom thoroughly — planning and assessing classwork, making quizzes, grading assignments, and creating stream pages to add videos, documents, and other links for education. Teachers can post comments and advice whenever necessary, making the whole educational experience quite seamless. 
4. Google Forms, Docs, & Sheets.
The G Suite is an invaluable source for all types of educational collaboration. 
You're not sure how to improve your essay assignment? The suggestions tool in Docs allows the teacher to enter in suggestions and edits, if need be. Later, after re-editing, you can view the history of the document, to see how it evolved. Users can add comments to spreadsheet lesson plans, quiz documents are automatically graded, and forms are pertinent to registration purposes. 
5. Microsoft Teams.
This platform, much like Zoom, allows users to create group meetings and video conferences for upto 49 people, which is more than sufficient for online classrooms (more than 49 people require paid plans).  
Microsoft Teams is now primed to extract use of its 'Microsoft For Education' products, and has a 'Teams For Education' feature, just for students and teachers. It allows them to share, edit, and send Microsoft Word documents, Excel spreadsheets, and Powerpoint slides. There are also special classroom-based features, such as attendance reports, a pre-class lobby, and "raise your hand."
Apps & Platforms That Enable Education Directly
6. Khan's Academy.
An free online resource for any student in kindergarten to early college. It is available in 40 languages, and is suitable for students who cannot afford expensive local education, or those who prefer solitary learning. It can serve teachers and parents as well, in their quest to help students. It provides information on a wide range of subjects, from math to biology. Students can access the information in the form of instructional videos, and can test themselves with readymade exercises and quizzes.  
7. StudyBlue.
This 10 year-old crowdsourced platform provides study material, notes, and flashcards, the latter which get created by students and teachers all over the world. It enables collaboration between students, connecting them based on common goals, subjects, and classes. It is neatly divided into three sections of early education, to correspond to real life:  high school, college, and country. It assesses progress of each student, and allows note storage. 
8. Coursera.
It is the world's largest massive open online course (MOOC) platform. Subjects ranging from cloud computing to healthcare are accessible for suitable prices; however, there are also free courses, and Coursera did offer even more concessions for students of badly-affected colleges and universities. It provides subject matter through lecture videos, and assesses students through quizzes, weekly tests, and final exams. Once completed, Coursera awards students verified certificates.  
9. Udemy.
This is one of the fastest growing MOOC platforms, and is for a more professional set-up, suitable for higher college, rather than school. It has around 50 million registered students, and thousands of instructors. Subject matter is also relayed through successive videos, broken down and simplified. Collegians who are already interested in specialized professions can get a head start here.  
10. Skillshare.
Skillshare is an online learning community, with an emphasis on creative fields, such as art, photography, fashion, lifestyle, film, design, etc. Some of the best practitioners in their fields hold community workshops, which are in the form of videos. Designs and portfolios undergo constructive criticism, and users freely share advice. 
While the pandemic may eventually subside, online learning is only picking up. With students idle and listless, and numerous workers laid off or furloughed, everyone is looking online to create opportunities for themselves. Part of this process requires the cultivation of good knowledge. These apps and programs serve that purpose, and hold them in good stead, even in the years to come. The e-learning marketplace is also ripe for harvesting.