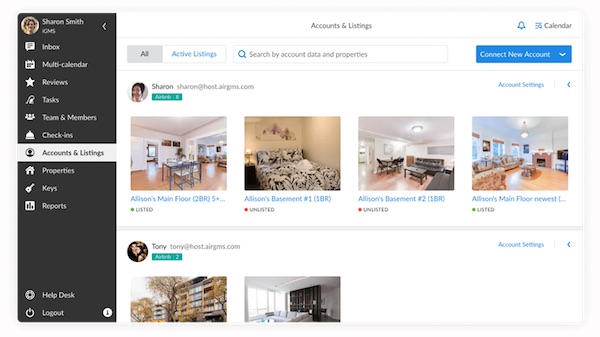 Professional vacation rental owners, busy property managers, and hardworking short-term rental hosts are never short of things to do. The vacation rental industry is lucrative, but it's also demanding, and this has prompted the popularity of vacation rental software, such as iGMS.
Pros of iGMS Vacation Rental Software.
iGMS has a number of impressive features. The platform is designed to help hosts streamline operations, manage their properties, and make the most of their vacation rental property portfolio. Let's see what iGMS has to offer:
Handy Channel Manager.
iGMS incorporates a handy channel manager enabling you to look after day-to-day activities related to your rental business. You can manage routine tasks, and oversee booking calendars. 
Busy hosts can manage multiple accounts from one single dashboard, so there's no need to try and keep an eye on all of your properties across a variety of booking websites. You can integrate properties from Airbnb and the Vrbo/HomeAway family. Hosts can also sync all calendar data from Booking.com, TripAdvisor, and other popular vacation rental platforms via iCal.
Smart Guest Communication.
First-rate customer service is key and iGMS appreciates the importance of communication. Hosts spend a large proportion of their time interacting with guests. This is why they need to ensure communication is effective and efficient. iGMS Smart messaging automates your messages and simplifies the whole process, saving you valuable time. Hosts can create message templates based on their standard responses and keep their guests informed by sending automated messages on preset dates and times. 
All guests' messages are accessed via a single inbox, allowing you to find and reply promptly to new messages without switching between various accounts and platforms.  
Efficient Cleaning and Team Management.
iGMS has been designed with teamwork in mind. Hosts can easily keep in touch with team members to manage cleaning and maintenance. Property managers can invite team members and assign roles. They can also schedule cleanings and tasks and delegate properties to the relevant cleaners. On top of this, hosts can set up notifications by text message and email, format labels, customize and formulate checklists, provide their team members with a different level of access. 
Smart Tools and Other Useful Features.
Automating your vacation rental business can save time and effort – it's all about working smarter rather than harder. iGMS has taken the time to provide an array of impressive features. 
We've already mentioned that the platform allows you to synchronize bookings from third-party sites and streamlines guest communication. iGMS also enables you to directly adjust your prices in line with demand and supply, manage guests from direct bookings, as well as automate the key management. 
Financial reports are also a doddle when using iGMS. You can analyze financial data related to your vacation rental business, by accessing the four types of reports: Revenue, Reservations, Payouts, and Tasks. Hosts can also get an insight into the number of cleaning tasks carried out each month (providing a complete picture of income and spending). 
There is also a mobile app available for iOS and Android which means you can manage your short-term rentals and keep control of multiple operations on the go. 
Cons of iGMS Vacation Rental Software.
iGMS certainly seems to offer a comprehensive solution to property owners and managers, but as you tend to find with all software providers, there are one or two cons to consider too. 
At the moment, iGMS does not offer direct integration with Booking.com (though you can synchronize your bookings from Booking.com via iCal) – but we have it on good authority that this will be available very soon. We should also mention that there's no website builder, but the platform does offer guest management from direct bookings. 
Why Do You Need iGMS Software for Your Business?
Are you juggling multiple properties on multiple platforms and trying to keep on top of your bookings calendar? Are you mulling over pricing adjustments and preoccupied with guest communication? Do you have a raft of cleaning schedules to address and reviews to write and chase up? 
Vacation rental software such as iGMS can help you with property management across the board. Make the most of the features offered by this platform and you will be able to scale your business, save money and time, make fewer mistakes, and automate your routine. This will allow you to focus less on keeping your business ticking over, and more on strategy. You can formulate a marketing plan, improve your properties and listings, boost interest, and online bookings.
The best of it all is that you can try out iGMS for free. Start your 14-day free trial to find out how vacation rental software can benefit you and your property rental portfolio. There's no setup fee, no cancellation charges, and no hidden costs lurking to catch you out.