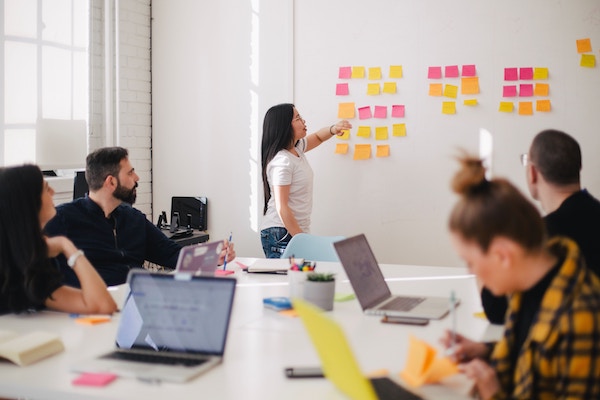 by Douglas Ferguson, founder of Voltage Control and author of "Beyond The Prototype: A roadmap for navigating the fuzzy area between ideas and outcomes"
At a startup, while you are just starting to define practices and company culture, I would recommend adopting an optional meeting policy like we practice at Voltage Control. That's right, we've made all meetings optional. If a team member doesn't think they need to attend a meeting, they're free to decline it. It's a small gesture, but a reflection of our belief that many meetings just don't need to happen. It leads to an increase in quick and direct conversations and, ultimately, to fewer meetings and more space and time for the things we want (and need) to do.
That's because we're on a personal mission to rid the world of shitty meetings, and we encourage you to do the same for optimum success. More efficient and productive meetings are not only possible, they're essential to flourishing business. Why? For one, effective meetings save money and time – both vital resources for any startup. In January 2019, the meeting scheduling company Doodle released its The State of Meetings Report and estimated that "pointless meetings will cost companies $541 billion in 2019." Wow.
I'm convinced this is why I see so many people energized and excited when they participate in one of Voltage Control's Design Sprints or innovation workshops: although they are technically "tied up" for five days, they get authentic work done. They're making decisions. They're progressing. They end the week with a touchable, tangible prototype. Things happened! (Now just think of how this dynamic will positively impact your meeting culture if you incorporate an effective meeting policy from the jump.)
This kind of energetic and spirited meeting dynamic is in stark contrast to most people's typical daily experience. Just think about your own work experiences, past or present. For the most part, companies' poor meeting structures lead to calendar-bombing their employees with tons of meetings that aren't even necessary for them to be in. Employees then show up without much attention to whether or not they can add value. Everyone ends up booked with back-to-back meetings, buffered only by a quick restroom break. This kind of packed and unnecessary scheduling begs the central question: When are you supposed to do the things you got assigned in your last meeting?
In a recent talk, I told the participants, "Do the real work in the meeting." I felt everyone sit up in their chairs. It struck a chord. We're so busy talking about the work we need to do when we could be rolling up our sleeves and getting to work in the session itself.
We've got things backward: we meet and then do "the work" after the meeting.
Circular Conversations. Little Action.
What do you want meetings to look like in your organization? Let's talk about a couple of typical scenarios. Here's the worst-case: Participants don't know why you're meeting. No one shows up with an agenda. Everyone starts talking haphazardly and conversations go in circles. No decisions get made. Everyone leaves the meeting with no idea about what happens next. Maybe they're hoping someone else will take action.
"If you had to identify, in one word, the reason why the human race has not achieved, and never will achieve, its full potential, that word would be 'meetings.'"― Dave Barry
Now the best-case scenario, or maybe call it your standard, run-of-the-mill meeting: someone's pulled together a meeting agenda and sent it out beforehand. You have a focused discussion. You conclude with a handful of action items and people have tasks they need to do after. But, even in this situation, I've seen the process go awry. Meetings aren't always adequately documented. There's misunderstanding after about the direction or next steps. People start working on items discussed in the meeting, but something gets lost in translation.
Don't instill a meeting structure that saves the work for when everyone disperses back to their desks.
Poorly designed and executed meetings are not efficient, effective, and they're certainly not an inspiring way to work. You have the opportunity to construct the type of meeting standards you want for your startup. If you want to bring the spirit of innovation into your daily work, push yourself and others to start doing the work in the meeting.
"The least productive people are usually the ones who are most in favor of holding meetings."– Thomas Sowell, American writer and economist
Challenge Yourself.
When you focus on doing work in the meeting, not after the meeting, it will encourage the following:
First, your meetings won't be so dull. They are now working sessions instead of slogs. There are concrete things to talk about. Everyone's excited and engaged.
Second, more will get accomplished. The prototype pushes things along just enough to get the ball rolling. It drives momentum and action.
Third, there will be more clarity about where you're going and why. There's something to reference.
While you are defining and fine-tuning the best practices and operations for your business, implement strong meeting practices with your team. Doing so will ensure more work is accomplished in the meeting, rather than less meeting and then working. Starting the habit now will not only set the bar for best practices, but you will also benefit from more productive and effective meetings right away and in the future.
Douglas Ferguson is the author of "Beyond The Prototype"
and a Design Sprint facilitator who has worked with teams from U.S. SOCOM, the Air Force, Adobe, Dropbox, Fidelity, Vrbo, Liberty Mutual, Humana, and SAIC. He's an author, entrepreneur, and human-centered technologist with over 20 years of experience. Douglas is president of Voltage Control, an Austin-based workshop agency that specializes in Design Sprints and innovation workshops. Before Voltage Control, Douglas held CTO positions at numerous Austin startups, where he led product and engineering teams using Agile, Lean, and human-centered design principles.