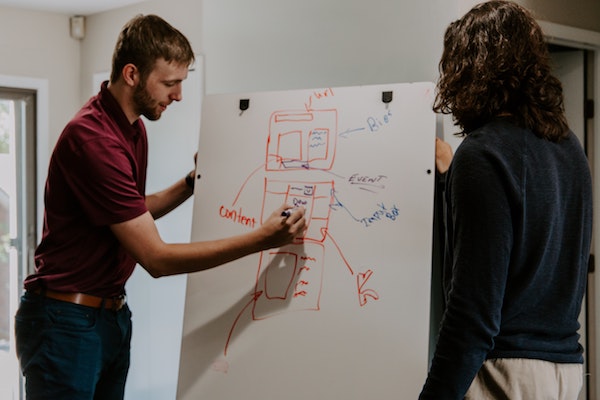 Are you standing on the edge of the cliff – nervous and excited – but ready to jump into the deep, blue ocean? You might feel this way, when your about to start up your own company. It's new, it's frightening, and it's awesome.
Being self-employed basically means being your own boss and being financial independent. In other words, you don't have an employer to watch over you and you alone decides when to work, how much to work and therefore also the amount on your paycheck.
Naturally, there are both pros and cons regarding the self-employed life. On one hand you'll get freedom and self-determination, but on the other hand you'll might experience financial insecurity and long working hours.
If you are considering staring up your own business, you might benefit from these tips:
Build up a financial fundament.
One of the insecurities that lies within the process of starting up your own buisiness is the fact that you don't have any financial safety net. Before you jump on out in the new adventure you should therefore check your private economy thoroughly.
Staring up your own company means no guaranteed income, and therefore you need to be in possession of a solid financial foundation when you begin the journey. In the short run the financial situation can be tough with a lot of costs, but on the long run you should be able to win back your money – preferably with a profit. A healthy saving would therefore be beneficial but alternatively you could explore possibilities within investments. You can also take out a loan to finance the starting costs.
Decorate an office.
Another great advice when starting up your own business is creating a healthy and cozy office environment that you'd want to work in. Maybe you've rented an office downtown or maybe you have a free room at home. The surroundings are important to an efficient workday, for which reason a great investment in this room will be preferable. Decorate your office with a great desk, a comfortable chair, practical storage furniture and personal details. The best way to get things done is a cozy and practical working space.
Organize your workday.
When you are your own boss it might be difficult to stay motivated at times. Therefore, it might be a good idea to add some structure to your workday. Try taking some time of your Sunday to plan the following week in detail. Make a schedule that includes mail-checking, when to work with different assignments an also coffee- and lunch breaks. This way you'll achieve the most efficient workday and avoid an undesirable mash up of your work and your free time.
Also make sure to include daily walks or other types of workouts, so you'll keep your body and mind healty and clear.