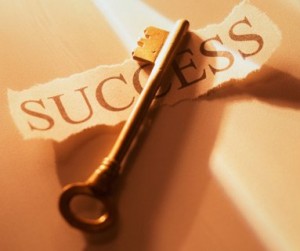 Some would say that when it comes to being an entrepreneur you simply either have it or you don't. Many would argue this point and say that there are necessary skills that can be learned and attitudes that can be adapted, especially if you are entering into a business that you feel passionate about.
However, it is fair to say that some aspects of entrepreneurship are just part and parcel of who you are and other things can be learned and picked up over the years and through experience. 
Many people, however, whether they have the skills and attitudes of an entrepreneur naturally or not, might have a dream to run their own business. It might be an idea that has sprouted from nothing and been nurtured as you have thought of all the aspects of it. It just might be that you like the idea of having a business as it could give you the financial freedom and the work and home life balance that you crave. Whatever the reasons, you need to ensure that you have what it takes to start a business and to be a successful entrepreneur.
So here are some of the questions to ask yourself and some of the things to think about when it comes to starting your own business.  
What's the plan?
Ideally as an entrepreneur you will have some form of plan in place to help you get to where you need to be. So it might be time to start thinking about what you can do to ensure that you make the dream a reality. Get a business plan together, write down the things you want to achieve and the goals that you are setting. Think about every aspect of the plan and how you can make it better. It might help you to determine what your next move is going to be. 
Do you have the right skills?
Let's talk about skills. Many entrepreneur success stories start with a background of nothing. No real education, no qualifications to speak of and yet some of those people have become self-made millionaires off the back of entrepreneurship. However, there are things you can do to get basic skills along the way. It might be that you like the idea of going back to school to maybe learn some things about business. Or maybe taking on a degree that you can study at home in some form of business or specific lead subject. Skills can often be seen as being able to manage people, to be respectful and to also be passionate about what you do. Often these things are all there anyway, they just need to be reawakened. 
Do you have the right attitude?
Attitude is vitally important to how you go about your business and with that you need to ensure that you have the right sort of attitude for business. This tends to be someone with a positive outlook on life with a go-getting approach to things. You don't believe in something that won't happen and feel passionately that it will, and you can make it happen. You accept that things don't just land at your feet and you have to go out and get things yourself. Does all of that sound familiar? Then it just might mean you have the right attitude and approach for starting your own business. 
What about forgotten aspects like logistics and packaging?
Sometimes as entrepreneurs you can be so focused on the starting point and think less about what you need to do in terms of fundamental elements of running your business. This could mean things like packaging and logistics. If your business is handling hazardous materials, you need to ensure labels and the correct wording is used. This is to avoid anything that might involve a hazmat incident taking place. You also need to think about the presentation side of things. A lot of the excitement is within the opening of the package, so have you got that's covered? Last of all, logistics and delivery methods. How quick can you get it sent out? Are you charging the right amount? Often it is the small things like this that can cause big stumbling blocks as you start to run your business. 
Do you have the drive and passion to succeed?
Being an entrepreneur might mean that you have a knack for making money, creating something and bringing it to market or just have that certain eye for starting and running a business successfully. It is so broad but what it can sometimes come down to is whether you have the passion for what you do, the drive to make it happen and the belief it will succeed. 
Are you a problem solver?
There will always be issues within a business that need resolving. Complaints from customers or trades people, problems arising with accounts or the general day to day running of a company. The long and short of it is that an entrepreneur is a real problem solver. Do you have what it takes? Often there will be things that can be put into place to ensure that you can solve these problems effectively. It might be that you need to think about a CRM system so that customers can be remained in contact with and that notes get left just in case there is a complaint. 
Are you a "think outside the box" sort of person?
Many people are starting businesses up these days. Many people have ideas, but the harsh reality is that a lot of start up businesses end up failing in their first year. You don't want to be one of those people. This is when you need to think outside of the box to help you stand out and be different. It might be that you need to come up with a social media or marketing strategy. Something that helps your business to stand out from the crowd. It could be that you need to think about how you showcase your persona, how much you network, how much you advertise, and what makes your business different to others. Are you a "think outside the box" sort of person?
Is your business idea unique?
A business doesn't always have to be a fresh and new idea. Your business idea may be presented in a saturated market, but that still doesn't mean that your idea can't be unique. You need to think about what your USP is. Your unique selling point will make you stand out from competitors and be different. It could be you as the owner. Using your personality and face to humanise the business. It might be the way you do business or sell your products. Think about what could make you different to others?
Can you handle the pace?
Finally, do you have what it takes to handle the pace? It can be rather fast paced, and things move quickly in a business environment. Many entrepreneurs find that they keep up or even think ahead and prepare for the future before it has even come to light. This means being aware of new business trends. What works well and what doesn't. What you can do differently and where you need to make the changes. The pace of any business is fast, but you need to be one step ahead. 
Let's hope that this helps you believe in yourself a little more and make the step into the world of business or working for yourself.