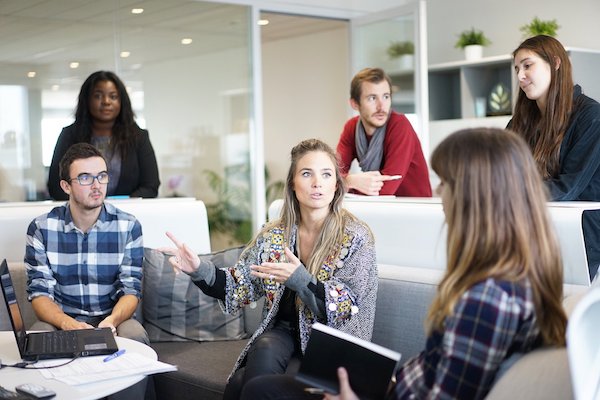 by Shawn Murphy, author of "Work Tribes: The Surprising Secret to Breakthrough Performance, Astonishing Results, and Keeping Teams Together"
Companies are offering everything from craft beer in the break room to free onsite gyms in an effort to attract and retain workers. However, they may be missing the one thing that will deliver happier, more loyal and more productive employees: a sense of belonging.
Does this surprise you? It shouldn't. Throughout human history, a sense of belonging has been ingrained into our DNA. The comfort of friendships and the safety derived from being part of a community have always been one of the most powerful forces shaping our human experience.
But in an increasingly divisive society, that desire to feel wanted and welcomed and valued is growing stronger. The workplace – where employees spend a majority of their day – offers the opportunity to fill that need for workers.
At the same time, providing employees with a sense of belonging can also drive better business results. Research on belonging from high-performing companies like the Container Store, LinkedIn and Barry-Wehmiller show that relating to employees as people – and not just resources to get work done – can lead to tightly-knit teams that deliver breakthrough performances and astonishing results.
So how do you create a sense of belonging at work? Here are things to think about:
1. Make them feel valued.
An employee's curiosity to learn the nuances of his or her job – whether it's making adjustments in a sales technique or honing the ability to stay calm when problems arise – should be treated with the utmost respect. It needs to be encouraged – and required – in any team seeking astonishing results. Without feeling valued by our coworkers, the story we tell through our performance will be disappointing and we leave our gumption, passion and commitment behind. When contributions go unacknowledged, no one shows up to work feeling enthusiastic.
2. Give them a sense of place.
To feel valued and to believe that we are right where we need to be can bring a calming influence on how we work. Hunter Powell, a principal in one of Barry-Wehmiller's companies, observed the significant influence of feeling valued: "Let people flourish in their own way. I think it's so easy for a leader of people to impose their will (and push employees to do things) their own way."
3. Give voice to appreciation.
More employees put in work hours at home, on vacation, on weekends and during family outings. For this reason, employees need to be recognized when they put the company's or the team's interests over their family or personal life. It costs the company nothing and is invaluable when that appreciation is genuinely communicated.
4. Make it contagious.
Positive feelings are infectious. When employees have a sense of well-being, their cognitive thinking and creativity are improved and they are better equipped to respond to stress and setbacks. In the end, a virtuous cycle envelops more people when the focus is on renewing how they are led and creating a place where they feel valued, wanted and welcomed. Such a workplace is one where talented people will want to be.
5. Help them be self-aware.
In the context of the workplace, jelling with others is honoring a code of conduct that contributes to an unflagging vitality in relationships. Employees that are more self-aware can better connect with others, they are more supportive of their team members and they are aware of their own strengths and weaknesses. This self-awareness can help a team bond more deeply and enable them to quickly learn from disappointments and move on from them rather than wallowing in stress and blame.
6. Work it.
Every team player must do his or her part to help the team achieve success. This means that they quickly clean up any relationship discords, regularly discuss their purpose, focus on what's possible and constantly create clarity. Quite simply, it's about doing the work, investing the time and being committed to creating astonishing outcomes.
Let me be clear about one thing: We don't need to make belonging a strategic initiative. It is always available to use in those micro-moments or grand gestures in workplace experiences.
Still, because of human tendencies to make messes, companies do need to be intentional about shaping belonging. The whole of the workforce is likely unaware of how their life is influenced by it. When you decide to co-create a sense of belonging, some might be skeptical. But remember, belonging is something that everyone craves. In a way, that makes it priceless – and a good reason to create experiences for it.
Shawn Murphy has nearly 30 years of consulting experience and advising companies on implementing organizational change and culture change. Shawn is currently he Director of Organizational Development and Workplace Trends at a Silicon Valley startup, Bluescape. He is the author of the new book,"Work Tribes: The Surprising Secret to Breakthrough Performance, Astonishing Results, and Keeping Teams Together"
.