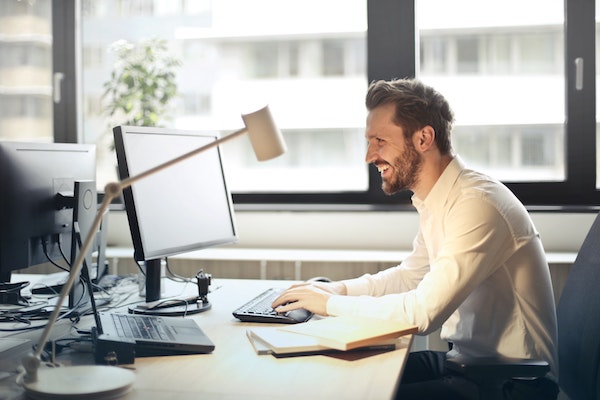 by Joseph De Sena, founder of Spartan
No one ever completed a Spartan Race by daydreaming on his couch. Finishers make it to the end of intense obstacle courses by training, pure and simple. If they didn't, they'd never have the stamina to push themselves beyond their comfort zones.
Most workers aren't training to be Spartans, of course. Yet they still deserve the health and wellness benefits that come from getting and staying in motion. After all, they need endurance to power through projects and overcome roadblocks instead of relying on sugar and caffeine to push them through lulls in productivity.
Therein lies the reason I'm such a firm believer in an active workspace. When I founded the Spartan enterprise, I brought together experts in construction, marketing, sales, procurement, and a host of other verticals. And I brought in VARIDESK to create an active, flexible workspace. We shared a passion for helping people live happier, fitter lives through beneficial fun and growth. I knew it was crucial we live this mission in our workspace, too.
Today, Spartan is the fastest-growing participant sport in the world for countless reasons. A primary one is that everyone in our workforce practices what we preach — including while we're at the office. When you visit our headquarters, you don't see stasis. Instead, you walk into a whirl of activity largely fostered by the way we designed the space.
Benefits of a Flexible, Welcoming Workspace.
Open, comfortable, and adaptable: Those words guided our workspace face-lift at our Boston command post. We wanted a working environment conducive to making changes on a dime, enabling collaboration and fostering inventiveness (If that sounds like Spartan racing, you're right!). To achieve that ecosystem, most of the furniture needed to possess a flexible component. Otherwise, it wouldn't fit into our commitment toward hustle and maneuverability.
In addition to efficiency improvements, I've seen a drastic rise in Spartan's recruitment and retention numbers. I can't help but attribute that to our bright, inviting spaces that make positive — and lasting — impressions. Employees appreciate sharing their talents in a group that believes increasing blood flow and muscle movement should happen just as easily at a 10 a.m. meeting as it does in the gym.
Your company's output might not be as focused on mental and physical endurance as Spartan's, but your workforce can still take advantage of an active working atmosphere. As the new year unfolds, put these concepts in action to spur activity among your people:
1. Gauge feedback from the boots on the ground.
Before making any interior design decisions, take the pulse of your people. Find out what they want out of their office and its inherent dynamics. Honest feedback will provide you with incredible insights that you can use to inform your furniture-buying decisions. According to a Gensler Research survey, 79% of employees want variety out of their job sites. By enabling them to take charge of their workday arrangements on a moment's notice, you empower them to do their most exciting, meaningful work.
2. Invest in furnishings with flexibility in mind.
On a Spartan racecourse, the lay of the land is always changing. It's the same in business. Sometimes you need private areas; other times, you need the real estate to gather all hands on deck. The most convenient way to be ready for anything is to consider the versatility of every piece of furniture you purchase. When you can conveniently push literal walls and furniture into new configurations without friction or fuss, you naturally encourage creativity and brainstorming. Hunt for multifunctional units and pieces that can accommodate any needs and provide fluidity for the unexpected.
3. Look toward the finish line.
You can't predict tomorrow with 100% certainty, but you can certainly hedge your bets based on what you already know. Are you planning to increase your payroll with seasonal employees in a quarter or two? Add another product or service line to your brand? Move to a bigger location? Consider those objectives as you create a new office layout with flexible furniture and fixtures. This will help you move smoothly toward each milestone without missing a beat.
I don't expect my colleagues to break into a sweat throughout the workday, but I do want them to get their hearts pumping, muscles moving, and neurons firing. If sit-stand desks and other flexible furniture does the trick, I'm happy to outfit every space with a mind toward movement and a mission toward transformation.
Joseph De Sena founded Spartan in 2010 and has since grown the brand to be the world's leading obstacle racing company with over 170 events in 25+ countries, 1 million-plus global participants, key sponsors including two popular TV programs, and numerous other lifestyle products.