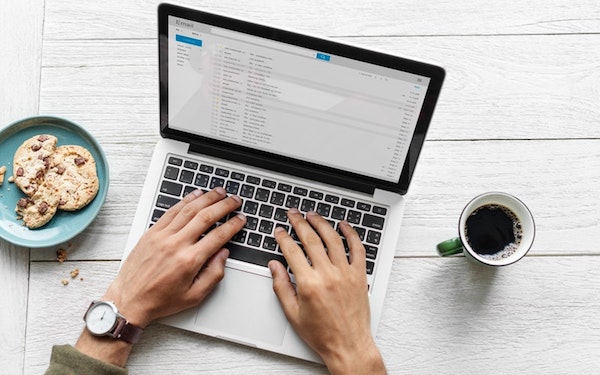 Regardless of the email type, the main purpose of every CTA is to encourage people to take action. In blog newsletters, the CTA button asks to read more or see the full story; in promo campaigns – shop or explore new arrivals; in abandoned carts – complete the order or return to the cart.
To get the necessary response, your CTA must be eye-catching, easy-to-read and properly placed. So how exactly CTA buttons can benefit email marketing and generate better response rate?
1. Don't get too excited with creativity.
Many marketers feel they need to bring up all the copywriting skills when it comes to CTA creation. However, that's not exactly the case with calling buttons. CTAs belong to few elements (alongside social media icons, contacts, and chatbots) that are rather to stay standard and time-proven. Trite and beaten, Get Started and nevertheless are easy to respond to: people already know what to expect from the click, and what will follow next.
You may experiment with CTAs in special promos, new product releases or holiday greetings, especially if you put more than one CTA. But in transactional emails like subscription confirmation, order details, payment confirmation, shipping info, etc. try to stick to standard options. It shouldn't take more than 2 seconds to scan such email and find the necessary button.
2. Find Your Color.
There are two completely opposite views regarding CTA color. Some experts say it should be designed in corporate colors and correspond to the color pattern of the email copy. Some believe a CTA needs to contrast against the rest of the content to drive more conversions.
The most widely used options are red/orange and green/blue according to CLX Institute, but their usage is also under severe dispute. Moreover, the choice of color depends on the culture, psychological associations, business industry, and the action you want to prompt.
For example, CTA for HoReCa should look "tasty" and visually apply to the promoted foods: brown and cream for coffee, sweets and chocolate, green and orange for fresh fruits and veggies, white and cream for diaries, etc. For the sports industry, red is believed to be the most converting color as it's associated with winning and dominance.
So, the color itself turns out to be less important; how it correlates with the copy background and content is what drives clicks. Run several tests to see what options work the best for your particular campaigns.
3. Watch the Number.
The more doesn't always mean the better. Five CTAs inserted in a one-paragraph thank you email won't improve the click rate: many people would rather find such insistence a bit excessive. So, make sure the number of calls in your email correlates with the message type and copy length. The bigger the email, the more CTAs you may include, but make sure they deliver different informational value: for example, instead of several sequential Shop Now's consider using Explore More, Shop Women's, Find Gifts, etc.
4. Placement Matters.
Top or bottom, the placement of your CTA depends on the email type. For a short welcome email or order confirmation, it's appropriate to put a CTA at the top, so that the subscriber can easily spot it and complete the process (registration, purchase, survey, etc) within seconds.
However, when you present a new product, first explain its benefits before asking people to consider your offer. Offering to Shop Now before even telling your audience what's in there for them is too soon.
5. Check for Broken Links.
The last thing you want is to send deals with broken or misleading links. Imagine the following: you've put a lot of effort into design and copywriting of your, let's say, Christmas campaign, come up with a clever subject line and relevant CTAs, persuaded people to click Shop Gifts, but the link sent them to Terms of Use instead of product categories. Only very loyal customers would find the necessary section on their own and continue shopping.
6. Optimize for Mobile Usage.
65% to 75% of users use smartphones to open emails. The number will only grow, which means your campaign design, including CTA, should look as nice and clear on both mobile and desktop. Before launching any series, preview your template and send tests to your email address: CTA layout may shift on gadgets with small screen resolution.
A CTA may be a small element, but it determines the overall effectiveness of your campaigns. Make sure you pay enough attention to its optimization, and conversions won't be long in coming.
Iuliia Nesterenko is a contributing writer at eSputnik. Her focus is on exploring current digital marketing trends and describing new strategies for email marketers.