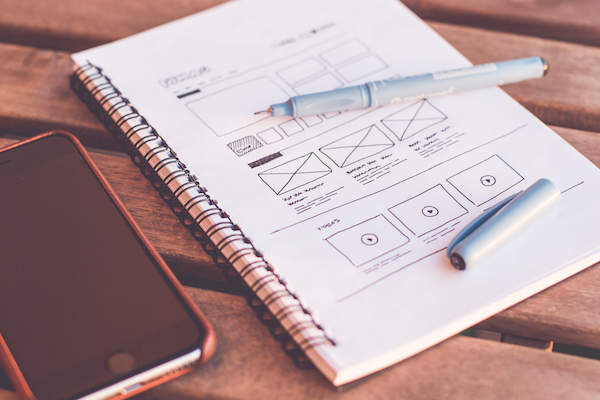 You're new to the game, launching a business that's (hopefully) going to take the world by storm. Plans have been put in place, with business goals to hit, a budget in place, and a few employees at the ready… but you're yet to have a website built that's going to help sell your service/product.
Having a cutting-edge website is a necessity. It must be aesthetically pleasing, navigate well, have high uptimes, and be built for the SERPs. This is a tall order, especially if you don't have web design experience under your belt.
An online presence is essential if you wish to become a recognized, well-known brand, and increasing your online visibility means competing with your competitors and increasing conversion rates.
Here's how to go about creating your first website:
Plan the layout of your website.
Your website must be seamless and make cohesive sense. You want to usher your customers through a simple but effective narrative, starting from the homepage to checkout in as little steps as possible – too many, and you risk losing their attention and having them click-off your website.
Not sure how to do this? There are many web design companies that are happy to lend a hand, offering their services from the conception stage all the way to building your website and implementing SEO tactics that work. PWD offers effective web design and digital marketing services so that your website is ready for launch straight off the bat.
Look at effective website designs.
How your website looks is essential to capturing your customers' eye and pleasing search engines. For example, white space and small chunks of content is far more effective than a content heavy webpage that is cluttered with images and text.
Don't be afraid to experiment, however. Playful designs such as unusual shapes and color schemes, as well as interactive interfaces and images create a wonderful user experience. Fun animations can capture the playful essence of your company, making your business less corporate looking.
All web designs should include clear menu bars and call to actions. Only relevant information should be highlighted, limiting the amount of content on certain webpages. You should include a blog for more weighty blog posts, explaining the product or service you are selling – this also provides internal linking opportunities.
Elements of effective web design:
Less is more (try not to overcrowd your webpages, keep it simple)

Don't use stock images (customers want to see real photos, whether it be a true image of your product or your team)

Visually appealing (color elicit emotions, but your color palette should also reflect your brand)

Be consistent (have the same color scheme throughout, the same font, too. Have the same design elements across your website, as well as a consistent image style)
Have the customer's journey in mind.
A long, confusing voyage means your customer losing interest in your company. Keep the journey short and sweet – from the homepage to product/service, to checkout. Of course, you can have a blog, contact us page and even an about us, but you don't need to make this information a necessity.
Load times and uptime are two important elements to consider, too. Having your pages time out when it's trying to load or taking too long will tempt your customers to close down the page and go elsewhere. We live in a society where we are impatient and expect webpages to load in a matter of seconds (three, to be precise).
Look for a web host that can offer high uptime results. You shouldn't settle for anything less.
Pick a domain name.
Your business most likely has a name already, so selecting a domain name can't be too difficult, right? Well, there are a few potential issues that may arise.
For starters, your brand name may already be in use. If this is the case, you can always come up with alternative ideas, such as including the location in the URL, or if the person who owns the domain doesn't use it or it is inactive, you can ask to have it from them.
When it comes to all your website's URLs, remember to optimize them to maximize search engine referred traffic. You can do this by:
Making your domain name memorable

Using keywords (if it is sensible and makes sense to do so, e.g. are you a coffee roaster? If so, then have "coffee" in the domain name)

Avoiding the use of hyphens or pointless numbers
Test before you launch.
You have a website and a launch date, but there's nothing worse than having your website fail because of too much traffic or because of a glitch you hadn't noticed before. Run tests so that you can be rest assured that your launch will go well.