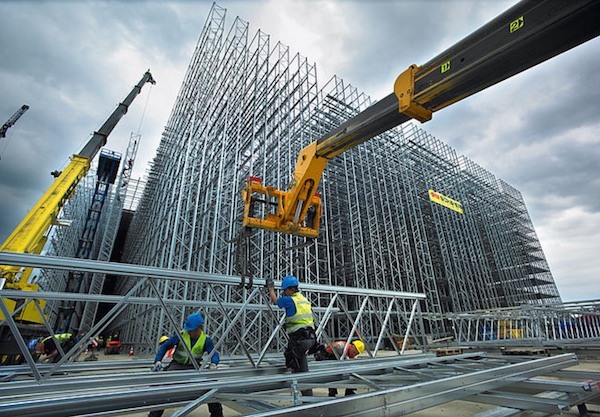 Starting a construction company has some great benefits. This includes allowing you the freedom to be your own boss and choose your work schedule, along with the opportunity to secure your financial future and meet your individual career goals. Setting up a business is never easy, but you can improve your chances of success with careful planning, plenty of research, and commitment to work hard.
With this in mind, here are the 7 steps to starting a construction company.
Step 1: Create a strong business plan.
A business plan is an essential tool for any entrepreneur looking to start their own company. This document will guide you right from the initial startup phase, through to development and eventually growth. It will also be used to convince important people, such as investors and lenders, why they should invest in your company. For that reason, it's always worth taking the time to create a strong, detailed business plan. Your plan should include a list of business goals, along with details of what action will need to be taken to achieve each goal. Make sure your goals are attainable and set a realistic timeline to motivate you to work towards your goals. You can find plenty of templates and advice on how to write an effective business plan for your construction company.
Step 2: Understand the legal requirements.
When starting a new company, you must ensure that you're compliant with any relevant regulations and laws. Make sure you educate yourself on what rules apply and obtain any necessary permits and licenses in advance. Remember that the legal requirements vary from state to state, so be sure to do your research. You should consider hiring a lawyer to provide you with expert advice and guidance if you're unsure of the processes to follow when setting up a company. Here are some of the key legal requirements when starting a business:
Choose a business structure for your company. You can choose to register as a Limited Liability Company (LLC) or a Corporation. There are advantages and disadvantages to both, so make sure you research your options carefully and choose the best structure for your business.
Register your business name.
Apply for a federal tax identification number.
Obtain mandatory licenses and permits.
Step 3: Consider your financing options.
Starting a construction company is not cheap. You will need capital to purchase or rent a variety of tools and equipment to get your business up and running. You will also need to hire a business premises, pay employee salaries, and fund advertising campaigns. There are several different options available to fund your business. For instance, you could apply for a small business loan or seek funding from investors. You could also use your personal savings to finance your construction company.
However, you must be aware of the possibility that you may lose money if things don't work out. When setting up a new company, you should also try to identify any ways to cut business expenses and save money. For instance, it may work out far cheaper to purchase equipment rather than renting over a long period. Experts at the Global Scaffolding website explain how purchasing scaffolding can offer several cost-saving benefits in the long-run. Other ways to reduce business costs include ordering items in bulk, purchasing second-hand equipment, and negotiating better deals with suppliers and contractors.
Step 4: Take out business insurance.
Insurance is a must for any business, especially in a high-risk area like construction. Business insurance will protect your company and assets in situations like personal injury or theft. Failing to have an adequate level of insurance may result in your company going bankrupt and closing if an injured employee claims against you, for example. There are several different types of insurance available to companies. Some of the most popular options include general liability insurance, product liability insurance, and commercial property insurance.
General liability insurance is generally considered the best, as it covers you for the widest variety of potential losses. Having insurance will give you peace of mind knowing that your company is protected should any unfortunate situations occur. Make sure you take out quality insurance with a recommended insurer and always choose a policy that offers the correct level of cover for your business operations.
Step 5: Decide whether to hire employees or contractors.
When you start your construction company, you have the option to either recruit employees or hire contractors temporarily. The benefits of hiring contractors is that you'll have increased flexibility and lower costs, as you'll only have to pay for workers when you need them. However, permanent employees are likely to be more dedicated to your business and may, therefore, do a higher-quality job. Customers are also likely to appreciate hearing a familiar voice when they contact your company. For that reason, it may be worth hiring at least one permanent member of staff when you first open your company.
Step 6: Invest in construction software.
When starting a construction company, investing in the right technology can give you the best chance of success. GPS time clock apps for construction are just one piece of software that can have a positive impact on your business. These apps allow construction workers to check in and out with GPS-enabled tracking and provide project managers with real-time location features. They also offer automated payroll features which save time and minimise errors when managing payroll and travel expenses.
Investing in construction management software will allow you to streamline key business processes and boost productivity. This will save you both time and money by ensuring that your business is running in the most efficient way possible. The right construction software can save you hours and even days worth of time and allow you to plan, manage, and estimate the cost of projects more effectively. There is a wide selection of different construction management software available on the market, so make sure you research the different options and choose the software that best suits your business needs and requirements.
Step 7: Start marketing straight away.
It is important to start promoting your construction company straight away with advertising and marketing campaigns. An effective marketing strategy will build brand awareness, connect you with your target audience, and increase sales and revenue potential. Many construction companies grow through repeat business and referrals. However, this may not always be possible with a new company. Hence why you should experiment with a variety of marketing techniques to boost brand exposure and build a customer base. Some effective ways to market your construction company include designing a modern fully-optimized website, taking advantage of social media marketing, and investing in Search Engine Optimization (SEO) techniques.