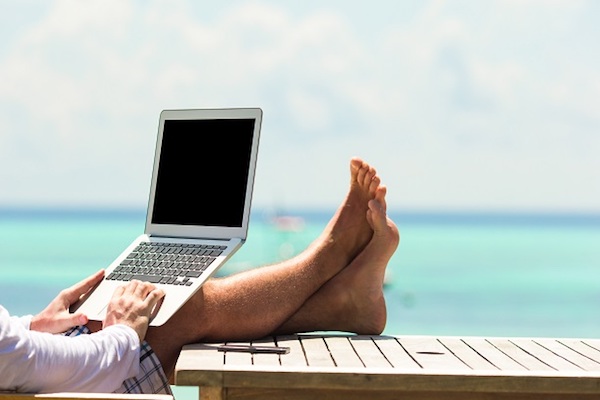 by Maureen Gharrity, CEO and founder of Finding Your Way Coaching
A staggering 52% of Americans leave vacation time on the table each year, which amounts to over 200 million vacation days or $66 billion in lost benefits a year.
Moreover, the cost to the economy is a surprising $67 Billion in lost spending, $160 Billion in business sales across the U.S, and $52B in extra wage income.
Corporations continue to invest more and more each year on employee wellness programs, but a recent study found these programs have little effect on long-term wellness. 
And with entrepreneurs and those who work for themselves, not taking a vacation can end up being more expensive than a vacation itself because of lost productivity from burnout.
Quality time with family and friends is one of the most important values held by business people,   whether they work for a company or for themselves. The lack of time away, actually increases stress and illness while taking a big toll on families and the relationships within them.
As an executive coach with over a decade of experience coaching high performers, I've seen this over and over in my work with clients – both entrepreneurs and executives in a variety of industries – and the approach is the same. The feeling that it is not okay to take time off is a significant obstacle in your productivity and performance.
Here are three of the most common excuses I hear for shunning time off, and what to do instead.
"I'm afraid I'll fall behind".
One of the reasons that people don't take time off is the fear of falling behind. People think they are so busy these days, both at work and at home, that the catch-up stage after the vacation just seems not worth it. This is actually our self talk about being busy; it's an excuse rather than a result of more work. According to an Oxford researcher, our workload has actually been the same for years. 
If you have this thought often, you won't have the chance to 'dig out' from time-consuming tasks to put real systems or procedures in place and you may lack direction or motivation which often feels as though you're not getting anywhere.
You have a responsibility to redefine your role over and over again as you and your company grow. A great way to identify those blind spots or training gaps is to stop working and see what runs smoothly and what doesn't. 
And while you think now that the workload will be terrible upon your return, that's probably your unhappiness with day-to-day work talking.
Shift your mindset. Instead of "I'll be worse off after a vacation", a mentality valuing change in environment as an opportunity to increase creativity and innovation will bring about more success.
"People will think I'm not driven".
How an executive, an employee or even a business owner will be perceived by their boss and/or clients is another reason why vacation time is left on the table. You're afraid of being judged as not serious, or career-minded, and that you'll be passed over when it comes time for a promotion, a contract renewal, or a public speaking opportunity.
Time away actually reduces burnout and increases productivity. In business, that means your results will actually be better, not stagnant, and that your motivation and momentum will pick up rather than deflate.
This pressure to perform and constantly push adds stress to your body and to your life. With no way to release it, and no perceived end in sight, you're holding the burden of potential further costs to your business in the form of illness and sick time.
One way to solve this cycle is to actually instill vacation time into your goal setting, your project management, or your client call schedule. That way there is an open communication around time away from the beginning, making any transition much smoother. 
This forces increased team cooperation and also de-stigmatizes time off among team members, which is critical to building a healthy work culture. Only then will you feel safe to work as a team and not be plagued by thoughts that collaboration will hurt your ability to advance or get ahead.
"I want it done right, so I'll do it myself".
This is a big one for entrepreneurs especially. Contrary to popular belief, the pressure is often greater for solopreneurs or people running small businesses because you're wearing many different hats and there aren't many other people in the picture.
This objection is really a resistance to growth because you refuse to relinquish control. Entrepreneurs feel that things will fall through the cracks or there is no one to ask for help, but by not empowering others to execute at your level, you'll never grow or scale — and you'll burn out along the way.
What's more, according to studies, the positive benefits of vacation wear off within a couple weeks. It's important that you become skilled in delegation, not only for your company to grow, but also to maximize the health and creative benefits of time off.
Not only will training someone free you up mentally to work less, it also opens up unique business opportunities to travel and meet prospects in a less stressful more casual environment, where you will be more open to conversations and considering new ideas.
People feel guilt around taking time off, or even spending the money on a vacation, because it isn't seen as something they 'need'. A survey from Monster.com reported that 42% of Americans carry guilt with them for taking time off.
The positive impact from taking a vacation, from stepping out of one's day to day routine and  environment can have on your business, results, creativity, productivity, mental health and relationships is significant and proven. 
It is one of the best ways, one of the most requested ways to reduce stress, to relax more, and when you allow yourself and your colleagues to do so, this creates opportunities for creativity, innovation and expansion, not to mention a whole lot more happiness.
And wouldn't we all benefit from that?
Maureen Gharrity, CEO and founder of Finding Your Way Coaching is a master coach and talented business strategist with expertise in income acceleration, business development, sales, and mindset. A master of manifestation and a gifted healer, she blends mindset and business strategy to help clients reach their true potential and highest goals. Her intuition, along with 20 years of experience in sales, marketing, and business development, helps her clients achieve unprecedented breakthroughs.