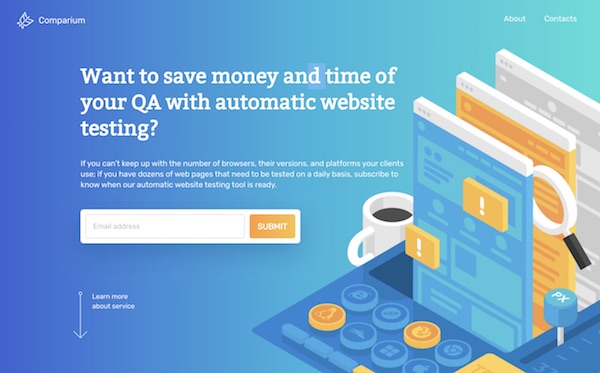 Why should you be looking for the best cross-browser testing tool? If you own a website, then a cross-browser testing tool is very important for you. Cross-browser testing is a technique used in evaluating the functionality of your web application on different browsers before you add changes in production.
For a website where the users belong to a specific group and use the same browser, you can test the changes manually. However, due to the increasing popularity of cell phone devices and the increasing number of browsers, it's a good idea to check your website on different browser combinations before you approve any changes.
One such cross-browser website testing application is Comparium. Comparium has just released its first version, and it is kept free for users. This is a very convenient web application that provides users with the basics of website testing. Using this app, you can test your web page design easily on any and all operating systems and multiple browser combinations.
Save Your Time With Comparium.
Due to the advanced services provided to you by this application, you do not need to test out each combination of browser and operating system manually. Save your time with this app and just simply submit the test address of the web page and collect the results. With the help of Comparium, you will not only have the chance to get the results within minutes, but it also gives you the screenshots of your test web page design.
Comparium Supports Different Web Browsers And Different Platform.
With the first version of this application, you can get web browser testing on different combinations of operating system and browsers of your choice. Right now, the supporting browsers on the app are Google Chrome 73.0, 74.0 and 75.0, Microsoft Internet Explorer 8.0 and 11.0, Safari 11.0 and Mozilla Firefox 67.0 and 68.0.
With these browsers, you can perform visual compatibility testing and get the result. Moreover, this application performs and provides faultless web testing on any platform that you want. Simply get access to any latest popular operating system, browser version, and browser and leave it up to Comparium to do its job.
This application provides support on several operating systems today, including Windows 10 and 7, High Sierra, Mac OS X Mojave, and Linux.
You Can get the Test Result Report Emailed To You Right Away.
The first version of Comparium is very simple and user-interactive. You only need to arrange for your email and the link (URL) of the website that needs to be tested. Comparium will do the rest of the work for you. You no longer need to wait for hours in front of your laptop in order for the screenshot of the results to be taken and displayed to you; instead, Comparium will take the results and email you the report automatically.
So wherever you are, you can simply add in the URL and address and head out for a cup of coffee while this application calculates the results and emails it to you!
Comparium And Its Other Versions.
Comparium is only launching its first version for its users at the moment. This version, as mentioned above, is simple and very interactive for new website designers. With each new version of this application, additional features will be added in.
Comparium believes that growth is a part of life, and this is why they are always searching for additional features and ideas that can be implemented in the new versions. This first version will be fully-functional and released online by the end of this year. It will be free to use; however, some additional features will need to be purchased. They will not be providing access to API in their first version, but it will be available in the future.
They plan on releasing three new versions after the first one, each with newer and better features than the last. In the future, Comparium even aims to achieve and expand its base to around 2.5 thousand different browsers and even introduce their versions on separate platforms.
Testing and keeping track of your website development process is very healthy, and by using Comparium, you can do that easily.