by Dean Karrel, author of "Mastering the Basics: Simple Lessons for Achieving Success in Business"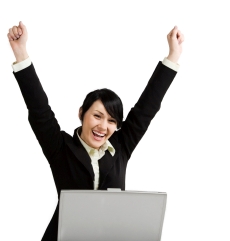 On occasion, we can all feel a little intimidated by work colleagues who may have more senior titles than us or have an MBA or other advanced degrees. This can especially be true when we first enter the business world, but it can occur throughout our careers. It's a common feeling that many employees including myself, have experienced, and there's nothing to be embarrassed about admitting it either.
Very early my career, I remember trying to understand the dynamics of meetings that I attended and wondering how I could fit in with the group, and wanting to always appear well-prepared.  I found myself occasionally getting caught up in the game of trying to speak a lot to impress senior management. There were even times when I felt the need to extoll whatever deals I had accomplished in an effort to prove myself to those with fancy business degrees.
Over time, as I observed more, I came to realize that the people who tell you where they got their degree, or always repeat their title or try to show that they know more than anyone else aren't the type of people I wanted to be modeling myself after. Being boastful and trying to overly impress comes across as phony and pompous. Your colleagues will quickly read through this behavior and your credibility will be tarnished. We shouldn't try to be someone we're not. I realized that my objective should be to just be myself, look for ways to improve my abilities, and not be intimated by others.
This behavior is also closely linked to how we feel about ourselves and our level of self-confidence.  Feeling intimidated or unsure of how other people view us can have a negative impact on us. We stop believing in our abilities.  This can lead us to having an unhappy view of our work and even our career direction. Everyone has times of self-doubt no matter whether we are new to the business world or have years of experience. However, we always need to look for ways to overcome these feelings.
I believe one effective solution is to continually look to improve ourselves through ongoing training and education. Advanced degrees are great and critical for many positions, but I've come to the conclusion that basic business skills training is often overlooked. It's my opinion that ongoing training is essential for career growth and success. This then links back to improving our confidence.
Obtaining this instruction became a priority for me but when I began to manage more people, it was a critical objective of the guidance and coaching I wanted to provide. Thinking about all of the soft skills, people skills, and basic business skills that you want to improve can be overwhelming and even discouraging when you look at all of the possibilities.  So where do you start?
Here are few approaches I've used and recommendations that I've given to others.
Focus is essential.
Target three areas in which you need real improvement. For example, you want to be better at speaking up in meetings, become more proficient with some technology tool that can improve productivity, and finally get the task of rewriting your LinkedIn profile. As you make progress, you add new skills or projects to the list.
Set time frames and deadlines.
Improving your public speaking will most likely be ongoing but you should have a firm date for revising your LinkedIn profile.
You need to accept that throughout your career you must always be learning.
If you're not continually trying to understand new concepts, new ideas, or ways of handling your job, then you will fall behind.
Take advantage of classes offered by your company's human resources department.
Also, look for condensed courses at local school and colleges.
Work with your manager to compare notes.
Ask for coaching and their recommendations for skills that they think will benefit you the most in your career. You may be surprised. Use your meetings with you manager as an honest give and take; hone in on specific areas and create a developmental plan for personal improvement.
I didn't embrace these concepts early in my career.  However, over time I did come to fully endorse the belief that by focusing on enhancing and improving basic business skills you can be successful and have the tools to maximize your potential. This approach then leads to positive results, confidence in your abilities, and realizing that just being yourself is the right path.
Dean Karrel is a career and executive coach. He is the instructor of twelve courses with more than 600,000 views available on LinkedIn Learning and has also been in senior leadership positions for more than three decades with major global publishing companies, including 22 years at Wiley. Karrel has hired and trained thousands of people at various stages of their careers, motivating them to maximize their abilities.  He is the author of "Mastering the Basics: Simple Lessons for Achieving Success in Business", published by Post Hill Press.