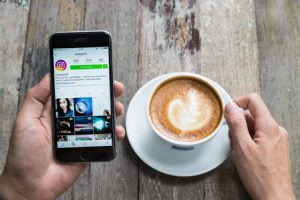 As of January 2019, Instagram is used by an average of 500 million Americans each day, according to the data of Statista. Every business owner should recognize the fact that the number represents consumers that could discover and patronize your brand. Using Instagram to boost your business will require your constant commitment to understanding its different trends and features.
So in the grand scheme of things, why does your business need to be on Instagram?
Users Actively Search for Businesses.
Instagram users do not make use of the platform simply for personal reasons. 8 out every 10 Instagram users follow a business profile, according to the findings of Sprout Social. Of course, this doesn't mean that they only follow one business profile. If your business is on Instagram, you get to tap into the number of people that can help provide feedback to your brand. Provided, of course, that you're able to make your business "Instagrammable" enough to catch the interest of users.
Increased Follower Count.
Social media is a dual-edged blade. If it can be used to boost your business, it also follows that your mistakes will cause your brand to suffer. Big names like Dolce & Gabbana, Sunny Co. Clothing, and even Benetton drew the ire of Instagram users because of bad captions and thoughtless responses to comments. If your brand is on Instagram, you can actively observe what makes a good or bad follower interaction by other brands. Being on Instagram provides you the opportunity to grow your follower count and the number of patrons to your brand. You can read more on Social Media Daily to discover ways to accrue followers.
Viral Collaboration Potential.
The rise of Instagram brought about the advent of "influencers." They are people who have massive follower counts and can actively influence what their followers consume. 34% of Instagram users have patronized a business that their favorite influencer promoted, based on the data of eMarketing. If your business is on Instagram, you'll have the opportunity to collaborate with influencers and better boost your brand's visibility.
Brands have experienced significant benefits and glaring pitfalls on Instagram. That proves that businesses need to be smart when it comes to utilizing this public platform. So if you want to use Instagram and increase your business's appeal for it, you'll need to put in the time and thought. After all, things that benefit your business certainly deserve 1000% of your effort.