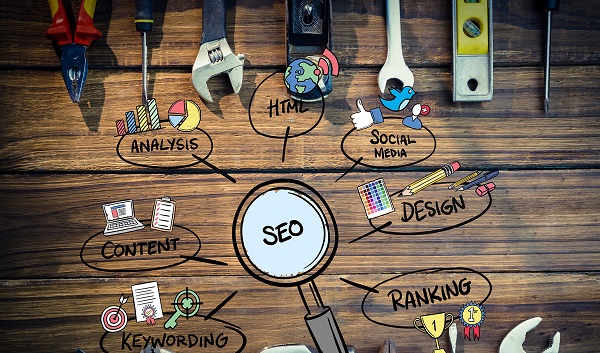 by Christian Carere, founder of Digital Ducats Inc
There's nothing worse than watching your website fall further away from the first page and wondering what you can do to reverse a failing ranking.
Here are a few steps you can take that will give your company the best shot at a first page result and you on your way to maximizing the traffic to your website.
1. Look for low-lying fruit.
When your website is just starting the ranking process don't target the most competitive terms in your industry. The websites that have been around longer than you have the advantage of having earned more trust with the search engines (provided they haven't been penalized for less than scrupulous web practices). An effective keyword strategy is to pursue a few low competition key phrases to compensate for a competitive search term.
You can achieve this by taking the competitive phrase and making it a long tail keyword. There is typically larger volume in traffic for the more competitive phrases but by effectively ranking for multiple long tail key phrases you can avoid some of the heavier competition and make up for the traffic by ranking for a few different phrases with the same time, effort and resources that it would take for the one competitive search term.
2. Optimize for voice search.
The bonus in targeting long tail keywords is that you can optimize for voice search at the same time. A large percentage of voice searches are made asking questions. Make a list of as many potential questions a client may ask using your keyword and use them within the body of your page. By making those questions titles and subtitles, you increase the likelihood of search engines using your answer in response to a question-which often is displayed as a featured snippet.
3. Compete for the featured snippet.
Voice search and the featured snippet are somewhat linked since the format for optimizing is in many cases, identical. To further enhance the optimization of your page perform the search yourself and see if the number one spot is a featured snippet that uses a list, chart, table. Use the same form of content that is ranking for the snippet in your page. Whether you've decided to use a list, chart, table, image or video, provide a paragraph summary in response to the question you've posed in your title. The ideal length for answers that are featured are between 40-60 words.
4. Keep improving user experience (UX).
The experience a person has on your site should be enjoyable and at the very least they should be able to find what they're looking for within one click. Improving user experience is a constant effort that that makes your site faster, easier to use with more enjoyable content.
5. Speed up your load time.
Page speed remains a pressing issue since there is still a percentage of sites that are migrating from desktop versions which gives faster websites a slight advantage. If your websites pages load quickly it adds to a positive ranking signal that search engines take into account when assessing your site in a search query.
The experience a user has when a site loads in under three seconds versus a site that takes longer is significant and can make the difference in whether a visitor not only stays on your site, but whether they ever return to your site again. Google sees page speed as an important part of user experience and has provided PageSpeed Insights to test your site and identify where there are blockages in your pages loading time.
6. Make everything a click away.
Navigation plays a role in the quality of your websites UX. By making things easy to find there's no frustration or confusion about what to do or where to go. There are simple design tips that many websites have failed at implementing that lead to frustration and ultimately a visitor backing out of your site.
Provide an navigation bar as a menu for those who are text oriented as well as links to the most important pages within your site. The use of breadcrumbs give users a way back from where they came and can shed insight to the structure of your pages. Interlinking your posts will also connect readers with similar content and promote longer time durations per visitor. Google loves these metrics (click-through and dwell time) and so will you when your business experiences the higher conversions that are associated with a rise in both metrics.
7. Give something of value.
The content you provide on your site should be nothing less than stellar. Make an effort to continuously improve what visitors are already liking and find new ways to mix up and vary your content to promote higher levels of engagement. Publish posts and articles that stay relevant indefinitely. This strategy promotes long term traffic and can be accomplished when you have the intention to give your readers insight to something of value. Good content gets read, shared and linked to which will all move your site upwards to the top positions.
8. Think before you link.
One of the more difficult aspects for ranking a website is link building. Backlinks account for over 25% of a websites organic ranking which makes acquiring high-quality backlinks an excellent method for making big moves up in the rankings. Publishing great content on websites as a guest author not only gives you the backlinks you need to rank but builds your brand and reputation as an expert in your field.
Submit articles to websites and blogs related to your business in order to get the best results. If you're in the medical industry and posting to fashion blogs it may work against your ranking to have an unrelated backlink in your profile. A steady accumulation of links will contribute to the authority of your website and a competitive ranking in the search results.
The way to get more visitors on your site is not a mystery and can be accomplished with a consistent and focused effort on doing the right things at the right time. The quality of the content you publish both onsite and offsite directly affects the speed and effectiveness in maximizing traffic to your website. When the goal is to provide the best user experience for your visitors your website naturally takes on the attributes of top performing pages.
Christian Carere is a search engine optimization consultant and the founder of Digital Ducats Inc. His company provides SEO services that result in an increase in traffic, more leads and new clients.