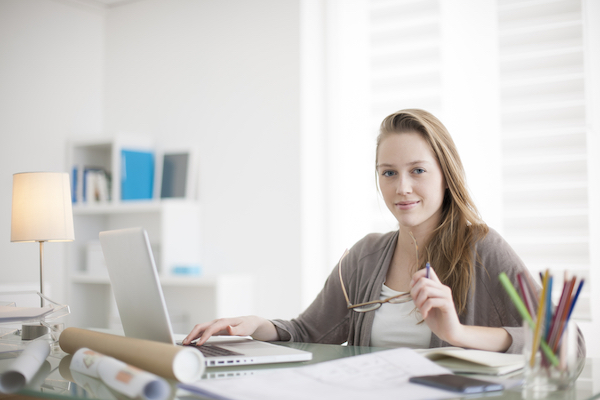 Once the internet became easily available to the mass public, the formation of home businesses exploded. People started to realize that it was possible to earn a living doing something they enjoyed, right from their own homes. While not every business set up with a passion has been successful (far from it!) if you're able to make it work, it could be an excellent direction to take your career in.
When you're no longer stuck in the rat race, you can earn money in a way that suits you. You're the boss so you get to call the shots, rather than lining the pockets of a big corporation or making someone else's dream a reality.
Here are some of the great benefits of starting your own home business. 
No commute saves you time
 .
One of the worst things about working a standard job is that on top of your working hours, you also have to get there and back. Unless you are lucky enough to live within walking distance from where you work, you have no option but to take public transport or brave the roads. Checking the train timetables and making sure that none have been delayed or canceled can be a daily chore, and if you work in the city more often than not commuting is going to be stressful. By car, it's often busy and crowded and then there are road works and traffic jams to contend with.
Some days it really can be a huge drama just to get to work on time, and this can build on your stress levels before the day has even begun. It is valuable time in your day that you could be utilizing doing anything else. When you work from home, of course, there's no commute, less stress and more time to do the important things in life.
More money.
Working for yourself does bring risk, unlike when you're an employee you're not guaranteed that wage at the end of each month. However, if the business goes well then you can seriously cash in, potentially earning more than you ever would as a regular employee. With home businesses, the risks are there, but when you strike that winning formula the rewards are ready to be reaped. One way to build awareness of your business is to advertise. Traditional marketing methods like handing out business cards and flyers can still be useful this day in age, especially if you're a local business or do a lot of networking where you're handing out information to clients and customers.
You may want to get your name out further afield than the local area, so other forms of advertising may be required to help get your business off the ground. For example, you could attend a business expo which bring together hundreds of different businesses and clients; use a vivid printing company to create eye catching banners and signs that will draw people to your stall. Using social media and bloggers are also highly effective, you could always enlist the help of a marketing agency if you're not sure. 
Increased job satisfaction.
There is a lot to be said about job satisfaction. A sense of pride and accomplishment is what we are all looking for when we do any job, and working for yourself can certainly promote this feeling when you run a successful home business. Feel self-motivated, content and satisfied in the work we do becomes very achievable when working from home, research and polls all suggest that working for yourself brings greater job satisfaction.
When you have job satisfaction you work much more productively and feel very positive when taking on any task. Feeling in control of your own destiny and making all the big decisions can be a little scary to start with, this may be a big learning curve but once you gain some experience and are successful in your endeavors, along comes and a sense of achievement and job satisfaction. At the start of your business, you may have to put in long hours to get it up and running successfully, but because this is something you want to do, there will be greater satisfaction when you see your work starting to thrive.
Flexible working.
Finding your work/life balance a wish that just about everybody has, after all, you don't want to spend so much time working that you don't have time to spend your earnings. But for the home business, flexibility and the chance to choose your own hours is always going to be an advantage. To be able to work around your daily routine is a real gift, as long as you remain disciplined and have good time management, you can still manage to sort out family commitments and get your work done. Making your own schedule and having the freedom to prioritize the things that need to be done on any given day is a luxury of the home business owner.
Flexible working means not to be restricted by the clock anymore, no longer sat in an office or the factory floor wishing five o'clock would hurry around, or being told when to take a break or have lunch. With flexibility also comes the choice of choosing your own workers which means you may want to have a family-run business and maybe pass it to one of your children one day if that's what you choose.
To start a home run business is a brave move. It's why setting up a successful venture brings respect for the person who has the courage to stand on their own. The benefits it can bring to your home life are enormous and although you may still be working hard, the rewards and satisfaction it can bring make it all worthwhile. You have more time to spend with family and friends and less stress from juggling working life with the demands of the home life.