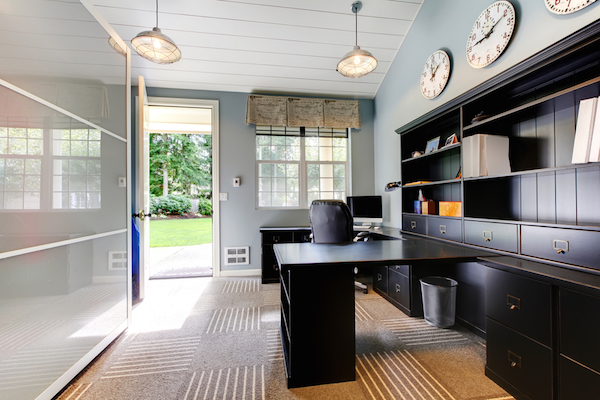 Many startup owners choose to work from home at the beginning of their businesses. It significantly reduces overhead so that you can collect higher profits. It eliminates your commute, office rent, and more. Plus, it significantly reduces your carbon footprint. 
You're not alone in making this decision. About 38 million business owners have decided to run their business from home. That's 50 percent of all small businesses! 
Depending on the nature of your business, you may choose to invite clients to your home for meetings. But is your home professional enough to give the right impression? If not, you might consider a few simple updates.
Here are some ideas: 
A Warm Reception.
First impressions mean so much when clients meet with you. It's important for you to have a warm, inviting reception area when they first come to the door. It will give a good impression while providing a comfortable place for them to wait if they're with another client. 
Comfortable seating is key. You'll also want interesting magazines or other reading material arranged on the coffee table. You can also create ambiance with a fireplace, which naturally makes people feel more comfortable and at home. Plus, the fireplace mantle makes a fantastic shelf for decoration especially for those industry awards you've won. 
Easy Parking.
Depending on your neighborhood, you may have to arrange for more suitable parking for your guests. Many residential streets have strict laws about parking on a certain side of the street, blocking fire hydrants, or spending too much time in front of a neighbor's house. 
The simplest solution is to move your vehicles out of the driveway so that guests can park there. If parking is a real problem, you might install a circular driveway or concrete slab on your grass where clients can park. It's not pretty, but it'll get the job done. 
Most importantly, provide parking instructions for when someone comes to the house. The last thing you want is one of your clients getting a parking ticket while they were visiting your business.
Landscaping and Curb Appeal.
While you're considering the parking situation, think about the way your home looks from the street. Is it as warm and inviting as your reception area? Or are the plants and lawn overgrown and wild, giving off the vibe that you don't care. 
Before opening, have a professional landscaper give your house and sidewalks a good pressure washing—you'll be amazed at how much this can change the appearance of your house. They can also manicure the lawn and garden beds to keep them looking healthy and beautiful. 
Of course, you can save a lot by doing this chore yourself, but it will be extremely time consuming. Make sure you can commit to maintaining a strong first impression for new clients.
Set Aside Space for Clients.
Your reception area can be your living room if necessary, but when meeting with clients to conduct business, have a professional space to meet them. It's difficult to take a business owner seriously when you're sitting on plush couches in a living room. 
Decorate an office space so that it looks like a professional office. An accountant might have a desk in the center of the room with chairs on the other side for clients while a hairdresser will have a salon chair and workstation. Display your certifications prominently as well to help customers recognize that they're doing business with the right person. 
Most importantly, keep a clear, simple route from the front door to your office. Try to keep children and other family members out of this pathway during business hours. Your clients will likely understand if they run into your teenager, but it's so much simpler and more professional to separate business and family.
This goes for pets as well. Most people like pets, but some don't. They might have an allergy to your pet's hair as well, which will make it very uncomfortable for them to conduct business with you. Keep your office space pet and dander-free so clients can comfortably complete business transactions. 
Your home and your business can co-exist harmoniously if you put adequate time and energy into making it a productive business space. There will be plenty of challenges, but a home-based business has enough perks to make it more than worthwhile.