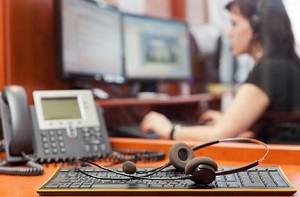 It is a service that routes incoming calls to any number that a subscriber has chosen. Calls are able to be routed — without the caller knowing — to a mobile phone, a home, or even a call center. This provides a business with control over its phone system, increases the quality of customer services and smoothens communication between the business representatives and clients. You cannot afford to miss any crucial calls even if you aren't in your office.
If you are a small organization that contains just a few people, then forwarding calls is an easy, do-it-yourself activity. If you function with a global corporation, receiving a call to your extension forwarding to your cell phone might be a bit more complicated – but still possible if you use the appropriate system.
What is Call Forwarding?
Traditionally call forwarding is a system that forwards any incoming call from one number to a different one. Forwarding call was usually only used in the event when the primary line was either disconnected or busy. Now a lot of business owners are switching to advanced call forwarding. It incorporates centers for online call management, which use call forwarding to enhance the activation of a virtual number. One of the most available common tools through advanced call forwarding is a virtual number which facilitates the development of local international numbers. These numbers enable international business relations and clients to induct communications without charging any long distance toll fees.
Forwarding Advanced Features.
There are two main advanced features which are:
Sequential dialing – This is a feature in call forwarding which in the event of one or more lines being occupied, can ring numerous lines, one after the other.
Simultaneous dialing – This feature is able to forward an incoming call to numerous numbers at one time.
The two features decrease hold times and all but remove the possibility of the caller reaching a busy voicemail or a signal.
Uniformity.
Call Forwarding offers uniformity for a business that operates in distinctive parts of the world or country. Regardless of the origin, any incoming call is able to be routed to the destination phone. That is, a client in Bangladesh, Ohio or Akron, is able to call the same number and get the call routed to the same destination, and never know that they did not call a direct line.
Forwarding call provides a business with the flexibility if filtering calls by schedule, call type and origin. Receiving the appropriate call to the appropriate destination at the appropriate time is the essence of client service. It even enables small businesses to possess big-league phone systems.
Options for Mobile Forwarding.
Forwarding of calls allows your client to call you with no fees incurred, and his or her call will be routed to one of your phone lines, including PBX systems, office phones or cell phones. Get a provider whose service even functions with your reporting systems, Web site tracking, and back-end billing. Help your business grow with mobile forwarding.