3 Tips For Finding International Business Partners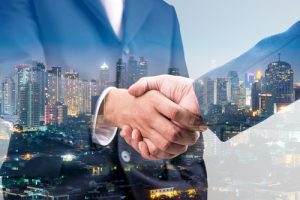 Looking to expand your reach in offshore markets? If your business has been wildly successful on the home front, expanding on the international front can bring a lot of benefits.
To name a few:
Increased revenue
Decreased competition
Access to export financing
Business expansion
If you've decided to take your company global or expand outside of your native country, the first step is going to executing your entry strategy with the right business partners in play. Unfortunately, that's easier said than done. There is a lot of planning that goes into selecting international business partners. In this article, we're going to give you 5 tips that will help you make sure you expand your business with the right set of business partners.
1. Do Your Research.
It's tempting to take the word of referrals but when you're searching for partners that will help your business grow in offshore markets, it's better to do your research (even if you still intend to interview your referrals).
Though it may seem tedious, understanding exactly what a potential partner does in their day to day operations is important. Tools like https://sayari.com/ will help you quickly identify the legitimacy of a business and what their reputation in the community they serve is.
If you're using the Sayari software and quickly find out their reputation is in the trash can and they've had a huge amount of chargebacks and defaulted accounts, you'll save yourself the time of entertaining an application from the beginning.
2. Work Together First.
In corporate life, the first step of many is to start gathering proposals from partners and comparing. Which leads us to a very curious question: If you haven't worked with any of these people before, how can you really be sure that they will be an equitable business partner to have? Simply put, you can't.
Instead of jumping into bed with a business partner before you've worked together, find an ongoing project internally that could benefit from the potential business partner's expertise. Hire them and work together. You'll quickly find out which of your prospects is qualified to be your new international business partner.
3. Trust Your Gut.
At the end of the day, you aren't just hiring another sales representative. The qualities that you look for in employees will not be the qualities you look for in your business partners. This person will be there for the long haul and will leave their own unique footprint on the business.
Treat the process of finding an international business partner like dating. Don't jump into anything serious too quickly and take time to nurture trust and understanding within the relationship. Be honest with yourself. Can you really see this person standing with the company in 10 years? If the answer is no, then move on to the next applicant.
Conclusion.
Entering new markets can be one of the most terrifying steps your business ever takes, but it can also be the most rewarding. In order to succeed, make sure that you find yourself working with business partners that understand your bottom line and operations. The wrong partner can transform a very lucrative opportunity into debt and regret, so choose wisely!
What advice do you have for expanding globally? What challenges did you face and how did you overcome them? Share your experience in the comments.

Young Upstarts is a business and technology blog that champions new ideas, innovation and entrepreneurship. It focuses on highlighting young people and small businesses, celebrating their vision and role in changing the world with their ideas, products and services.