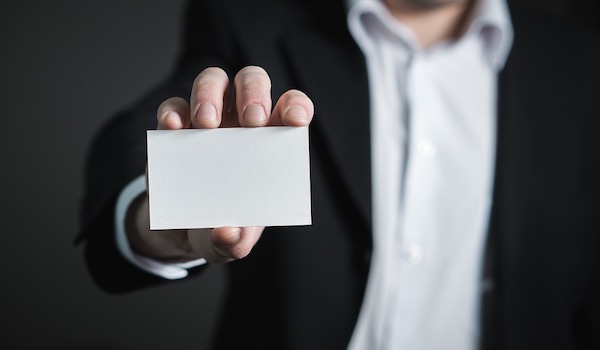 In some ways, business cards are just like umbrellas: You never seem to have one when you need it! Whether it's one of many tech meetups across the U.S., a colleague's dinner party, or simply bumping into an old school friend in the street, business cards are the perfect first step to establish communication and let you be incredibly suave while doing so.
If someone is interested in your business services, don't stumble trying to remember your phone number or spell out your email address, just be cool and give them a business card.
1. A great first impression.
Meeting a business partner or potential customer for the first time is all about creating the best initial impression. It's a real power move to reach into your jacket pocket and pull out a business card when someone asks for your contact details. People like something to remember you by, and a beautifully designed and legible business card will always do the trick. When this is done at a trade show, for example, you have a much better chance of standing out from the masses.
2. Shows you are prepared.
In the world of business, every little thing counts when a client is comparing two possible choices. If one person simply says: "I can't remember my own phone number and my email is on my social media account," then it doesn't feel like they went to much effort to engage in future talks. However, when you've already printed out business cards and have dozens ready at any one moment, then you look so much better prepared than your competition.
3. Not expensive to produce.
Business cards are much more affordable than most people might think, especially if you print off hundreds at a time. There are, of course, different materials and finishes that will change the price, but it's a worthwhile expense if it means you gain a new client by impressing them so much. Branded business stationery is definitely an underutilized endeavor for many companies, so if you can go for personalized calendars, notebooks, or indeed business cards, then surely you'd at least check it out.
4. Convenient and portable.
This is an item that you can carry around in your jacket pocket, wallet, purse, backpack, briefcase, your car, or literally anywhere you think might be necessary in case it becomes useful. There may well come times where you won't give out a business card for a few months, but spontaneous meetups happen all the time, so don't be lazy and think that "this is the one time I won't need one." When you carry business cards, it says you're ready and someone who is actively engaged to look for more projects.