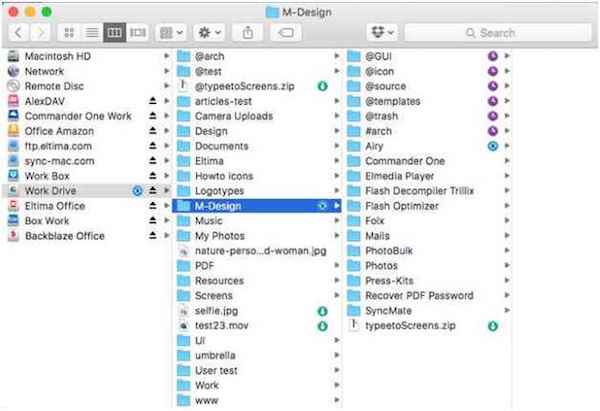 Accessing cloud storage services for a Mac enthusiastic is not always convenient.  There are a lot of cloud services that allow you to mirror your content on remote storage devices. This is quite beneficial for backup. However, if you any use of the services like Dropbox, OneDrive, Box or even WebDAV to share content, it eats up your own disk space too.
So, if you want to manage your cloud storage, a nifty tool, CloudMounter for Mac is the answer. This cross-platform is one of its kinds and certainly the easiest software to mount cloud storage services as local drives on Mac.
Now, let's review CloudMounter to give you an idea why you should mount and encrypt cloud services as a local disk on any Mac platform.
What is it for?
As every free cloud service offers only a limited space for free plan users, people generally use more than one cloud services. However, accessing these services gradually is tough and hectic. CloudMounter, as the name suggests, helps you eliminate this limitation by allowing you to mount most of the cloud storage services in the form of a local disk. You can easily access your files stored in different cloud services.
Here's a list of cloud storage services you can mount by virtue of CloudMounter:
Dropbox
Google Drive
OneDrive
Additionally, it helps you mount remote servers such as:
Amazon S3
FTP
FTPS
SFTP
WebDAV
OpenStack Swift
Box
Backblaze B2
All these storage services can be mounted onto a single and easy to use interface that is CloudMounter. The most peculiar thing regarding this application is that it provides a platform for smooth integration with cloud storage services that can be mounted to your system as a local disk by eliminating the limitation of eating up any of the hard disk space.
Who should use this app?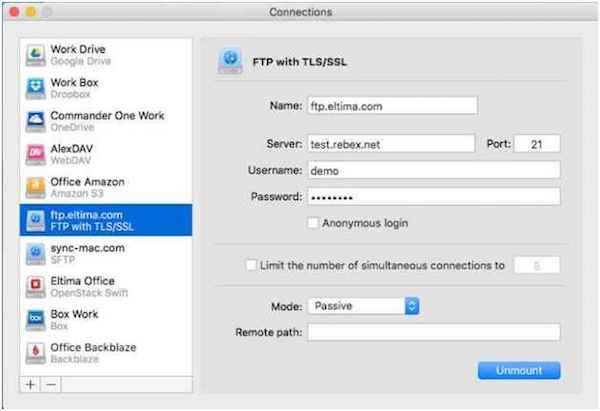 Due to the limited SSD storage of most of the MacBooks, they get full even with the limited use. So, if you consider portability and instead of an HDD, you own a Mac SSD drive having awfully low capacity, then in order to store files on the cloud and easily access them, CloudMounter is the solution.
Though you have enough hard disk space, it is a bad idea to eat up your local disk space when you can get your hands on CloudMounter. You can easily store all the necessary files and documents either in the cloud storage services or other remote servers in addition to have access on the go.
Key Features of CloudMounter.
CloudMounter is a very safe and comprehensive tool with a broad spectrum of supported cloud storage services and protocols.
Drag & Drop performance:
CloudMounter offers you drag & drop functionality between folders just as any other file.
Certified storage in MacOS keychain:
After you log in with your credentials to the specific cloud storage services or any other remote servers, the CloudMounter provides you more security by not saving your login information. Additionally, you can always find this information secured in the MacOS keychain.
Cloud Data Encryption provides further security:
Best of all, a particular advantage for Mac users is the ability to encrypt data in three main cloud storage services including Dropbox, Google Drive, and OneDrive. Thus, allowing free of cost encryption for each of them.
Encrypting your files with CloudMounter means you are capable of securing your documents, photos, audio in addition to video files from those having no decryption key. Thus, you can continue using services like Google drive without worrying that your files will be scanned by the company.
Finder friendly:
Eltima has done a bang-up job by squashing initial bugs and enhancing overall functionality by allowing integration with Finder. The integration with Finder is smooth and logical which allows the use of app even easier and comprehensive.
Introduction of this feature allows the users to see which files are in the queue, uploading/downloading, or had errors during the transfer.
Constant updates:
CloudMounter is a worthwhile app in terms of reliability and functionality as it never stops improving and adding more cloud support. You can share your concerns and ideas with tech specialists.