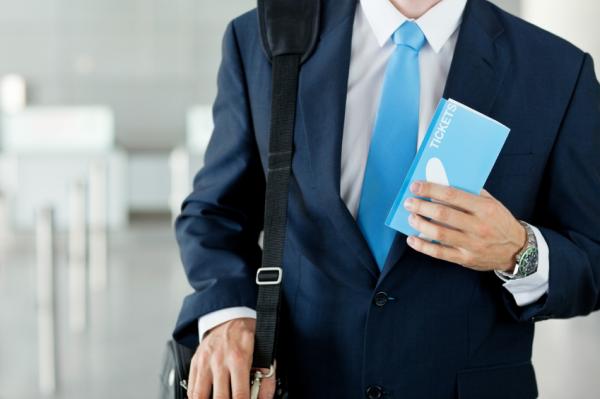 by Tahnee Perry, Vice President of Marketing at Deem
With your business growing, revenue flowing in, and your team beginning to expand, it makes sense to start looking to the horizon and sending your representatives out to spread the word about your small business.
Whether you're a consultancy hoping to offer your innovative thinking and solutions to other companies around the world, a construction company looking to expand operations into a new city, or a retail firm deploying buyers and salespeople in a new market, you're about to start dealing with the complex logistics and overhead associated with traveling employees.
Multinational corporations with employees who travel the globe frequently have dedicated travel management departments whose role is to coordinate travel bookings, collect expense reports and process reimbursement for employees according to the company travel policy – however, the development of a dedicated department may be overkill for a small business whose employees are beginning to travel for the first time.
Rather than establishing an entire department to manage company travel, small business owners should develop a company travel policy for employees that enables and empowers them to book their own travel, report expenses and get reimbursed by the company.
What is a Company Travel Policy?
From the largest Fortune 500 company to the small consultancy firm with five employees, organizations of all sizes implement a company travel policy to manage expectations and expenses when employees must travel for work. A company travel policy is a document that describes:
How and when employee travel should be booked and coordinated (usually either by the employee, by someone in HR, or by a dedicated travel management person/team at your organization)

What categories of travel expenses are allowed

and claimable (and what categories are disallowed)

Budget amounts for entertaining clients during the trip

How expenses should be reported

Who should approve expenses

Expectations for employee conduct during travel

Information about the

company's travel insurance policy

(What is covered in the policy? How can the employee make a claim?)
A company travel policy is more than just a rule book for traveling employees – it should be a valuable and informative resource that gives employees the tools they need to address their needs and solve their problems while traveling for your organization.
Many company travel policies require that employees book their itinerary two weeks ahead of time, allowing time for approvals and avoiding the increased cost of booking late. These policies may lead to cost savings, but reduce flexibility for employees whose plans may change when traveling abroad. A company travel policy for employees should include some flexibility in bookings while still working to drive down costs.
What are the Benefits of a Company Travel Policy?
Even a business with 3-5 employees that travel infrequently should consider developing a company travel policy, but as organizations grow larger, it becomes an absolute imperative. Here are just a few of the benefits that small business owners should be targeting when developing a policy.
1. Company Travel Policies Help Control Travel Costs.
As a small business owner, you can't afford to write employees a "blank check" each time you send someone abroad to visit prospective clients or finalize a deal, but without a company travel policy, it is difficult to have any real accountability surrounding travel expenses. One of the core purposes of company travel policy is to introduce predictability, standardization and accountability to employee travel expenses, and to help reduce the cost of travel.
Within a company travel policy, business owners and managers have the ability to set guidelines and limitations for employee travel spending, including flight costs, hotel booking rates, and ground fares. Additionally, a company travel policy can define claimable expense categories and set limits on expenses for meals and entertainment.
2. Company Travel Policies Help Your Company Avoid Fraud.
When employees are permitted to spend travel budgets however they choose, with no policy direction and minimal oversight, it opens the door for employees to engage in fraud. If you're thinking that your employees are all great, honest people, and that expense fraud would never happen in your organization, think again.
A research study on expense fraud conducted in 2017 estimated that exaggerated and falsified expense reports were costing businesses around the world a total of $2.9 trillion annually. The study identified three prevalent attitudes among employees who committed fraud:
86% of global office workers

said in a survey that none of their expense claims were ever challenged or declined by their company. For companies with poor oversight of travel expenses,

opportunistic employees

quickly discover that any expense they submit will be reimbursed.

39% of global office workers

said that if they were traveling for work, they "deserved a little treat on company expense".

Entitled employees

that are dissatisfied with the travel policy or do not enjoy traveling for work may express themselves passive-aggressively by racking up excess purchases on the company dime. For organizations without travel policies, that "little treat" could end up being way out of the anticipated budget.

61% of global office workers

agreed that "most people exaggerate their travel costs when claiming expenses". These employees believe that everyone else is defrauding the company on travel expenses, which helps create a justification when they too falsify their expenses.
A travel policy helps to address fraud by establishing clear policies for expense reporting and reimbursements that prevent the employee from charging excess expenses to the company. Small businesses must adequately oversee and approve travel expenses to prevent fraud from occurring.
Employees see travel as a combination of business and pleasure – they value the opportunity to experience life in a new city or country while still performing their business role. As small business owners, we can acknowledge that perspective by writing policies that encourage our employees to enjoy travel – with fair budgets for meals and other expenses and an itinerary that affords them some time to relax.
3. Company Travel Policies Keep Employees Safe.
Does your company require that employees book their accommodations only at reputable hotels? Do your employees know how to source help from your travel insurance provider if they lose their luggage or accidentally injure themselves? If a major natural disaster or political unrest happens during a trip, are there established channels for employees to stay in touch? Do traveling employees have the flexibility to solve their own problems in real time, or in an emergency, without waiting for explicit approval?
If you answered no to any of these questions, there's a good chance that you can enhance the safety of your traveling employees through a company travel policy.
A travel policy can require employees to book accommodations only at specified (reputable) hotels and through reputable channels. It can also establish policies and procedures that help the employee and employer remain connected in an emergency, and that allow the employee to access additional company resources under certain circumstances without prior approval.
Why Should Employees Care about Company Travel Policies?
On the employer's side, a company travel policy for employees is a vital step towards cost controls and standardization, but what about the employee side? Why should employees care about the company travel policy?
Employees are expected to follow company policy when booking travel and while journeying abroad to represent your organization. The travel policies that you write will determine where they can stay, how they can arrange bookings and accommodations (travel management), what they may choose to eat, where they may choose to entertain prospective customers, what goes on their expense report, and other factors.
Employers have a unique opportunity to take care of their traveling employees by establishing travel policies that are functional and fair while remaining budget-conscious. An excellent travel policy is easy to comply with because it allows employees to enjoy themselves (within reason), stay productive and safe during travel, and easily manage their bookings and expense from anywhere in the world.
How Should Small Businesses Manage their Company Travel Policies?
Small businesses need more than just a written policy to ensure compliance with their travel policies. Small businesses need to implement a strategy for monitoring compliance, ensuring that all travel bookings comply with the company guidelines for reputation, safety and price.
Many small businesses are going digital and deploying corporate travel booking software that automates the travel management process, providing the flexibility and tools that their employees need when abroad while maintaining compliance with defined policy guidelines. Travel booking software applications are the way of the future for small, medium and large organizations that wish to control their travel costs while providing the best tools and overall experience for employees.
Tahnee Perry leads the marketing team for Deem's innovative business travel products. Tahnee is responsible for driving strategy and implementation for Deem's branding, marketing, and sales enablement. Prior to Deem, Tahnee held positions with Northstar Travel Group, the travel industry's leading information and marketing solutions provider and Phocuswright, the travel industry research authority.