by Kristen Gramigna, Chief Marketing Officer for BluePay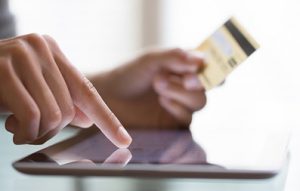 Offering multiple convenient payment options to your customers minimizes the chances of turning away potential sales.
Few business decisions will have a greater impact on your bottom line than allowing customers to pay using credit cards.
Here's why.
In just 2018 alone, card-based sales exceeded $3.6 trillion in the U.S. That number is only expected to soar as traditional standbys like cash and check continue to fall out of favor.
When it comes to accepting credit cards, many entrepreneurs are overwhelmed by the sheer volume of options out there. This choice paralysis often leads to inaction, which ultimately yields fewer overall sales.
Fortunately, incorporating credit cards into your payment environment isn't as hard as many people believe. By using the checklist below, you can get up and running relatively quickly.
1. Decide Where You'll Accept Credit Cards.
The first step involves deciding where you want to accept credit cards:
Online (e-commerce)
In-person (POS retail)
Mobile (via smart devices)
Some combination of the above
This step is important since the hardware, tools, and configuration all vary depending on how and where you interface with customers.
More on this later.
2. Who Processes Your Credit Card Sales?
Next, you'll need to decide whether to choose a payment processor or a third-party marketplace to handle incoming credit card payments:
Working with a payment processor requires more overall setup (including applying for a merchant account). You usually keep a larger portion of each sale, though.
Third-party marketplaces require far less configuration. This convenience comes at a cost — typically in the form of higher fees.
3. The Hardware and Software You'll Require.
Next, you'll need to choose the appropriate tools for credit card acceptance. As mentioned before, what you select depends on where you interact with your customers.
Online Credit Card Acceptance.
As an e-merchant, the hardware requirements are nonexistent. However, you will need either a payment gateway or hosted payment form to securely process credit card data. You'll also likely need some type of shopping cart software — one that integrates seamlessly with your existing website.
Mobile Credit Card Acceptance.
If you regularly sell off-site, you'll need a smart device and card reader to process credit cards on the go. Some mobile solutions also come with printers. Others will send invoices and receipts via email.
Note that if your mobile reader isn't EMV-enabled, you could be liable for fees and penalties associated with fraudulent transactions.
In-Store Credit Card Acceptance.
If you operate a traditional retail store, most of your sales will be generated in-person at the checkout counter. For this, you may need a setup that includes:
A point-of-sale system (POS)
A credit card terminal (including functionality to accept chip and NFC payments))
A printer, ink cartridge, and spool of paper
A number pad for accepting PINs
4. Time to Comparison-Shop.
The above describes all of the nuts and bolts you'll need to get up and running. It's a good idea to list these items on paper as you begin shopping for the most appropriate payment setup.
For example, knowing you'll need a credit card reader for your retail store allows you to ask the right questions as you start exploring options:
Some payment processors lease their terminals
Others will sell them to you for a one-time price
Still, others provide credit card readers for free
The same is true of software, fees, and service agreements — all of which vary considerably from processor to processor.
However, there are even more important questions and considerations you can use to weed out unqualified candidates.
For example, it's best to avoid any payment solutions that:
Aren't PCI-compliant: Consumers aren't the only ones who find credit cards attractive. Criminals do, too, which is why plastic is such a common target for fraud. You want a payment solution built around PCI-compliant data security and the latest fraud-prevention tools.
Can't grow with your needs: You might start by selling online — over time, you may want to branch into a brick and mortar location, as well. If your current processor doesn't support this option, you'll have to migrate your entire payment environment to one that can.
Doesn't offer enough features and benefits: Many small businesses start with bare-bones payment solutions (to keep costs low). Yet, not being able to leverage payment integration, recurring billing, or ACH payments down the road could end up costing more than you realize.
As you start shopping around, it may take a few days to get all the answers you want. Nonetheless, the investment is worth it if you can find a payment solution that scales with your needs and helps your business grow.
One Final Credit Card Acceptance Tip.
There will come a time (in the very near future) when your business is finally able to accept credit cards.
Don't forget to share this news with all of your customers. Newsletters and emails can help, but you should also add the appropriate credit card logos to your site, invoices, and storefront window.
Kristen Gramigna is Chief Marketing Officer for BluePay, a leading provider of fast, easy and secure payment processing solutions. She brings 25 years of experience in the bankcard industry in direct sales, sales management and marketing.