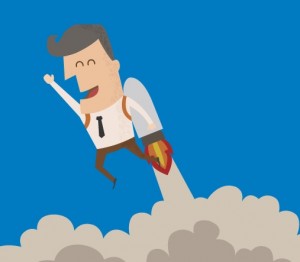 We all know that starting a business is hard work, and growing it is even harder. Every step has to be thoroughly thought out, because if you miss even one, it could mean everything.
New businesses are started all the time, but only a few of them last beyond five years. Now that the internet has fostered such an accessible and easy way for people to connect and run their own start-ups, competition has skyrocketed.
It's important to stay grounded before you get ahead of yourself. There is a lot to keep in mind as you begin, so here are just a couple of "must haves" as you move forward.
1. A Strong Support System.
There is no business venture we can take on alone, which is why having a substantial group of supporters around you is necessary. Collaboration is essential to every undertaking, and having the wherewithal to admit that before you even start is going to drastically increase your chances of success.
Whether your support system is friends and family offering words of encouragement or business partners who come in every morning bringing ideas to the table, these individuals are highly valuable to your team and your process.
Thankfully, websites like www.theknowledgebusinessblueprint.net specialize in facilitating spaces where like-minded entrepreneurs and business professionals can come together and collaborate on a project together.
2. Appropriate Business Materials.
When you're just getting your business off the ground, the seemingly mundane details are actually the most important. The quality of the goods or services you provide is significant but communicating what your business does is half the battle. Your clients want to be invested emotionally before they do any further inquiring.
Things like business cards, office space, and social media presence all contribute to the proper function and response garnered by your business. It is imperative that you can confirm that each of these factors is taken care of. Promote your start-up on social media, print more than enough business cards so you never run out (no matter how many elevator pitches you do), and find a physical office space for you and your coworkers or employees so you have a particular location for the grounding of your company.
3. A Grounded Business Plan.
What would a business be without an effective business plan? This is perhaps the most important building block as you start to put your ideas into action. It is the objective, immobile numbers that will give clients the confidence to take a chance on your company.
Keeping clear track of your budget, defining your goals and advertising methods, clarifying your target audience, and listing the available resources you have at your disposal to achieve your business goals are all very significant pieces of information to have on hand at any given time.
Investors in particular will want to know every inch of your business plan or model backwards and forwards. You need to be able to explain your strategy clearly so as to convince them to invest and thus have a stronger financial foundation to move forward (and a lot of companies have no chance of any beginning if there are no investors to support them monetarily).
Final Thoughts.
Starting a business is never easy, but if you commit yourself to it, it can be worth it. It is important to remember that perseverance and patience are key traits to have throughout the process. Even with a solid foundation, it can be an extremely taxing journey. Prepare yourself ahead of time so as not to get discouraged when you face the hardships that all starting companies do.